From a foldable microscope made primarily from paper, to low cost and open microprocessors supporting research from cognitive neuroscience to oceanography, to low cost sensors measuring air quality in communities around the world, the things of science -- that is, the physical tools that generate data or contribute to scientific processes -- are changing the way that science happens. 
The nature of tool design is changing, as more and more people share designs openly, create do-it-yourself (DIY) tools as a substitute for expensive, proprietary equipment, or design for mass production. The nature of tool access and use is changing too, as more tools become available at a price point that is do-able for non-professionals. This may be breaking down our reliance on expensive, proprietary designs traditionally needed to make scientific progress. This may also be building new audiences for tools, and making science more accessible to those traditionally limited by cost, geography, or infrastructure. But questions remain: will low cost and/or open tools become ubiquitous, replacing expensive, proprietary designs? Will the use of these tools fundamentally change how we generate data and knowledge, and apply it to global problems? Will the result be more, and better, science? And if so, what is standing in the way of widespread adoption and use?     
Working definitions
What sets THING Tank apart from our previous activities is a focus on the tangible things used for scientific research. In other words, we are interested in physical tools and instruments and hardware that enable scientific research. Our definition of "things" includes tools that contribute directly to data collection in a scientific context, such as lab equipment, sensors, microscopes, and specialized instruments. It also includes tools that enable other tools, like 3D printers and microprocessors. 
Recognizing that defining science is not straightforward, we're most interested in tools that collect data or produce information that leads to discovery and generalizable knowledge.  Because our interest is understanding tools as force multipliers, we are choosing to focus on solutions that can help answer many research questions over time. We're also interested in things that contribute to data-driven decisionmaking, or problem solving that is grounded in scientific research. 
We plan to consider things that are low cost. As low cost is also difficult to define, we're interested in things that are significantly less expensive than the status quo, to the extent that they change accessibility and use. This includes open tools developed by makers, do-it-yourself (DIY)-ers, commercial off-the-shelf hardware, mixed solutions containing both proprietary and open components, and more. 
Our perspective
We want to understand the current and potential value of low cost hardware for science - including open, proprietary, and mixed solutions - and how these tools are changing science.  We want to understand the communities, networks, and stakeholders involved, and understand how links between emergent and formal communities (such as grassroots networks, like the Gathering for Open Science Hardware, and government agencies) can broaden the conversation. Finally, we bring a US perspective - in particular for understanding the role of government in this space - but with an awareness of the interconnectedness of public policy and the truly global nature of movements for open science, open hardware, and technology innovation. 
No technology exists as a standalone thing, and physical tools for science are no exception. Our efforts in this space will take an "infrastructure" approach, by acknowledging that technology is influenced by and influences other structures, both social and technical. We will consider the full lifecycle of tool development, and the perspectives of those who make, modify, and use these devices. Most importantly, we will be attentive to how physical tools for science fit within the broader social and technical systems - with special emphasis on the role of government and public policy in defining and influencing these systems. 
Our approach
Over the next two years, we will conduct a series of events and workshops, and produce a range of publications and products, with the overall goal of understanding the current contributions of low-cost tools to accelerating science, strengthening evidence-based decision making, and broadening public participation and access; acknowledging and understanding the different communities, networks, and stakeholders driving and supporting this movement; and assessing and sharing information on key accelerators and barriers. 
Our first steps will be learning more about existing efforts and supporting communities. Events -- both virtual and in-person -- will allow us to collect input, share products, and convene communities. Workshops will provide opportunities to deepen our collective understanding of key accelerators and barriers in this space. Publications will explore case studies, elaborate on community connections, and share information on common accelerators and barriers. We will produce one or more infographics to demonstrate the scope of tools, ideas, and approaches to consider, blog posts and social media to feature key communities, networks, and stakeholders, and a member directory or other tool to help the public policy community navigate this space. Research and strategic convenings are traditional tools of think tanks, and we hope our activities will complement the work of others working from different and complementary perspectives.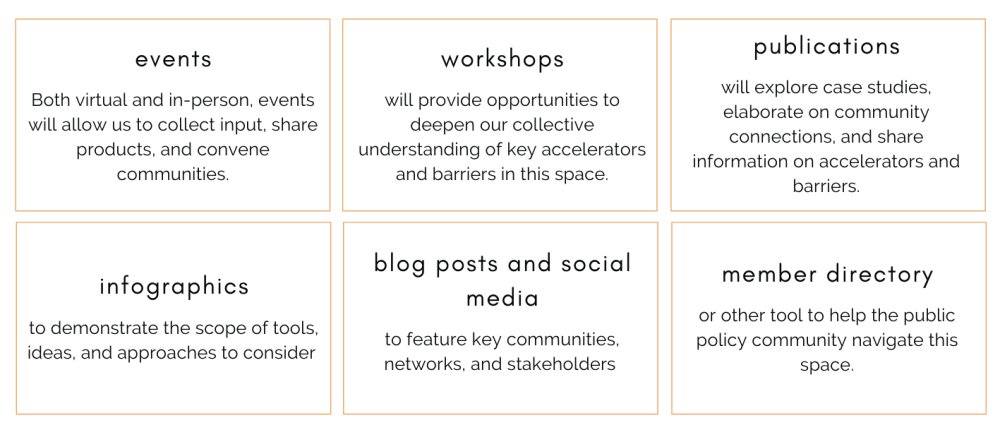 Sign up for THING tank news
Subscribe for updates about new events, articles, videos, and more coming from the THING tank.