ArgentinaPulse Poll #5 | Argentines' Perceptions of the World Order, Foreign Policy and Global Issues
As Argentina's Peronist opposition prepares to take power, its supporters hold highly negative views of key global partners of the outgoing government, including the United States and International Monetary Fund, according to the latest ArgentinaPulse survey by the Woodrow Wilson International Center for Scholars and Poliarquía.
Only 43 percent of opposition voters hold a positive view of the United States compared to 89 percent of government supporters, according to the new poll. Similarly, only 14 percent of opposition voters hold a favorable view of the IMF, compared to 72 percent of government supporters.
That polarization could encourage Argentina's next government to adopt a hard line toward the IMF in its negotiations over the IMF's $57 billion bailout for Argentina, its largest loan in history. It could also lead Argentina's new president to reevaluate the close diplomatic relationship with Washington that President Mauricio Macri developed.
Indeed, Mr. Macri's opponents also express highly negative views of Mr. Trump, a top international ally of the Macri administration. In the poll, only 19 percent of opposition voters said they approve of the U.S. leader, compared to 65 percent of government supporters. Over all, support for Mr. Trump fell steeply in Argentina, from 44 percent in June to 36 percent.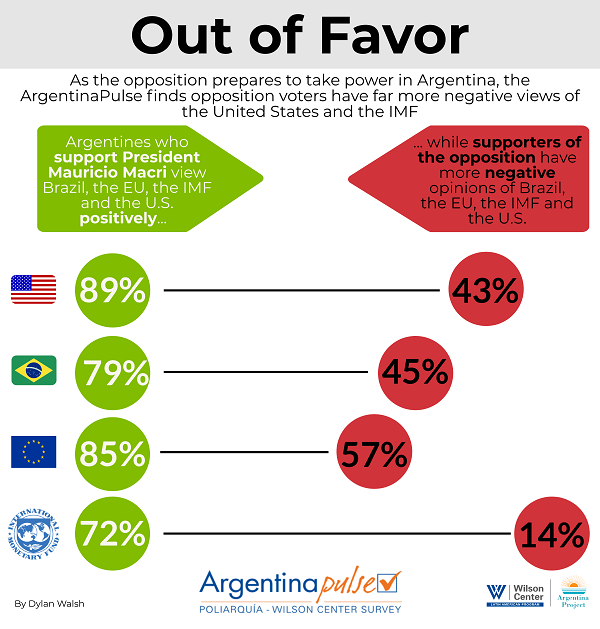 ABOUT ARGENTINA PULSE
ArgentinaPulse is a joint undertaking of Poliarquía Consultores and the Argentina Project at the Wilson Center. The aim of ArgentinaPulse is to produce, scientifically and systematically, analysis and public opinion data on Argentines' perceptions of the world order, international relations, and global issues. Poliarquía Consultores provides ArgentinaPulse with the technical capacity to produce high-quality social research, while the Wilson Center contributes its expertise studying international affairs.
---
Argentina Project
The Argentina Project is the premier institution for policy-relevant research on politics and economics in Argentina.  Read more
Latin America Program
The Wilson Center's prestigious Latin America Program provides non-partisan expertise to a broad community of decision makers in the United States and Latin America on critical policy issues facing the Hemisphere. The Program provides insightful and actionable research for policymakers, private sector leaders, journalists, and public intellectuals in the United States and Latin America. To bridge the gap between scholarship and policy action, it fosters new inquiry, sponsors high-level public and private meetings among multiple stakeholders, and explores policy options to improve outcomes for citizens throughout the Americas. Drawing on the Wilson Center's strength as the nation's key non-partisan policy forum, the Program serves as a trusted source of analysis and a vital point of contact between the worlds of scholarship and action. Read more