Can Africa Automate Its Way Out of Corruption?
As a country trying to reverse its longstanding reputation for graft, Kenya is a case study in the use of technology to address public sector corruption — yet the short- and long-term efficacy of such projects remains to be seen.
Africa has a bad rap when it comes to corruption. The Mo Ibrahim Foundation estimates that across Africa, $148 billion per year is lost to corruption, a sum that represents 20 percent of the continent's combined gross domestic product. In a public opinion survey of 28 African countries, 64 percent of respondents believe that their governments are doing poorly in the fight against corruption.
Recently, anticorruption activists have teamed up with tech developers to tackle the problem through technology, and many African governments have embraced information and communications technology (ICT) as a set of tools for dismantling corruption. South Africa has implemented Smart Identity Document cards with embedded biometric data that can reduce corruption involving false identities. In Ghana, a consortium of anticorruption organizations developed an online platform where citizens can report demands for bribes. Nigeria developed an Integrated Payroll and Personnel Information System to verify 55,000 government employees. At the municipal level, cities from Addis Ababa to Cape Town have automated government processes and rolled out geographic information systems to improve urban planning and service delivery.
Owing to its storied challenges with corruption as well as its strong ICT capacity, Kenya has become a leader in the use of technology to detect, report, and prevent corruption at the national and county levels. Yet the challenges its programs have encountered illuminate the weaknesses that other countries with less robust ICT sectors than Kenya's are likely to face, making Kenya a useful case study for countries contemplating a technological approach to anticorruption.
Corruption in Kenya
The problems with corruption in Kenya are legion; indeed, there is an entire Wikipedia page dedicated to "Corruption in Kenya." The country ranks 139 out of 168 on the 2015 Corruption Perceptions Index, with perceived levels of corruption having actually increased in since 2013, the most recent election year. Kenya's corruption ranges from petty bribery to such massive scandals as the Goldenberg affair, in which the government lost somewhere between $80 million and $600 million re-exporting gold and diamonds from other countries.
Still, from its founding, Kenya has styled itself as friendly to business, and current president Uhuru Kenyatta is aware of the toll that corruption has had on its economy, both directly in discouraging potential investors and indirectly in reducing the country's capacity to respond to national security threats. Kenya also has a vibrant civil society and a sizable tech-savvy population, making it an ideal country to pilot technological approaches to anticorruption.
The Technical Response
In 2015, the government of Kenya committed to several technological interventions to reduce public sector corruption, including the following:
An online portal where citizens could register complaints and report corruption;
The publishing of data on complaints received and actions undertaken, to be disaggregated by sector and geographic location;
A government digital electronic payments system to accept legitimate payments for government services;
Expanded use of the iTax platform to administer domestic Kenyan taxes;
Digital government services under the e-government umbrella;
Digitization of public records, including land and business registrations, births, and deaths;
Full rollout of the Integrated Financial Management Information System (IFMIS) across Kenyan government agencies; and
eProcurement systems to award government contracts and licenses efficiently and transparently.
 
As Dieter Zinnbauer has summarized, systems like IFMIS and eProcurement can reduce corruption in a number of ways. Because processes are more uniform and transparent, citizens know how the process is supposed to work and therefore are less susceptible to pressure for bribes to grease the wheels. Automated processes also reduce user discretion to deviate from prescribed steps or criteria for evaluation, a critical eProcurement mechanism. Likewise, automation can reduce the number of individuals involved in a process, as well as minimize the interaction between the service provider and client, cutting down on opportunities for collusion. Technological systems can also record every step in the process and the users that undertake them, creating an electronic trail that can be analyzed and audited for discrepancies.
Mixed Results
These initiatives have met with mixed results so far. First is the question of capacity: although Kenya has a relatively strong ICT sector, technological literacy is far from universal. Many government offices have struggled to train their staff sufficiently in these automated systems, especially at the county level, prompting the Council of Governors to ask the national government to suspend the eProcurement system. Likewise, many small and local suppliers lack the technical expertise to access the system, so government purchasing becomes biased toward larger and international providers, which tend to be more technologically competent. Internet outages and technological kinks in these systems have further reduced the efficacy of IFMIS and the eProcurement portal.
Yet over time, the simple fact that fewer people are in a position to engage in corrupt practices may reduce the sense that "everybody does it," contributing to a culture shift. 
Not only do these difficulties neutralize the anticorruption potential of these systems, they also exacerbate the same public service delays that the portal was intended to streamline. This inefficiency has a cost: last August, the finance chairman of the Council of Governors reported that the government of Kenya is 31 billion Kenyan shillings (US$304.6 million) in debt because of its implementation of IFMIS. Such challenges are all the more likely to plague other countries on the continent, where consistent internet access and ICT training are even less widely available. Indeed, even in the continent's economic powerhouse, Nigeria, reporting suggests a similar set of challenges there, particularly outside the major urban centers.
Technology and the Culture of Corruption
Another open question is whether and how the use of technology will affect the cultural and psychological aspects of corruption. Although less widely discussed in the literature, corrupt practices by individuals are subject to social norms that vary from context to context. Social psychology offers some insights into how and why corruption becomes entrenched in social systems. In short, people are less likely to challenge unethical behavior when they perceive that such activities are widely accepted within their social group. For example, a new employee who maintains a strict accounting of her business travel expenditures may over time develop a more lax interpretation of what qualifies for reimbursement, as she starts to realize that within her office "everybody does it."
Automation does not directly address this aspect of corruption. Rather than tackle human behavior and its complex motivations head on, it simply removes the human element from the equation. As Åke Grönlund points out, "Corruption is rooted in the cultural, political, and economic circumstances of those involved. ICT does little to affect these root causes. At the national level, one needs political will, ethical watchdog agencies, proper incentives for honest officials, and effective punishment for corrupt ones."
Yet over time, the simple fact that fewer people are in a position to engage in corrupt practices may reduce the sense that "everybody does it," contributing to a culture shift. In principle, such effects could be magnified or accelerated when automation is accompanied by interventions intended to address group behavior directly. Indeed, the Kenya-U.S. Joint Commitment to Promote Good Governance and Anti-Corruption Efforts in Kenya adds public awareness campaigns and training for civil servants to the expanded use of technological systems to reduce the pathways for corruption.
As more and more countries in Africa and beyond look to automation to reduce public sector corruption, lessons from Kenya and other pioneers in the use of ICT will be available to shape new efforts. Greater experimentation and research is needed to confirm the efficacy of combining automation with more traditional awareness campaign approaches. Likewise, technical constraints on ICT growth — including expanded access to the internet and to basic ICT literacy outside major cities — must be addressed. Finally, anticorruption programs should include robust monitoring and evaluation systems that can provide valuable data and insights from which other countries can learn.
The opinions expressed here are solely those of the author.
Elizabeth M. Ramey is the program associate with the Africa Program at the Wilson Center. She has consulted on international and African issues for multilateral and international organizations, including the World Bank and the Civil Service Agency of the government of Liberia.
Photo Source: Kenyan Ministry of Water and Irrigation are a Government Corruption Free Zone. Flickr User: Wayan Vota (CC BY-NC-SA 2.0)
About the Author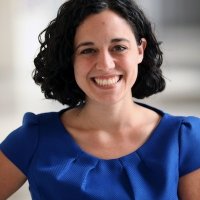 Elizabeth M. Ramey
Former Program Associate
---
Africa Program
The Africa Program works to address the most critical issues facing Africa and U.S.-Africa relations, build mutually beneficial U.S.-Africa relations, and enhance knowledge and understanding about Africa in the United States. The Program achieves its mission through in-depth research and analyses, public discussion, working groups, and briefings that bring together policymakers, practitioners, and subject matter experts to analyze and offer practical options for tackling key challenges in Africa and in U.S.-Africa relations.   Read more