Criminales, el Estado y el control del mercado de la marihuana
In this article, Latin American Program Global Fellow Juan Carlos Garzón discusses the recent trip a Colombian delegation took to Colorado to learn about the pros and cons of the legalization of marijuana. This article is in Spanish.
"¿Treinta millones de dólares en impuestos (23.5 millones de euros)? ¡Sí, Treinta millones de dólares! Los cuatro senadores y el Viceministro de Justicia que viajaron desde Colombia a conocer la experiencia de regulación de la marihuana en Colorado, no salen de su asombro. Esta es la suma de dinero que recaudó el Departamento de Hacienda de Colorado en el primer semestre de 2014, gravando la venta del cannabis. A este paso se espera que el año fiscal termine con más de 55 millones de euros, los cuales serán destinados a las escuelas, la prevención, la investigación y a las instituciones encargadas de hacer cumplir la ley.
Los recursos que recibe el Estado por el mercado legal de la marihuana son solo una parte de la historia. Para la delegación colombiana que viajó a Colorado la semana pasada, en el marco de una iniciativa impulsada por el Senador Juan Manuel Galán para regular la marihuana medicinal en Colombia, entender lo que ocurre en este estado requiere salirse del libreto usado para responder al problema de las drogas. Siguiendo un mandato ciudadano, las instituciones de Colorado en lugar de prohibir la marihuana decidieron tomar el control del mercado, regulándolo.
Con alrededor de 485 mil consumidores de marihuana —el 9% de la población del Estado— que demandan alrededor de 130 toneladas al año, el reto asumido por Colorado ha sido mayúsculo. El estado ha desarrollado un sistema sumamente regulado, que pretende controlar desde la semilla hasta la venta del producto. Aunque las voces en contra de este cambio advertían lo peor, lo cierto es que por el momento "el cielo no se ha venido encima", repitiendo la frase de Andrew Freedman, el funcionario a cargo de la regulación en la oficina del gobernador.
Por el contrario, a medida que ha avanzando la regulación, la tendencia del consumo en la población adolescente ha tenido un ligero descenso —la noticia más importante en todo caso es que no ha subido—. Colorado legalizó la marihuana medicinal en 2001, permitió la comercialización del cannabis para uso terapéutico en 2009 y a finales de 2012 los electores votaron a favor del uso recreativo. De acuerdo con la más reciente encuesta de Salud de Niños de Colorado realizada en 2013, el consumo habitual bajó del 22% en 2011 a 20% en esta población.
En Colombia, por el contrario, el Estado sigue apostándole a la guerra contra las drogas y más específicamente a lo que en el país se ha denominado el "narcoterrorismo". A pesar de que la Corte Constitucional falló a favor de la no criminalización del consumidor, el resto de la cadena se encuentra prohibida por la ley. En Colombia se incauta en promedio una tonelada diaria de marihuana, de las cuales el 70% es para consumo interno.
La encuesta más reciente sobre el uso de drogas en Colombia, muestra que el 3,3% de las personas manifiesta haber usado marihuana al menos una vez durante el último año, es decir un poco más de 762.000 personas, considerando solo la población que vive en las ciudades. Lo anterior, representa una demanda de alrededor de casi 1.000 toneladas de marihuana que arroja un ingreso bruto anual que se ha estimado entre 47 y 102 millones de euros.
La gran diferencia con lo que ocurre en Colorado, es que en Colombia son los criminales —y no el Estado— quienes deciden los precios, los métodos de cultivo y de distribución, la calidad del producto y la forma de acceder a él. Es un mercado que también se encuentra regulado, pero a través de métodos ilegales que hacen uso de la violencia y la intimidación.
Mientras que en Colorado el Estado controla la venta de cannabis al menudeo —o al menos buena parte de él— en Colombia el comercio de la marihuana está en manos de redes de micro-tráfico que la distribuyen a la vuelta de la esquina, al lado de otras sustancias que son mucho más perjudiciales. Bajo este marco, el consumo de la marihuana y de otras drogas ha ido en aumento, con recursos que continúan siendo un combustible para la guerra y alimentan la criminalidad asociada al tráfico ilegal.
El mundo sabe bien que el Estado colombiano ha hecho todo lo posible por contener el mercado ilegal de las drogas, a bordo de una "bicicleta estática" que pedalea sin conseguir avanzar, tal como lo afirmó el presidente Juan Manuel Santos. Dada esta realidad, hacen bien los legisladores colombianos y el gobierno en buscar otras alternativas. Tal como lo afirmó la Comisión Global de Drogas, es momento de que el Estado tome el control de las drogas. Nadie dice que el camino de la regulación responsable será fácil, pero sí probablemente menos sangriento."
To view the article, click here.
About the Author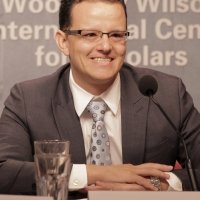 Juan Carlos Garzón
Global Fellow,
Security and Conflict Resolution Expert; Former Consultant, United Nations Development Program and Organization of American States
Read More
---
Latin American Program
The Wilson Center's prestigious Latin American Program provides non-partisan expertise to a broad community of decision makers in the United States and Latin America on critical policy issues facing the Hemisphere. The Program provides insightful and actionable research for policymakers, private sector leaders, journalists, and public intellectuals in the United States and Latin America. To bridge the gap between scholarship and policy action, it fosters new inquiry, sponsors high-level public and private meetings among multiple stakeholders, and explores policy options to improve outcomes for citizens throughout the Americas. Drawing on the Wilson Center's strength as the nation's key non-partisan forum, the Program serves as a trusted source of analysis and a vital point of contact between the worlds of scholarship and action. Read more