Infographic | USMCA at One
July 1, 2021, will mark the first year anniversary of the US-Mexico-Canada Agreement (USMCA). To commemorate this anniversary and provide an outlook on what makes the agreement unique, the Wilson Center presents the following infographic on the benefits of the USMCA in each of the three countries.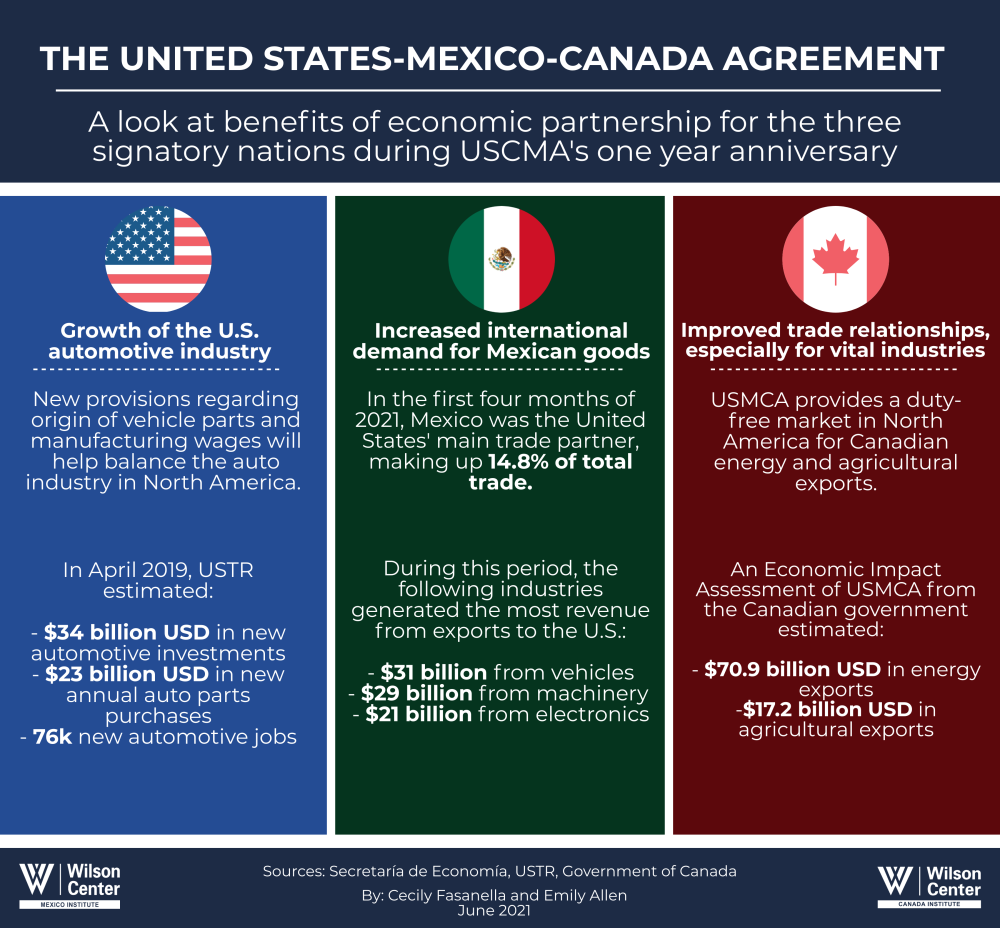 USMCA Resource Page
Welcome to the Wilson Center's USMCA Resource Page. The Mexico Institute and the Canada Institute will provide up-to-date coverage as USMCA implementation progresses. We invite you to check back frequently for updates to this resource.
Learn More
---
Mexico Institute
The Mexico Institute seeks to improve understanding, communication, and cooperation between Mexico and the United States by promoting original research, encouraging public discussion, and proposing policy options for enhancing the bilateral relationship. A binational Advisory Board, chaired by Luis Téllez and Earl Anthony Wayne, oversees the work of the Mexico Institute.  Read more
Canada Institute
Bound by common geopolitical interests and strong economic and cultural ties, Canada and the United States enjoy the world's most successful bilateral relationship. The Wilson Center's Canada Institute is the only public policy forum in the world dedicated to the full spectrum of Canada-U.S. issues. The Canada Institute is a global leader for policymakers, academics and business leaders to engage in non-partisan, informed dialogue about the current and future state of the relationship.    Read more