Mexico and the United States: Let's Build Prosperity and Security
President Obama will receive Mexico's President Enrique Pena Nieto July 22 in Washington. This is a critical opportunity to highlight the importance of US-Mexico ties, to underscore the substantial progress in cooperation, and to accentuate how the campaign rhetoric in the US is out of tune with the reality of relations.
President Obama will receive Mexico's President Enrique Peña Nieto July 22 in Washington.  This is a critical opportunity to highlight the importance of U.S.-Mexico ties, to underscore the substantial progress in cooperation, and to accentuate how the campaign rhetoric in the United States is out of tune with the reality of relations.  With the U.S. election approaching, it is crucial to take steps to preserve the unprecedented U.S.-Mexico collaboration that exists today.
U.S.-Mexico relations touch the daily lives of more citizens of both countries than do ties with any other country in the world.  Over 30 million U.S. citizens of Mexican heritage, our interconnected economies, the 1,990-mile border and our shared environment link us uniquely.  The two governments have established a comprehensive network of mechanisms that put bilateral relations in the best place they have been in memory.  Officials work together to take advantage of mutual opportunities and to solve shared problems across a wide spectrum of issues, with input from "stakeholders" in the relationship.
There is still a lot of serious work to do to address the problems out there and to take advantage of the opportunities of the region.   Each government has experienced professional ambassadors and teams in place to help guide the work during the U.S. leadership transition.  But, simplistic explanations of the problems or solutions distract us from the good work underway and the hard work still needed to deal with the serious challenges ahead.  As the United States prepares for a presidential transition, the two countries should solidify the mechanisms and engagements that are doing the hard, policy and technical work of enhancing both of our nations' economic and national security.  These include the High-Level Economic Dialogue (HLED), the 21st Century Border process, the bilateral Security Coordination Group, and the Bilateral Forum on Higher Education, Innovation and Research (FOBESSII).  The U.S.-Mexico relationship is too important for both countries not to continue this work.
Mexico and the United States have worked hard to overcome divisive history.  Mexico and the United States were called "Distant Neighbors" in the 1980's and "The Bear and the Porcupine" in the early 2000s because of the still prickly relationship even after the North America Free Trade Agreement was in place.  But working steadily, and especially in recent years, the North American neighbors have made great progress in building a new legacy of trust and collaboration.  The two governments have moved away from mutual finger pointing to a focus on problem solving and to take advantage of the huge opportunities available through deeper cooperation and based on shared responsibility. 
Some in both countries still give facile explanations and solutions to the problems faced.  Those practices are dangerous, but they are not new.  What is new is the range of engagement that now exists to find mutually beneficial ways forward and the degree of connectivity between our economies.  The relationship has more potential to be "win-win" than ever. 
The economic connectivity is deep.  We trade a million dollars a minute.  Mexico is the United States' second biggest export market.  Trade with Mexico is estimated to support up to 6 million U.S. jobs (that, in turn, are estimated to support some 20 million Americans). This trade and investment involves sales by over 55,000 US companies and 18,000 that operate in Mexico.  Even though the United States has a trade deficit with Mexico, that deficit shrank by 50 percent between 2010 and 2015 and bilateral trade grew by 35%.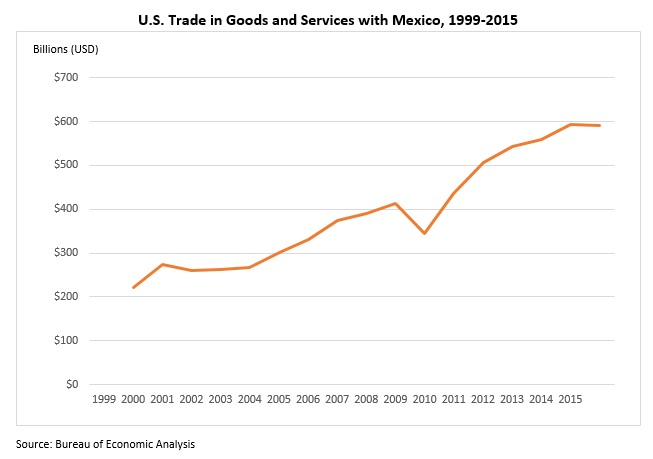 Plus, up to 40% of a finished manufactured product that a customer in the United States buys from Mexico is U.S. content – much more than any other country in the world.  A Honda CRV put together in Jalisco, Mexico, for example, has its engine and transmission made in the United States.  U.S. companies have invested $108 billion in Mexico, and Mexican companies have invested over $17 billion in the United States.   Mexican bread, cement and tortilla companies are widely represented in the United States.
This is a win-win situation that supports millions of good U.S. jobs and saved many others by making production costs competitive with China and other international producers.  Within common supply chains and integrated industries, jobs created in Mexico also helps the creation of jobs in the United States, and vice versa.
Cross border travelers and tourists bring billions of additional income to local communities in both countries.  Approximately a million people cross the border legally each day as part of their routines, and in 2015 over 25 million Americans and 17 million Mexicans stayed at least one night in the other country.
In addition, the recent economic reforms in Mexico have opened a host of opportunities for U.S. companies, big and small.  For example, AT&T has invested over $4 billion in Mexico's newly liberalized telecommunications sector with a vision of building a seamless network across both countries.  And, U.S. companies are very interested in investing in Mexico's newly opened energy markets.  Mexico's energy reforms and enhanced U.S.-Mexico energy integration also bring the potential of improved long-term energy security for both countries.
Contrary to the rhetoric, it appears that most of the lost U.S. manufacturing jobs seem to be due to competition from China and new technology that reduces workers needed, not trade with Mexico.  In contrast with Mexico, a manufacture good that the U.S. purchases from China is estimated to have only a 4% U.S. content.  While jobs have no doubt moved to Mexico, others have been created and saved by the growing trade and the cross border production chains.  Those workers left behind must be helped with better retraining and placement programs in the United States, and the United States needs to take other steps to enhance its international competitiveness.  But, we should not think that "fixing" trade with Mexico will somehow "fix" the plight of those who lost jobs.
Mexico and the United States created a High Level Economic Dialogue (HLED) in 2013 to focus government agencies on generating more growth and creating jobs in both countries.  This cabinet-level dialogue has dozens of items on its working agenda from improving the infrastructure, processes and wait times at the border, regularizing planning for transportation routes, and harmonizing approaches to energy standards and regulation, to encouraging more exchanges among students and researchers, protecting and encouraging innovation across both countries, better integrating border regions into federal dialogues, and building cooperation to protect the environment and combat climate change.  Progress is tracked, senior officials meet regularly, and the cabinet level group convenes yearly to assess results and set goals. 
The HLED has proven to be an effective framework for working on problems and producing results, for example, incorporating and strengthening the work of the "21st Century Border" committee, created in 2010, to push forward new border infrastructure projects and more efficient customs procedures.  The HLED has begun to integrate the private sector and civil society in its work, for example through input from the Mexico-US Entrepreneurship and Innovation Council (MUSEIC), the Bilateral Forum on Higher Education, Innovation and Research (FOBESII), university to university partnerships, the US-Mexico CEO dialogue, and dialogues with border communities.
Within the bilateral exchange effort FOBESII, for example, significant progress has been achieved in student mobility, language acquisition, labor force development, and research and innovation. Under the Mexican program Proyecta 100,000, Mexican federal and state governments and universities sent over 35,000 students in 2014-15 to the United States, mostly to improve English proficiency.  This more than doubled the number sent in 2013.  Since most these Mexican students are the first in their families to travel abroad, the program has also changed the way students assess the United States and positively impacted the self-pride of families and communities. The U.S. Government, on the other hand, has facilitated mobility under the 100,000 Strong Initiative, including an increase in U.S. students in Mexico.  FOBESII has also catalyzed numerous collaboration agreements among universities and research institutions, with a focus on strategic topics for both countries, such as in intelligent manufacturing, logistics, climate resilience in arid zones and energy specialties.  To assure enduring success, however, more vigorous participation of the private sector and governments is needed to help fund the exchange programs.
The HLED and its constituent parts have much work remaining to help make our commerce flow more smoothly and to reduce transaction costs.  Many billions of dollars can be saved through actions aimed at making border commerce more efficient, for example.  But, all this collaboration needs to be reaffirmed and institutionalized to get short and longer term results.  The work agenda to strengthen our economies needs to be seen as an ongoing process, not one to be reinvented with each change of administration in either country.
Equally important is the work on the security and justice agendas.  The borders of our countries, north and south, need to be secure and well managed.  Illicit flows of drugs, people, money and arms need to be effectively countered.  Criminals need to be brought to justice.  We need to deal effectively with those who would violate democratic practices and human rights.  Although law enforcement and justice collaboration has been underway for many years, the joint work has become much deeper and substantial during the past decade.  The United States and Mexico agreed in 2007 to work together under the Merida Initiative to bolster Mexican capacities to fight organized crime and associated violence while furthering respect for rule of law and human rights.  Since, the United States has contributed over $2 billion to this effort, and Mexico many times that amount since.   Merida programing is focused on capacity building among Mexico's federal, state and municipal forces, as well as civil society groups, via more than a hundred programs.  It has helped raise professional standards and practices as well as building new connections among law enforcement and justice professionals in both countries.
Alongside Merida programs, practical day-to-day cooperation among the agencies fighting crime, terror and other threats has expanded.   The two governments consciously changed their rhetoric, moving away from blaming the other side of the border for problems and instead talking about "shared responsibilities" to find solutions and the importance of "co-management" of our shared border.  
The two governments also, created new mechanisms to communicate, coordinate and get smarter about facilitating trade and travel flows, tackling crime and preventing cross border violence, and increasing public safety and security.  They created new ways to have more trusting, secure collaboration in going after criminal organizations and in handling issues that touch political nerves on both sides of the border.  For example, the two countries agreed on new practices for handling repatriation of migrants to Mexico and created coordination group to facilitate the process.  They increased border security and reduced cross-border violence with enhanced communications and a new violence prevention council that allows for leadership dialogue on use of force issues.  As part of seeking a reduction of cross-border violence, governments have agreed to develop joint preventive actions aiming at educating and raising awareness of border dynamics and opportunities.  They have also collaborated closely on the arrest of top drug cartel figures and on efforts to prevent terrorism.  And, in a parallel track, U.S.-Mexican defense dialogue and exchanges have reached unparalleled levels.  Finally, for the first time ever, the two countries have created a bilateral Security Coordination Group that brings together all relevant agencies to discuss cooperation across the range of security issues.  Overall, the degree of dialogue and collaboration is without precedent.
To be sure, there is still much more to do, as crime and trafficking continue at unacceptable levels.  Authorities need to deepen their cooperation to identify and stop bad actors crossing or seeking to reach the borders, whether they might be potential terrorists or traffickers of drugs, money, arms or people.  Authorities need better and faster collecting and sharing of information (including biometric), for example.  They also must get much better at combatting heroin production in Mexico, its shipment across both countries and the United States' historic opioid addiction epidemic. 
The flow of hemispheric migrants also needs to be better managed throughout the region, but the challenge is not as described in U.S. campaign speeches.  The facts have already shifted: from 2009 through 2014, more Mexicans left the United States than entered, and 2015 number of border apprehensions were at a historic low.  These days large numbers of Central Americans are heading north through southern Mexico as they flee gang violence and poverty at home.  Mexico and the United States are both working to stem this flow.  They need to deepen collaboration on handling well these migrants, but if one wants to get better at stopping the traffickers or even migrants, one can use technology and cooperation, rather than costly walls.
Crime, corruption, impunity and respect for human rights remain serious challenges within Mexico.  They affect Mexico's image in the United States and thus our cooperation.  But, the very hopeful reality is the significant popular pressure in Mexico seeking progress in all of those areas.  Mexico is in the midst of a massive reform of its justice system, which will take years to complete but which promises much better results if well implemented.  Mexico's Congress has just passed a set of anti-corruption laws after a vigorous campaign from civil society and the private sector demanding change.  The main actors in seeking these reforms and the changes still ahead are, and should be, Mexicans.  But, the U.S. and Mexican governments have established the channels for effective and frank dialogue even on the most sensitive issues, and there are many ways that the United States can support relevant actors seeking reform, while still respecting Mexico's sovereignty.  The two governments have created pathways for respectful disagreement, which can also be used to forge avenues for progress.
These pathways and collaborative mechanisms between Mexico and the United States need to be solidified and preserved, even as the governments keep working on their important shared agenda, for the good of both countries.  Presidents Peña Nieto and Obama can help assure that when they meet this week.
Sergio M. Alcocer is former U/S for North American Affairs, Mexican Government; Professor, UNAM.  Earl Anthony Wayne is former U.S. Ambassador to Mexico and Public Policy Fellow, Woodrow Wilson International Center. 
---
Mexico Institute
The Mexico Institute seeks to improve understanding, communication, and cooperation between Mexico and the United States by promoting original research, encouraging public discussion, and proposing policy options for enhancing the bilateral relationship. A binational Advisory Board, chaired by Luis Téllez and Earl Anthony Wayne, oversees the work of the Mexico Institute.  Read more