New NAFTA Will End the Tyranny of Uncertainty if Approved
The new U.S.-Mexico-Canada Agreement (USMCA) is a welcome step, writes Public Policy Fellow Earl Anthony Wayne.
The new U.S.-Mexico-Canada Agreement (USMCA) is a welcome step.
If approved by each country's legislature, the agreement will dissolve the uncertainty that has hovered over North America's commercial and production networks for the last two years. A new rules-based agreement can be a major plus for the 1.2 trillion dollar continental market. 
It is very important now, however, to have good assessments of the potential results that will flow from the agreement. While President Trump lauds the potential job creation, others characterize the agreement as a mixed bag.
The agreement includes a "modernization" of the existing North American Free Trade Agreement (NAFTA), as well as innovations sought by the U.S. particularly in "rules of origin" for autos and other goods.
Each government can claim wins from the understandings forged, capped by the Sunday U.S.-Canada agreement.
The United States, Mexico and Canada each showed flexibility, dropping and modifying divisive proposals and accepting positions they initially resisted, including replacing the initial U.S. proposal for a five-year "sunset clause" with a review framework which will last at least 16 years.
Business and farm interests expressed support for an agreement that offers a stable framework and avoids chaotic alternatives. But the brutal negotiations left relations bruised and helped send public views of the U.S. plummeting in Canada and Mexico.
At this point, it is very important to hear assessments from "stakeholders" in the business, farm, labor and consumer sectors, as well as from trade and commercial experts. Of particular importance are the potential impacts to the auto sector.
In the United States, the International Trade Commission will also provide its assessment of the agreement. These groups should sound alarms about questionable or potentially harmful proposals in the texts.
At first glance, the fact sheets offered by the Office of the U.S. Trade Representative and other briefings indicate that the "modernization" aspects of the USMCA are as good as or slightly better than what was included the original Trans-Pacific Partnership accord (TPP), from which the U.S. withdrew in January 2017.
The widely shared goal in these three-party talks was to update NAFTA to include best practices, new technologies, lessons learned and important changes since the NAFTA negotiations in the early 1990s.
Covering internet commerce is a good example of the "modernization" the new USMCA text embodies, as are changes to better protect today's intellectual property innovations.  
The new agreement also massively revises "rules of origin" for defining what constitutes a "North American vehicle" eligible for duty-free trade. This was a major U.S. objective that was not pursued in the TPP.
U.S. officials argue that the new rules will preserve and create new U.S. manufacturing jobs. Independent analyses will be important to scrutinize possible impacts, however.
Critics worry that the new rules will be costly and cumbersome for U.S. automakers, that they will harm their ability to compete with international companies and that they will raise costs for U.S. consumers. Some question whether the new rules will add U.S. jobs.
Other parts of the treaty also deserve careful scrutiny. For example, unions and their supporters in Congress will examine what Mexico committed to do to improve workers' rights and if the U.S. can enforce compliance with those commitments.
U.S. energy companies and other investors will examine how changes will affect their rights in Mexico, where reforms attracted billions of dollars in U.S. and international investment. The U.S. also added commitments to discourage currency manipulation and to inhibit a free-trade agreement with a non-market economy — both of which seem aimed at China.
From a Mexican perspective, the agreement allows outgoing President Pena Nieto to sign the agreement before he leaves office on Dec. 1. It will allow incoming President Lopez Obrador (AMLO) to start his six-year term with a fixed framework for economic relations with the U.S., which buys 80 percent of Mexico's exports. He can thus focus on domestic reforms.
For Canada, the agreement similarly provides a stable environment with a neighbor that buys 75 percent of its exports and hosts massive Canadian investments.  Prime Minister Justin Trudeau yielded a bit on dairy issues, but preserved key dispute settlement procedures. He has time to solidify support before national elections in 2019.
The text will be finalized in the weeks ahead before an official signing at the end of November. The legislatures of all three countries must then approve the agreement, with the U.S. Congress likely to consider it only in 2019.
The three governments still need to resolve the U.S. decision to impose "national security" tariffs on steel and aluminum from Canada and Mexico, which led those countries to apply retaliatory tariffs on billions of dollars' worth of U.S. farm and manufactured products. Those tariffs weigh heavily on key sectors in all three countries.
The new agreement faces big hurdles ahead, especially winning approval from the U.S. Congress. Stakeholders supporting the agreement will need to remain active to help that process.
Simultaneously, the U.S. needs to work at repairing the damage done to mutual confidence among the three countries after many months of bitter and often unfounded criticisms.
A new Pew survey found positive views of the U.S. sinking massively in both Mexico and Canada over the past two years. Only 32 percent of Mexicans and 39 percent of Canadians held favorable views of the U.S. this spring, according to Pew.
These are worrisome statistics when the U.S. needs cooperation from its neighbors on serious homeland security issues and other matters.
Finally, with agreement in North America and trade talks beginning with Europe and Japan, the U.S. should focus more attention on errant trade actors like China, working with partners.
In North America, governments and the private sector should also turn full attention to making North America stronger for the on-going competition against global commercial rivals, especially as the world's economies face rapid technological transformations and disruptions ahead.
About the Author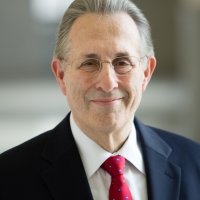 Earl Anthony Wayne
Public Policy Fellow;
Former Career Ambassador to Afghanistan, Argentina, and Mexico; Distinguished Diplomat in Residence, School of International Service, American University
Read More
---
Mexico Institute
The Mexico Institute seeks to improve understanding, communication, and cooperation between Mexico and the United States by promoting original research, encouraging public discussion, and proposing policy options for enhancing the bilateral relationship. A binational Advisory Board, chaired by Luis Téllez and Earl Anthony Wayne, oversees the work of the Mexico Institute.  Read more