Pakistan's Former Leader Facing Treason Charges
Public Policy Scholar Farahnaz Ispahani recently spoke with Radio Australia about the special tribunal which has been set up to try Pakistani General Pervez Musharraf on charges of treason. Ispahani says this groundbreaking occurrence could lead to a conflict between the Pakistani military and its government.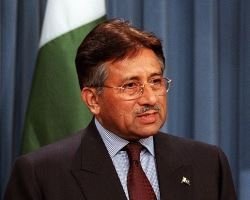 In a recent interview with Iskhandar Razak of Radio Australia, Public Policy Scholar Farahnaz Ispahani laid out some of the possible reprecussions of the upcoming trial of Pervez Musharraf, former President of Pakistan.  Ispahani calls it "a historic happening for Pakistan" but also comments that "justice should be done and justice must be seen to be done."
While Ispahani stresses the importance of the trial, she states that it "is also potentially volatile and there's some concern that this may led to a confrontation between the civilian government and the Pakistan military."  The Pakistani population is very wary of new confrontations and conflicts, and that this "may not be the best time."
The audio and a transcription of the interview are available at the Radio Australia website.
Contributor
---
Asia Program
The Asia Program promotes policy debate and intellectual discussions on U.S. interests in the Asia-Pacific as well as political, economic, security, and social issues relating to the world's most populous and economically dynamic region.  Read more