Political Demography at the Monterey Institute of International Studies
Jack Goldstone, Richard Cincotta, Jennifer Sciubba, and Geoff Dabelko spoke at the Monterey Institute for International Studies on key developments in political demography.
"Demography is sexy – it's about nothing but sex and death (and migration)," said Rhodes College Professor Jennifer Sciubba at the Monterey Institute of International Studies during a workshop on March 30. 
Jack Goldstone of James Madison University, Richard Cincotta of the Stimson Center, and ECSP's Geoff Dabelko joined Sciubba in a workshop for students and faculty on key developments in political demography. Sciubba and Cincotta were contributors to Goldstone's recently released edited volume, Demography: How Population Changes Are Reshaping International Security and National Politics.
"Demography is changing the entire economic and strategic divisions of the world," Goldstone told the room. "We've had a 15 year increase in life expectancy just in the last half century," and today, "90 percent of children under 10 are growing up in developing countries."
Many countries, said Goldstone, are caught in a difficult race between growth and governance, with governments struggling to provide services and opportunity to their growing populations. This challenge isespecially acute in cities, which for the first time in human history are home to the majority of all people.
At the same time, aging is a phenomenon that will affect many developed countries. In the United Sates, the baby boomers are becoming "the grayest generation," Goldstone said, and similar imbalances between the number of working age people and their dependent elders will soon affect Western Europe, Japan, Korea, Russia, and others. 
Re-Examining the Aging Narrative
Some have predicted this "graying of the great powers" will have disastrous consequences for many of the G8, as state pension costs blunt economic growth and innovation, military adventurousness, and global influence, but Jennifer Sciubba presented a case for why fears may be overblown.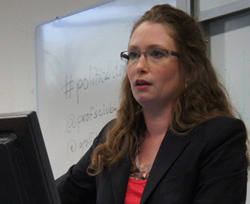 When discussing the aging phenomenon in developing countries, many analysts focus too closely on the fiscal environment, argued Sciubba. This creates tunnel vision that ignores the potential coping mechanisms that states have at their disposal. Alliances, for example, are under-accounted for, she said, and closer European Union and even NATO integration could help ameliorate the individual issues faced by aging countries like Germany, France, and Italy.
She also pointed to evidence that the developing world's declining fertility may be have been "artificially depressed" by large proportions of women that delayed pregnancy during the 1990s and are now having children. The UN total fertility rate projections for industrialized states was revised upward from 1.35 children per woman in 2006 to 1.64 in 2008 and 1.71 in 2010. 
This brings into focus a key leverage point for many developed countries that is not often discussed in traditional conversations about aging: making the workplace friendlier for women. Offering money to couples to have children does not work, said Sciubba – women do not make a simple monetary cost-benefit analysis when they decide to have children. Much more likely is a calculation about the cost to their professional career. Therefore, instituting more liberal leave policies and making it harder for employers to fire both men and women for taking maternity or paternity leave is more likely to have a real impact on fertility rates. 
The growing efficiency – and retirement age – of today's workers can blunt the effect of older workforces on developed economies, said Sciubba. And the stability, strong institutions, and legal protections for innovation are all advantages that will continue to attract the best and the brightest from developing countries.
The competing phenomena of aging in the developed world and continued growth in the developing – which some have dubbed the "demographic divide" – will likely make immigration a very important, possibly friction-inducing issue in the coming decades. Goldstone pointed to the challenges Europe is having today coping with immigrants from North Africa and the Middle East as a possible harbinger of things to come. 
Applying Demographic Theory: The Age Structural Maturity Model
While many regions will continue to experience population growth for the next two decades, including sub-Saharan Africa, the Middle East, and parts of East and South Asia and Latin America, the overall global trend is towards older populations. This is good news for democracy, according to Richard Cincotta.
Cincotta, who consults with the National Intelligence Council on demographic issues, explained his "age structural maturity" model, which finds a historical correlation between the median age of countries and their Freedom House scores (an annual global assessments of political rights and civil liberties). Older populations tend to have more liberal regimes, while the opposite is true in younger populations. Combining this model with demographic projections, one can predict when it will become likely for democracy to emerge as a country ages. Before the Arab Spring – to some disbelief at the time – Cincotta used the model to predict that Tunisia would reach a 50/50 chance of achieving liberal democracy in 2011 (see more on this in his posts about Tunisia and the Arab Spring).
For those youthful countries that do achieve some level of liberal democracy, the model predicts they have a high likelihood of falling back towards authoritarianism (Mali is a tragic recent example). 
This model, said Cincotta, can be a useful tool for analysts to challenge and add to their assessments. For example, it paints a bleak picture for democracy in Afghanistan (median age 16.6 years old), Iraq (18.5), or Yemen (17.7) and a comparatively rosier one for Tunisia (29.8), Libya (26.1), and Egypt (25.0). Some other observations may useful as well: no monarch has survived without some limits of power being introduced after countries reach a median age of 35, and military rulers too never pass that mark.
The age structural maturity model is, however, not perfect, Cincotta said. The most common outliers are autocracies (Freedom House score of "not free") and partial democracies ("partly free") with one-party regimes (China, North Korea), regimes led by charismatic "founder figures" (Cuba, Singapore), or those that where the regime is either supported or intimidated by a nearby autocratic state (Belarus).
Like all analyses, the model has its limitations, said Cincotta, but if used as a tool to generate "alternative hypotheses," it can help predict dramatic political changes, like the Arab Spring. The research also suggests that the "third wave" of democratization is not over and will in fact continue to expand as countries with younger populations mature.
In conclusion, the panelists recommended the students find ways to include political demography in their work moving forward. "Consider it an alternative tool that may be useful," said Geoff Dabelko. Policymakers today are overburdened with information and conventional analyses can sometimes become stuck in familiar lines of thought – demography can supplement these or shake them up by providing alternative narratives.
About the Author
Schuyler Null
Writer/Editor, Environmental Change and Security Program, Maternal Health Initiative
Schuyler Null is the editor-in-chief of New Security Beat and a writer/editor for the Wilson Center's Environmental Change and Security Program and Maternal Health Initiative.
Read More
---
Environmental Change and Security Program
The Environmental Change and Security Program (ECSP) explores the connections between environmental, health, and population dynamics and their links to conflict, human insecurity, and foreign policy. Read more