The Promise and Pitfalls of the Clean Energy Transition
The growth of renewable energy in recent years  -- particularly wind, solar and hydroelectric power sources -- has been dramatic. Nevertheless, as noted by the International Energy Agency, fossil fuels still account for more than 80 percent of global energy production. Fossil fuels, such as coal, oil and gas, are by far the largest contributor to global climate change, accounting for over 75% of global greenhouse gas emissions and nearly 90% of all carbon dioxide emissions.
The science is clear: to avoid the worst impacts of climate change, emissions need to be reduced by almost half by 2030 and reach net-zero by 2050. Renewable energy can go far toward achieving this goal since renewable sources are replenished by nature and emit little to no greenhouse gases or pollutants into the air. Renewable energy is healthier, cheaper, and job-creating.
This policy brief provides a global outlook for renewable energy and addresses infrastructure challenges related to generation, transmission, and storage.
Global outlook for renewables
192 countries and the EU have ratified or acceded to the historic 2015 Paris Agreement,  a legally binding international treaty entailing a global commitment to reach 45% emissions reduction by 2030 and net zero by 2050.  To reach this, the world will need to decrease fossil fuel production by roughly 6% per year between 2020 and 2030. This can only be achieved by accelerating alternative sources of energy generation, the clean and renewable ones.
According to a report from IRENA, doubling the share of renewables by 2030 will fuel global economic growth, resulting in an increase in global GDP of 1.1%, an improvement in global welfare by 3.7 % and the creation of 24 million new jobs. These are tangible benefits in addition to reducing energy dependency and stabilizing energy prices.
But make no mistake, the transition to cleaner energy presents significant challenges. Major concerns center on a host of factors: cost, availability technology, land, political barriers, and community awareness.
Renewable energy in the US
Given its natural endowments and continental size, the US has an enormous opportunity to unleash its renewable energy potential, estimated to be 100 times larger than the nation's annual electricity needs. It could become a worldwide example of leading the renewable energy transition, averting the worst global impacts of climate change, increasing its energy independence and preserving a livable planet for future generations. Currently, renewable energy generates about 20% of all US electricity.
Renewable energy in the US has shown impressive growth in just 10 years, doubling its share of electricity generation from 10% in 2013 to 20% today. To accelerate this clean energy transition, the country has some of the world's best natural resources (wind, hydro, solar), a motivating culture of innovation, financial opportunities, agile technology, and an entrepreneurial business sector. With the right policies and legislative support, the share of renewables in the US could triple by 2030 and could save US economy $30-140 billion per year by 2030.
Regarding renewables, the US Energy Information Administration reports that as of 2021, the US mainly relies on the following renewable resources: wood, waste, biofuels, wind, hydropower, solar, and geothermal. Figure 1 summarizes the consumption of renewable sources by sector in the US. Thus, we can see that the industrial sector relies heavily on wood, waste, and biofuels. For renewable energy, the transportation sector relies almost completely on biofuels while solar (41%) is mostly popular for residential and commercial sectors. Finally, wind (46%) and hydropower (32%) fuel the electric power sector.
Source: US Energy Information Administration (EIA), Monthly Energy Review (April 2022), Tables 10.1, 10.2a, 10.2b, and 10.2c. Note: Sum of components may not equal total due to independent rounding.
However, if we look at the overall share of renewable resources in Figure 2, renewables make up only 12% of total US energy sources, with biomass (40% overall) and wind (27%) being the top 2 factors.
Figure 2: Share of renewable energy sources against non-renewables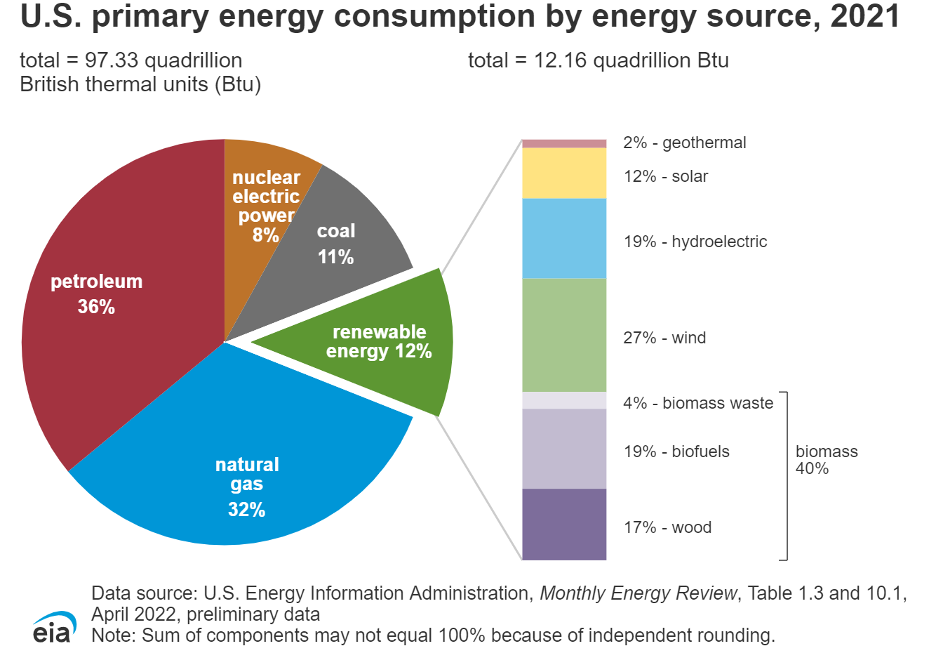 The two glaring takeaways from Figure Two are: (1) fossil fuels dominate energy consumption, accounting for 79%; and (2) biomass, wind and hydroelectric are the main sources of renewable energy.
The cost of clean energy is falling year–on–year and will continue to do so as infrastructure develops and innovation advances. According to the World Economic Forum, the price of solar power has fallen by 80% since 2010, from $ 378 to $68 per megawatt hour of electricity-- cheaper than nuclear and coal. In essence, renewable energy is becoming less expensive in dollars compared to using fossil fuels, and certainly less expensive in environmental costs.
Turning to the global situation, the two largest energy consumers in the world are China and the US, making them the top carbon polluters as well. As in the U.S., in China, renewable energy use is low -- less than 20%. China's main source of energy is coal (55%). In the US, over 66 % in 2021 was natural gas and petroleum combined. This requires extra efforts and investments to make the transition to renewables and potentially support other nations in reaching their United Nations' climate goals. But the US government has been aware of these challenges and has indeed increased its efforts for renewable energy infrastructure growth.
Steps taken by Trump and Biden administrations
Although the Trump Administration aimed to make the US energy independent by exploiting America's oil and natural gas potential, nascent steps were taken in 2019 to move toward renewables. Witness the Renewable Fuel Standard (RFS) Program, whereby the EPA-imposed minimum requirements in transportation fuels for cellulosic biofuel, biomass-based diesel, and advanced biofuel. Subsequently, in 2021 President Biden signed into law one of the most ambitious climate agendas in the history of the US, part of the noted BIL (Bipartisan Infrastructure Law). This legislation committed the US to reduce emissions by 50-52% from 2005 levels and create a 100% carbon pollution-free power sector by 2035, achieving a net-zero economy by 2050. The US is planning to allocate more than $500 billion over the next decade in climate and clean energy provisions to meet its climate goals. Further, under the Inflation Reduction Act (IRA), about $11.7 billion is appropriated for the Loan Programs Office (LPO) to support the addition of the Energy Infrastructure Reinvestment (EIR) Program designed to "retool, repower, repurpose, or replace energy infrastructure that has ceased operations or to improve the efficiency of infrastructure that is currently operating". Recognizably, the Biden administration has placed a clear emphasis on revamping the outdated infrastructure for renewables with state-of-the art tools to achieve its objectives.
The US is supporting measures around the globe as well, mainly in developing nations, to build renewable energy infrastructure. For instance, USAID helped create a generating capacity of 162,000 megawatts through renewable sources for 20 developing countries and initiated private investments of $190 billion. From 2017 to today, the Scaling Up Renewable Energy Program (SURE) has supported 31 low-income countries to procure clean electricity and meet international climate commitments by reducing costs of solar and wind energy through latest technologies. Even as recently as November 2022, US Climate Envoy John Kerry launched the Energy Transition Accelerator Program to assist developing countries in the shift from conventional energy sources to wind and solar and offset carbon emissions.
Generation capabilities and contribution of top 3 renewable sources in the US
Among the various sources of renewable energy, three are especially notable: wind, hydro, and solar. Wind power has been leading the way, as it is America's largest source of renewable energy. In 2020, it accounted for about 9.2%, with a 14% growth compared to 2019. A quarter of the country's land has winds strong enough to generate electricity, so it can potentially supply 20% of all the nation's electricity and support over 600,000 jobs in manufacturing, installation maintenance, and supporting services by 2050.
Hydropower, the second-largest renewable energy source in the US, which was surpassed by wind in 2019, is generating around 6.2 % of the country's electricity and still has the potential to lead the renewable energy transition. It has relatively low costs in terms of maintenance, operations, and fuel and repairs, and it can provide power to the grid immediately, serving as a reliable and flexible backup power during electricity outages. Outside of electricity generation, hydropower has benefits such as irrigation support, flood control, and water supply.
For the US, solar power provides a growing share of electricity in the country. It has  become more affordable and accessible over time. The Biden administration asserts that solar has the potential to power 40% of US electricity by 2035 and employ 1.5 million people. Solar currently accounts for about 3% of the electricity supply and would need to quadruple its early capacity additions by 2035 to achieve this goal.
Challenges to Generation, Transmission and Storage
While the multiple sources of renewable energy offer myriad possibilities for alleviating the heavy reliance on fossil fuels, there are infrastructure challenges related to generation, transmission, and storage.
Generation
Despite reduced costs for manufacturer for solar photovoltaic modules and other renewable energy technologies, overall costs of installation and maintenance remain high. For a large-scale solar power system, the installation cost is in the vicinity of $2,000 per kilowatt. The cost for small-scale installations, such as residential grids, is even higher -- approximately $3,700 per kilowatt. On the other hand, a new gas-fired plant costs about $1,000 per kw, making it a preferred choice for businesses and investors with limited financial resources. The government subsidies currently in place do not offset the high risk for small-businesses ventures or even residential units to justify nearly double the investment needs.
Transmission
Resource location and availability also present challenges. Renewable energy sources depend on geographical location, climate, and weather, meaning regions might have different needs and availability (or lack thereof) of certain renewable sources. Moreover, connecting renewable sources to the grid is a major issue in terms of cost and efficiency. Currently, there is a bottleneck of transmission lines due to existing transmission grids supporting conventional energy resources. That is, the legacy power grids that have been in place for several decades occupy the routes and land needed to set up additional power lines supporting renewable sources. Currently, the transmission lines span 700,000 miles in the US. But according to experts, the lines need to increase by at least by 25% in next decade. Expanding distribution for power through renewable sources would not only need investments in new transmission lines, but also in renovating legacy lines for smooth integration with new frameworks.
Storage
Energy storage is another key factor. The intermittency of renewable energy such as wind and solar requires storage technologies to ensure consistent supply. The high costs around storage implementation and grid modernization, the lack of standardized storage systems, and outdated regulatory policy stand out as challenges in this regard. Another issue is the sustainability and the environmental costs of energy storage technology and mining the critical minerals for battery usage. Recognizing these storage needs, the US Department of Energy (DOE) has initiated R&D partnerships with private entities to create modern electrical grids that can store backup power. DOE and its associated national laboratories have arranged a network of labs, industry, academia, other federal and state agencies and organizations to increase the commercial adoption of grid energy storage and EVs.
Other challenges to renewables infrastructure
The transition challenges to renewable infrastructure cannot be overstated. To begin with, global energy consumption is forecasted to continue increasing by 1%-2% annually. By all indications, global energy demand shows no signs of slowing over the next couple of decades. This makes the transition of our energy systems from fossil fuels to renewable sources a more daunting task.
Another challenge is the current geopolitical crisis gripping the European continent, namely the Russia-Ukraine war, which began in February 2022. This conflict complicates the energy market and the transition to renewables, as Russia is the third-largest oil producer in the world and a significant natural gas supplier, providing 40% of it to the EU. As many nations now ban imports of Russian oil and gas, the search for new oil and gas reserves and suppliers will intensify, and coal and nuclear energy will see an increase in their attractiveness. This predicament could halt or at least slow renewable energy plans and ambitions.
Other factors, including expensive switching costs from fossil fuels to renewables, must be considered. Building, developing, and deploying new infrastructure, technology, and products to renewable sources are costly investments. A global effort to fund 100% renewable energy by 2050 could cost $131 trillion in energy transition investments, according to the International Renewable Energy Agency.
We can expect the transition to renewable energy and industry transformation will continue to pose challenges for policymakers around the globe. However, if combined with parallel carbon capture and emissions reduction strategies from fossil fuel use, nations will be able to succeed. But to reiterate, this success will remain contingent upon countries addressing the huge and troubling energy infrastructure gap to reach global net zero goals.
In a 2022 report by the National Renewable Energy Laboratory (NREL), investigators concluded that there are multiple pathways to 100% clean electricity by 2035 that would produce significant benefits. However, they assert that the exact technology mix and costs will be determined by research and development (R&D), manufacturing, and infrastructure investment decisions over the next decade.
Although the NREL study focuses on the U.S., its analysis, assessment, and recommendations are also relevant for other nations. They conclude, among other findings, that technology deployment must rapidly scale up; critical hurdles to decarbonizing the power sector must be overcome; energy infrastructure must be installed rapidly throughout the country; clean energy manufacturing must be well funded; and R&D in emerging clean technologies must be expanded.
To quote Tom Steyer, climate investor, hedge fund manager and environmentalist: "Renewable energy is a clear winner when it comes to boosting the economy and creating jobs." If, indeed, that is the case, we can expect the future of the planet to be not only cleaner and healthier, but also more prosperous.
About the Author
Jerry Haar
Global Fellow;
Professor of International Business and Executive Director for the Americas, College of Business, Florida International University
Read More
---
Wahba Institute for Strategic Competition
The Wahba Institute for Strategic Competition works to shape conversations and inspire meaningful action to strengthen technology, trade, infrastructure, and energy as part of American economic and global leadership that benefits the nation and the world. Read more