Secretary Tillerson's Middle East Tour
From February 11-16, Secretary of State Rex Tillerson met with officials in Egypt, Kuwait, Jordan, Lebanon and Turkey during a tour of the Middle East. A highlight of Tillerson's trip was a ministerial meeting for the Global Coalition to Defeat ISIS in Kuwait City, Kuwait. "The global coalition has made outstanding progress, but the fight is not over," the secretary said. "We remain committed to destroying ISIS wherever it may be, denying its ability to recruit, move foreign terrorist fighters, transfer funds, and spread their false propaganda across the internet and other social media vehicles." The following are excerpted remarks and videos from Tillerson's trip. 
In Egypt

"I did express to the foreign minister our condolences to the people of Egypt for the violence that they have been suffering from the terrorist attacks perpetrated by ISIS and other terrorist groups. Egypt's been battling this level of extremism for many years, and we continue to be steadfast partners in their response to these attacks throughout this time.
We agreed that we would continue our close cooperation on counterterrorism measures, including our joint commitment to the defeat of ISIS, and Egypt has been a very important member of the Defeat-ISIS Coalition from the beginning. They – Egypt deals with the threats of ISIS themselves and are dealing with it certainly currently in the Sinai."
"The United States, again, commits itself to standing with Egypt, standing shoulder to shoulder in these – in the fight against terrorism, but also standing together to create a more stable region for everyone as well, and I thank the foreign minister for our opportunity to meet and exchange on so many important issues."
"I think the commitment the U.S. has to Egypt's security in the fight against terrorism should be evident, and both with the release of about a billion dollars of foreign military financing assistance to Egypt to continue to strengthen its capabilities, and also sharing of other approaches to countering terrorism, some of which we can talk about, some of which we can't so easily talk about. But our joint commitment to defeat ISIS is steadfast and there has been no gap between Egypt and the United States in our joint efforts to confront terrorists and extremist – extremism in the region, but most specifically here in Egypt as well.
So I think the Egyptian people should be confident that the U.S. commitment to continuing to support Egypt in this fight against terrorism, in bringing security for the Egyptian people is steadfast, and that will continue, and we had a great deal of exchange today about how we can advance that. And we just mentioned the intent to have a strategic dialogue later this year. All of these are opportunities for us to identify other ways that we can strengthen and support Egypt's fight against terrorism, but also, ultimately, to strengthen the economic development of Egypt as well."
— Feb. 12, 2018, at a press availability with Egyptian Foreign Minister Sameh Shoukry 
 In Kuwait
"And finally, I want to thank the World Bank, and international finance corporation, for supporting this conference. With the support of the United States and the Global Coalition to Defeat ISIS, Iraq has bravely fought and successfully liberated its territory from ISIS. Four and a half million Iraqis have been freed from tyranny. Over 3.2 million internally displaced Iraqis are now at home or on their way back home. And the Iraqi Government is reasserting control of the Iraq-Syria border. As we celebrate these victories over extremism and hatred, we know they were hard-won, and they came at a very high price. Much work remains to rebuild Iraq and modernize its economy. Helping Iraq create a government that is inclusive, accountable and transparent will build a society that can counter the extremist ideologies. This will deal ISIS its final blow and demonstrate its failed, violent ideology."
— Feb. 13, 2018, remarks at the Iraqi reconstruction conference session on private sector engagement 
"Today's meeting of the 74 members of the Global Coalition to Defeat ISIS – and we were able to announce today it's now 75 members because we welcomed the Philippines – this hosting by Kuwait is the kind of leadership that marks Kuwait's efforts throughout this entire campaign. The global coalition has made outstanding progress, but the fight is not over. ISIS's so-called caliphate in Iraq and Syria has crumbled, but ISIS remains a very determined enemy and is not yet defeated. We remain committed to destroying ISIS wherever it may be, denying its ability to recruit, move foreign terrorist fighters, transfer funds, and spread their false propaganda across the internet and other social media vehicles.
As ISIS has evolved, so has the coalition. The guiding principles that were adopted by the coalition today lay out our vision for the future role of the coalition to continue this fight against ISIS. These principles affirm our common determination to continue our cooperative efforts using all available means until we have achieved the full and enduring defeat of ISIS. The enduring defeat of ISIS in Iraq and Syria means all members of the coalition must support and sustain the post-ISIS stabilization efforts. This means continuing to provide essential aid and services to communities which are only now starting to rebuild. It also includes the presence of effective forces to help secure liberated areas and facilitate the safe return of internally displaced persons.
On the defeat-ISIS campaign and other endeavors, Kuwait is one of the United States's most important strategic partners for regional peace and stability, and it's evident through Kuwait's long-term willingness to host multiple U.S. bases and thousands of U.S. troops. Kuwait also has responded to President Trump's speech in Riyadh last year with greater commitments to confront terrorism and violent extremism."
"As to the situation in Afrin, it has detracted from our fight to defeat ISIS in eastern Syria. As forces have diverted themselves towards Afrin, we have been in discussions with our NATO ally Turkey, (inaudible) that they are mindful of the effects this is having on our principal issue, which is the defeat of ISIS. So I will be traveling to Ankara later in the week. We'll have further discussions with them about how do we continue to work together on the essential mission, which is to defeat ISIS, recognizing, as we all know, there are other terrorist elements operating inside of Syria, including al-Qaida, which is a threat to the United States, Nusrah Front, and others. So we want to work together to maintain our focus on the essential mission of defeating ISIS."
"Well, ISIS or Daesh emerged out of circumstances both in Iraq and Syria that were due to the conflicts that had been underway – territories that were not secure, conditions that made people vulnerable. And so they really have emerged out of conflict and disarray in both countries. And as they emerged, they were able to take large swaths of territory and create the safe haven for them to carry out their operation. That is why the first task is to deny them their caliphate, deny them the territory and safe haven they control in order to undermine their ability to recruit fighters, to raise financing, to train and to plan and carry out attacks."
"As to our position in Syria, I would just make a couple of observations. The United States and the coalition forces that are working with us to defeat ISIS today control 30 percent of the Syrian territory, and control a large amount of population, and control a large amount of Syria's oil fields. So I think in terms of this observation that the U.S. has little leverage or role to play is simply false. We are very active in the discussions that are moving, all the talk toward Geneva, both in terms of working with the opposition voices to unify them and have them working toward an objective, and we're working very closely with Russia, who has the greatest influence on the Assad regime and can bring Assad and the regime to the negotiating table in Geneva..."
— Feb. 13, 2018, at a press availability with Kuwaiti Foreign Minister Sheikh Sabah al Khalid al Sabah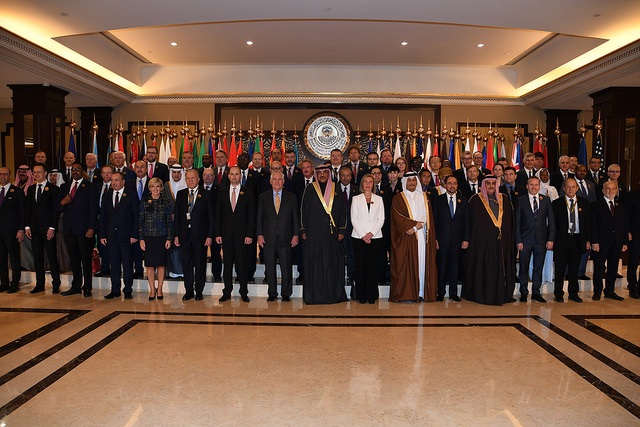 "It has been approximately three and a half years since the global coalition began its effort to defeat ISIS. At the time we started our efforts, ISIS/Daesh was thriving. Today, ISIS/Daesh is failed. Approximately 98 percent of the territory once held by ISIS in Iraq and Syria has been liberated. Approximately 3.2 million Syrians and 4.5 million Iraqis have been freed from the tyranny of ISIS. Over 3.2 million internally displaced Iraqis are now back home. ISIS's leadership, online presence, and global network are under more pressure than ever.
But the end of major combat operations does not mean that we have achieved the enduring defeat of ISIS. ISIS remains a serious threat to the stability of the region, our homelands, and other parts of the globe. Without continued attention on the part of coalition members, we risk the return of extremist groups like ISIS in liberated areas in Iraq and Syria and their spread to new locations.
Each of us must continue our commitment to the complete defeat of ISIS. Maintaining stabilization initiatives is essential in this regard. If communities in Iraq and Syria cannot return to normal life, we risk the return of conditions that allowed ISIS to take and control vast territory. We must continue to clear unexploded remnants of war left behind by ISIS, enable hospitals to reopen, restore water and electricity services, and get boys and girls back in school.
In Iraq, it is critical that the funding facility for stabilization be fully funded in this, its final year, in order to ensure the stabilization initiatives led by the Government of Iraq can be well-positioned to prevent a resurgence of ISIS. The United States appreciates the generous contributions of coalition members over the past year, but we all must do our part to ensure that (inaudible) stabilization (inaudible) in Mosul City, western Anbar, western Nineveh, and (inaudible).
In Syria, the United States continues to be the world's largest donor of humanitarian assistance to the Syrian crisis. At the end of January we provided more than $216 million in new funding, bringing our total humanitarian assistance to nearly $7.7 billion since the start of the crisis. Today, I am announcing that we are providing an additional $200 million to further support critical stabilization and early recovery initiatives in liberated areas of Syria.
To ensure an enduring defeat of ISIS in Iraq and Syria, we are working with the global coalition and local partners to consolidate military gains. Home forces are essential to securing liberated areas and setting the conditions for safe and voluntary return of IDPs and refugees.
The United States will maintain a conditions-based and ISIS-focused military presence in Syria. As part of that presence, we will continue to train local security forces in Syria. We are also working to ensure the local forces we train are effective, professional, accountable, and respectful of human rights. It is essential that these forces be representative of their local communities and do not pose a threat to neighboring communities or neighboring countries.
In Syria, we remain concerned over recent events in northwest Syria and call on all parties to remain focused on defeating ISIS, de-escalating and resolving the Syrian conflict, and protecting innocent civilians.
We are keenly aware of the legitimate security concerns of Turkey, our coalition partner and NATO ally. We will continue to be completely transparent with Turkey about our efforts in Syria to defeat ISIS, and we stand by our NATO ally in its counterterrorism efforts.
As ISIS continues to evolve, so must the coalition. (Inaudible) ISIS is attempting to morph into an insurgency in places like Afghanistan, the Philippines, Libya, West Africa, and others, and is trying to carve our and secure safe havens. We have seen in Iraq and Syria the consequences of an ISIS territorial threat. History must not be allowed to repeat itself elsewhere.
As ISIS fighters (inaudible) Security Council Resolution 2396 is a new and effective tool for countering threats posed by foreign terrorist fighters. The United States calls for quick implementation and full enforcement of the resolution.
Lastly, we must keep up the pace of combatting ISIS as it continually seeks to radicalize, recruit, and direct operations online. We must be aggressive in online spaces (inaudible) such as the instant messaging service (inaudible).
The fight against ISIS will remain difficult. Coalition partners must call on all international powers to eradicate this threat. Every one of us must continue to adapt and strengthen our coalition through counter-ISIS's own network of foreign fighters, financing, and propaganda. And we must continue to deepen our partnerships in the Global Coalition to Defeat ISIS.
The United States supports the revised guiding principles being presented today. They reaffirm our common determination to continue our efforts until we have achieved the full and enduring defeat of ISIS. And they (inaudible) our vision (inaudible) the coalition and our ongoing cooperative efforts.
As the opening line of the guiding principle says, "We are," and I quote, "united in our determination to defeat ISIS/Daesh through a focused, sustained, and multifaceted effort." It is now our duty to keep taking action that reflects that determination."
— Feb. 13, 2018, opening remarks at the Global Coalition to Defeat ISIS Ministerial 
QUESTION: And regarding the future of the American presence in Iraq, how do you view the American presence in Iraq?
SECRETARY TILLERSON: Well, if you're asking about American Government presence or military presence, that's a matter that's yet to be discussed with the Government of Iraq, with Prime Minister Abadi. Of course, they have elections upcoming. We are still there in Iraq today to continue to ensure that ISIS/Daesh cannot re-emerge. While we have defeated them by taking all of their territory from them in Iraq, we know – and as Prime Minister Abadi would also acknowledge – there are still elements of ISIS/Daesh that are a threat to Iraq, and we're going to stay for as long as we're certain we have dealt with those threats as well.
QUESTION: Thank you. Okay. Sorry for the interruption. The international Coalition to Defeat ISIS has made big progress in Syria and in Iraq. What are the main challenges that you still face and what are the plans or the goals for next year?
SECRETARY TILLERSON: Well, the ministerial that we had today for the Global Coalition to Defeat ISIS was a very important opportunity for all of the members of the coalition to meet together, acknowledge the success that has been achieved in Iraq and Syria. But we know that defeating ISIS or Daesh, it is a global threat, and we are sharing opportunities to identify how foreign fighters may be returning home, how do we document and keep track of people who have been involved with ISIS or Daesh. And so we approved a new set of guiding principles that are – that will guide our efforts in the future, and it's based on a lot of information sharing, collecting information using INTERPOL databases. And so this is really about the next phase of ensuring that we achieve ultimately an enduring defeat of ISIS.
QUESTION: Very good. Mr. Secretary, there are concerns in the region based on the last confrontation between Israel, Iran, and Syria, and the concerns based on the fear that maybe a war will break in the region and it will be a regional war. Do you share these concerns?
SECRETARY TILLERSON: Well, just prior to leaving for my trip to the region, I had a very lengthy telephone conversation with Prime Minister Netanyahu because of the strikes, and we had a long discussion around the threats that Israel is confronted with that emanate both from Lebanon due to Lebanese Hizballah, but also from Syria. We take the threats to Israel seriously and we take a view that Israel has every right to defend itself from those threats.
We are concerned about Syria not creating instability and opportunities for further threats to Israel, but also to Jordan, to Turkey, to all of its neighbors, and that's why we will remain in Syria until ISIS is fully defeated and we are certain will not re-emerge. And we will remain engaged in the political solution for Syria, which we think is the long-term means of bringing stability to Syria and restoring Syria's independent nature.
QUESTION: But on the ground, what is the U.S. doing specifically to contain Iran's rising influence in Syria, in Lebanon, in Iraq, and elsewhere?
SECRETARY TILLERSON: We believe the future of responding to Iran's influence in Syria is through the political process, through the peace process itself. Again, U.S. is present in Syria for one purpose only, and that is the defeat of ISIS, the enduring defeat of ISIS. In doing so, though, we have taken the approach that we also want to take the opportunity to ensure that fighting amongst factions inside of Syria, the re-eruption of the civil war, does not take place. And so we want to use our presence to also be a stabilizing force to support talks in Geneva under the UN Security Council resolution process, allow the Syrian people to write a new constitution, allow them to hold free and fair elections. And through that process, we believe Syria will strengthen its independence and will take its own actions to reduce and ultimately reject the influence of Iran inside of Syria.
Iran's influence inside of Syria is not positive, it is a negative, because they bring with it instability, they bring with it violence.
QUESTION: But you're focusing, Mr. Secretary, on defeating ISIS. And Iran, Syria, the Syrian regime, and Russia are gaining ground. What will you do in this case?
SECRETARY TILLERSON: Well, I don't see the regime, Russia, and Iran necessarily gaining ground. I see the entire country eventually defeating ISIS. And again, what we're encouraging Russia and others is to de-escalate the violence – once ISIS is defeated, do not promote the violence. And we've asked Russia to persuade the regime to stop the march and the campaign against opposition forces. They have agreed to ceasefire areas and stabilization areas, but they need to enforce those in order to create the conditions for a peaceful solution for Syria's future.
And with respect to Iran's broader involvement in the region, we have spoken very clearly about Iran's destabilizing presence in Yemen, their destabilizing presence in Syria, in Lebanon, and in Iraq as well. It is our view – I think it's the view by and large of the international community – that Iran's presence in these countries is not helpful. It does not bring stability. It does not bring security to the citizens there. We ask Iran to withdraw and send their forces home, and that's what we believe is the right pathway for the future.
....
QUESTION: And meanwhile, you are putting more pressure and more sanctions on Hizballah. Is the Lebanese Government coordinating or cooperating with the U.S. in this regard? And how can you pressure Hizballah without affecting the Lebanese Government?
SECRETARY TILLERSON: Well, it is – it's a very good question, and we're very mindful of our issue is with Lebanese Hizballah, a terrorist organization; it is not with the Lebanese people, it is not with the Lebanese Government. So we try to be very precise in the actions we take to not harm the Lebanese people.
Having said that, we do need support from the Lebanon Government to deal very clearly and firmly with those activities undertaken by Lebanese Hizballah that are unacceptable to the rest of the world.
— Feb. 13, 2018, in an interview with Michel Ghandour of Al Hurra TV
In Jordan

"I also want to highlight Jordan's partnership and commitment to combating terrorism and violent extremism. His Majesty King Abdullah has long been a regional and global leader and a voice against terrorism, and is critical to our counterterrorism efforts. And I think this is evidenced by Jordan's active participation in the Global Coalition to Defeat ISIS and in their efforts to convene the Aqaba process."
"Well, I will be going to Beirut tomorrow to meet with leaders in Beirut about Lebanon's future. We support a free, democratic Lebanon free of influence of others, and we know that Lebanese Hizballah is influenced by Iran. This is influence that we think is unhelpful in Lebanon's long-term future.
We also have to acknowledge the reality that they also are part of the political process in Lebanon. I think Lebanon is taking positive steps with their law on disassociation that was passed last year to send a signal as to their view that they do not want to see any of Lebanese Hizballah involved in foreign conflicts and have asked that they bring all of their people back from the conflict in Yemen.
So I think it's a long process. We support the democratic process there. We support strengthening the LAF, the Lebanese Armed Forces, so that there is a legitimate security force under full control of the Government of Lebanon to provide the security the Lebanese people deserve.
With respect to my meetings in Ankara, Turkey is still an important NATO ally of the United States, they're still a very important partner in the region for us, and we need to find a way to continue to work in the same direction. We are committed to the same outcomes in Syria, and we know that Turkey also has threats within Turkey as well as in areas surrounding Turkey, from areas out of Iraq, some areas out of Syria. And so we hope to have talks about how we can work cooperatively to lessen those threats to Turkey but ultimately achieve the objective in Syria, which is the full and enduring defeat of ISIS, the de-escalation of violence in Syria, and moving the Geneva peace talks forward. I think what will benefit Turkey the most will be a successful peace process in Geneva that stabilizes all of Syria."
"Again, the strength of the partnership, whether it be in countering terrorism, whether it be in pursuing a Middle East peace process, whether dealing with the serious humanitarian and refugee problems created by conflict in the region, Jordan and the United States have always been able to work shoulder-to-shoulder to address these issues."
— Feb. 14, 2018, remarks at Memorandum of Understanding signing and press conference with Jordanian Foreign Minister Ayman Safadi 
In Lebanon

"From foreign conflicts and efforts to drag Lebanon into such conflicts, to terrorism and violent extremism, to economic strains, Lebanon has been under enormous pressure. We are engaging with the government of both Lebanon and Israel to ensure Lebanon's southern border remains calm. And we remain committed to helping Lebanon and the Lebanese people prosper through the development of their natural resources in agreement with all of their neighbors. If an agreement can be reached, it truly has the ability to help Lebanon and the neighboring countries prosper, both now and in the years to come.
Despite all of these challenges, it is clearly a testament to the resilience of the Lebanese people and Lebanese communities around the world that Lebanon perseveres. We're grateful to our close partnership with Lebanon's security services, particularly the Lebanese armed forces and the internal security forces, as they fight on the front lines against ISIS/Daesh and al-Qaida, and they stand ready to safeguard Lebanese stability. We've built a very strong relationship with these state institutions, and we remain committed to supporting them in advancing our common goals."
"But it's impossible to talk about stability, sovereignty, and security in Lebanon without addressing Hizballah. The United States has considered Hizballah a terrorist organization for more than two decades now. We neither see nor do we accept any distinction between its political and its military arms. It is unacceptable for a militia like Hizballah to operate outside the authority of the Lebanese Government. The only legitimate defender of the Lebanese state is the Lebanese Armed Forces. Hizballah is not just a concern for the United States. The people of Lebanon should also be concerned about how Hizballah's actions and its growing arsenal bring unwanted and unhelpful scrutiny on Lebanon. Hizballah's entanglement in regional conflicts threatens the security of Lebanon and has destabilizing effects in the region. Their presence in Syria has perpetuated the bloodshed, increased the displacement of innocent people, and propped up the barbaric Assad regime. Their presence in Iraq and Yemen has also fueled violence, and the consequences of their involvement in these far-off conflicts – which have nothing to do with Lebanon – are felt back here at home.
That's why we're urging all Lebanese leaders during my visit to uphold the Government of Lebanon's commitment to disassociating itself from foreign conflicts. The international community expects all parties in Lebanon to fulfill this commitment, including Hizballah, which should cease its activities abroad in order to help reduce tensions in the region."
"With respect to the meetings upcoming in Turkey, Turkey is an important NATO ally of ours, they're still an important partner of ours in the fight to defeat ISIS. They have performed admirably and, in all ways, have been supportive. And your question of from any angle you look at it, all – you don't see any closure, well, you must be looking at a flat wall, because there are so many aspects of the Turkey-U.S. relationship which are very important and very positive, and we intend to build on the areas that we do share common interests, common concerns. I would tell you our endpoint objectives are completely aligned; there's no gap between them.
We have some differences about tactically how to achieve that endpoint objective, but our objectives are to defeat ISIS, to defeat terrorism, to reduce the violence, protect people and support a peaceful resolution to the conflict in Syria, which will bring great benefits not just to Syria but it will bring enormous benefits to Lebanon and to other neighboring countries. We have never given heavy arms to the YPG, so there's none to take back."
— Feb. 15, 2018, at a press availability with Lebanese Prime Minister Saad Hariri 
In Turkey

"Turkey was one of the first countries to join NATO. Turkish troops served alongside Americans in Korea, Afghanistan, Bosnia, and Kosovo. We have made many shared sacrifices together. We stand shoulder to shoulder with Turkey against terrorist threats. Turkey is a critical partner in the Global Coalition to Defeat ISIS, Daesh. We're grateful that Turkey has allowed the United States and other NATO countries to base forces in Incirlik, and Turkey is the linchpin of strategic stability at the crossroads of the three continents.
Our two countries share the same objectives in Syria: the defeat of ISIS, Daesh; secure and stable zones; an independent and unified Syria; and help chart a new democratic future for Syria under the UN Security Council Resolution 2254 process. We are hopeful that the Geneva process will produce a new constitution for the Syrian people and elections to be held under UN auspices. A democratic future for Syria is essential for preventing ISIS from re-emerging and from stopping the suffering that the Assad regime has inflicted on the Syrian people. The Turkish Government and people deserve the gratitude and recognition for the unprecedented hospitality they have displayed in hosting more than 3 million Syrian refugees."
"In our discussions last night with President Erdogan, we brought forward proposals on how we can address all of the critical issues that are standing between this relationship today. And those will be addressed – some will be addressed in the joint statement that we will be releasing following this press avail. But the foreign minister did touch on a few of those, and we want to work specifically on the issues that are standing between us.
What we have agreed is our objectives for Syria are precisely the same. There are – there's no daylight between Turkey and the U.S. objectives: defeat ISIS, stabilize the country, create stabilization areas so eventually refugees and internally displaced persons can begin to return home, and support the political solution for Syria that will result in a whole, independent, democratic Syria with no special demarcations dividing Syria and with the Syrian people selecting their leadership through free and fair elections. And we all share that same objective.
And now, going from this point forward, we are going to closely coordinate our efforts against the final defeat of Daesh. We do not have them fully defeated today, but we're going to coordinate our efforts against the final defeat of Daesh as well as other terrorist groups that are located inside of Syria. We want to coordinate how to stabilize areas together and who will occupy those areas. And the objective and intent is to return these villages, these cities back to the composition of people who were there before they were overrun by Daesh. So we're going to address Manbij first. It's one of the first areas we're going to work on. The United States made commitments to Turkey previously. We've not completed fulfilling those commitments. Through the working group we're going to address that, and Manbij is going to receive priority.
But it's not just Manbij. We have to think about all of northern Syria, and we've agreed on certain areas we're – we'll continue to work together, and then we're going to coordinate very closely on supporting the Geneva process, because ultimately, that is the pathway to a peaceful, stable Syria. That improves Turkey's security as well on its border when we can achieve that final peace."
"We're not going to be U.S. doing one thing and Turkey doing another. We are going to act together from this point forward. We're going to lock arms, we're going to work through the issues that are causing difficulties for us, and we're going to resolve them and we're going to move forward with the future defeat of ISIS in terms of coordinating our efforts to complete this battle, which is not yet complete; to addressing other terrorist presence inside of Syria; to stabilizing areas and ensuring that the stability architecture, both security forces and governing councils, are representative of the conditions that existed in those cities before they were overrun by ISIS."
"With respect to DOD's budget for the coming year, only sufficient funds have been included in their budget to continue the defeat of ISIS campaign, and this is to continue to supply the SDF forces primarily with ammunition, because this fight goes on. There's no more being provided than we believe is necessary to complete the battle to defeat Daesh.
The question of Manbij is one that, as I said, is going to be given priority in our joint working group effort, and this is one of – as the foreign minister indicated, one of the issues for us to work together on is what kind of security should be provided. Manbij is strategically a very important city from the standpoint of our defeat of Daesh but also our containment and ensuring that they do not re-emerge. It's geographically important. That's why the U.S. has left a troop presence in Manbij to ensure that that city remains under control of our allied forces and does not fall into the hands of others. So that will be a topic for discussion in terms of how we go forward to ensure Manbij remains within our control because of its strategic importance."
— Feb. 15, 2018, at a press availability with Turkish Foreign Minister Mevlut Cavusoglu 
Photo Credits: U.S. Secretary of State Rex Tillerson and Kuwaiti Deputy Prime Minister and Foreign Minister Sheikh Sabah al-Khaled al-Sabah prior to the plenary session of the Ministerial Meeting of the Global Coalition to Defeat ISIS, Liberation Hall, Bayan Palace, Kuwait City, Kuwait, February 13, 2018. (Main Image) [State Department photo/ Public Domain]; U.S. Secretary of State Rex Tillerson poses for a family photo with the Delegation at the Ministerial Meeting of the Global Coalition to Defeat ISIS at Bayan Palace in Kuwait City, Kuwait, February 13, 2018. [State Department photo/ Public Domain]
Related Program
The Islamists
"The Islamists" is a book and website on the origins, evolution, and positions of Islamist movements in the Middle East. The movements are redefining the order and borders in the world's most volatile region. Yet they have diverse goals and different constituencies. Sometimes they are even rivals. Read more