Trump and Mexico's President Have a Big Agenda on Trade and Beyond
Presidents Trump and Andres Manuel Lopez Obrador of Mexico, known as AMLO, will meet July 8 for the first time to welcome the new United States-Mexico-Canada Agreement (USMCA). There is much to celebrate, but much still to be done to assure solid prospects for commerce, security and well-being between the U.S. and Mexico, as well as with Canada.  
Canadian Prime Minister Justin Trudeau's office confirmed Monday that he won't join for a trilateral discussion in Washington. Still, there are important U.S.-Mexico issues to pursue.
In the 18 months since AMLO took office,  U.S.-Mexico relations have been in crisis management mode: dealing with Trump's focus on building a border wall; managing the surge of Central American migrants; and searching for agreement to better address the flows of lethal, illegal drugs northward and of arms and drug-sale profits southward, in addition to the ups and downs of the USMCA negotiations.  
About the Author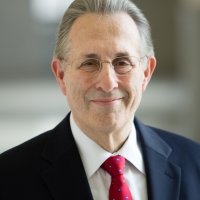 Earl Anthony Wayne
Public Policy Fellow;
former Career Ambassador to Afghanistan, Argentina, and Mexico
Read More
---
Mexico Institute
The Mexico Institute seeks to improve understanding, communication, and cooperation between Mexico and the United States by promoting original research, encouraging public discussion, and proposing policy options for enhancing the bilateral relationship. A binational Advisory Board, chaired by Luis Téllez and Earl Anthony Wayne, oversees the work of the Mexico Institute.  Read more