Türkiye Moves to Unblock Sweden's NATO Membership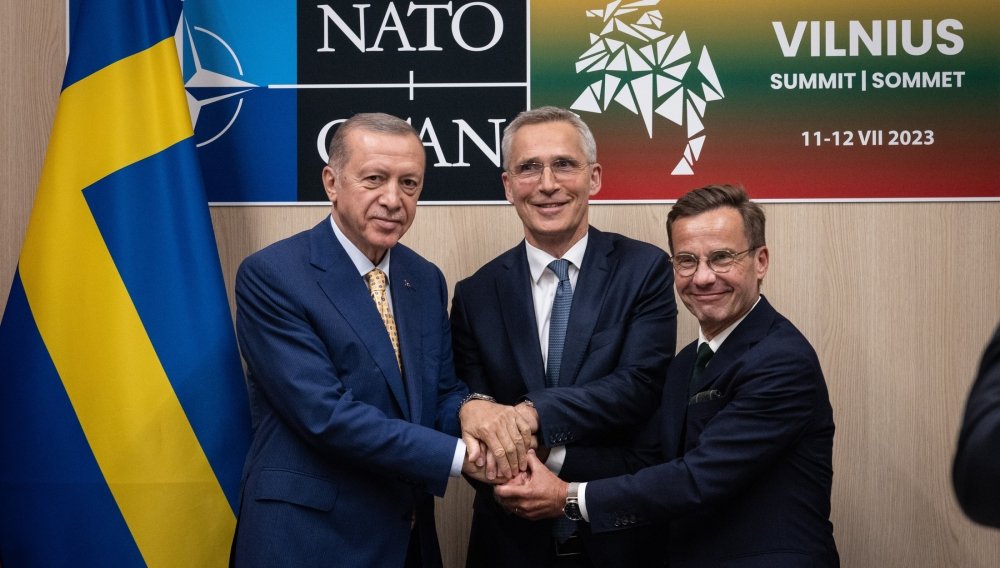 Turkish President Recep Tayyip Erdoğan announced today he will drop his country's opposition to Sweden joining the NATO Alliance. Sweden applied for NATO membership on May 18, 2022, ending two centuries of military nonalignment. Finland applied alongside Sweden and joined the alliance in April, however Sweden's membership has stalled due to opposition from Türkiye and Hungary. With the upcoming NATO Summit in Vilnius on July 11 and 12 and with the stated goal of welcoming Finland and Sweden as full members at this summit, the pressure for Sweden to join the alliance has grown in recent weeks. Now that Türkiye has indicated it will support Sweden's membership, it is worth exploring Sweden's thorny road to NATO membership and unpacking the key issues that led to Türkiye and Hungary blocking Sweden from becoming NATO's 32nd member. 
Gaining Türkiye's support for Sweden's NATO membership has been a top agenda item for the alliance for more than a year. At the last NATO Summit in Madrid, Türkiye and the two newest NATO applicants signed a Memorandum of Understanding for Sweden and Finland to end their arms embargoes and address Türkiye's national security concerns. In the last year, Sweden has tried to address Turkish concerns by reversing its 2019 decision to ban weapon exports to Türkiye. In response to Turkish accusations of Sweden harboring members of the Kurdish PKK – classified as a terrorist organization by Türkiye as well as the US and the EU – Sweden tightened its Terrorist Crime Act, which expanded the definition of terrorist activities. In the weeks leading up to the NATO Summit, a Swedish court also convicted a man for supporting the PKK, the first sentence of its kind. Recently, the dispute became even more complicated. Multiple Quran burnings have taken place in Sweden, with the latest one on June 28. The burnings caused considerable fury in Türkiye and the wider Islamic world – with the Organization of Islamic Cooperation denouncing them. On the other hand, the government's denouncement of the burnings as Islamophobic received a domestic backlash from Swedes concerned about preserving free speech. According to the Swedish police, more burnings are to be expected in the days ahead. 
In a Tweet announcing the breakthrough, NATO Secretary General Jens Stoltenberg announced this would happen as soon as possible, but it is clear that Sweden will fully join the NATO Alliance only in the weeks after the Vilnius Summit. 
These actions ultimately appear to have been enough for Sweden to pave its way into NATO, likely after the Summit in Vilnius. Next, Türkiye's parliament will need to ratify Sweden's accession. In a Tweet announcing the breakthrough, NATO Secretary General Jens Stoltenberg announced this would happen as soon as possible, but it is clear that Sweden will fully join the NATO Alliance only in the weeks after the Vilnius Summit. During the course of negotiations, President Erdoğan made new demands today for reviving Türkiye's stalled EU membership negotiations, which have effectively been on hold since 2018. It is unlikely that the negotiations on EU membership will be restarted, but this exchange makes it clear that close cooperation with the EU remains a priority for Türkiye. "Sweden will actively support efforts to reinvigorate Türkiye's EU accession process, including modernization of the EU-Türkiye Customs Union and visa liberalization", shifting Sweden from a vocal critic to supporter of Türkiye's EU accession.
Although much attention has been on Türkiye's opposition to Sweden's NATO membership, Hungary has also delayed ratification. The Hungarian Parliament once again postponed the vote on June 29. Hungarian government spokesman Zoltan Kovacs has stated there is "an ample amount of grievances" for withholding Sweden's accession, criticizing it for being "repeatedly keen to bash Hungary'' and "using [its] political influence to harm Hungarian interests".  In the long run, however, Hungary is unlikely to be a significant obstacle for Swedish membership; Hungary dropped its opposition to Finnish membership immediately after Türkiye gave its consent. Recently the Hungarian Minister for Foreign Affairs stated they will do the same for Sweden.
The backdrop for Hungary's reticence are Swedish concerns about Prime Minister Viktor Orbán undermining Hungarian democracy and the rule of law. 
Furthermore, Sweden's relationship with Türkiye may still be rocky, even with Swedish accession into NATO unblocked. But it is a major step forward for the Alliance that Türkiye and Sweden found a common understanding, especially since the conflict has led to questioning of the "open door policy" – a serious hit to the credibility of NATO. How to ensure NATO's door remains open will be an issue for Allies in the post-Vilnius era.  
---
Global Europe Program
The Global Europe Program addresses vital issues affecting the European continent, US-European relations, and Europe's ties with the rest of the world. We investigate European approaches to critical global issues: digital transformation, climate, migration, global governance. We also examine Europe's relations with Russia and Eurasia, China and the Indo-Pacific, the Middle East and Africa. Our program activities cover a wide range of topics, from the role of NATO, the European Union and the OSCE to European energy security, trade disputes, challenges to democracy, and counter-terrorism. The Global Europe Program's staff, scholars-in-residence, and Global Fellows participate in seminars, policy study groups, and international conferences to provide analytical recommendations to policy makers and the media. Read more