U.S. on New Domestic Threats from Gaza War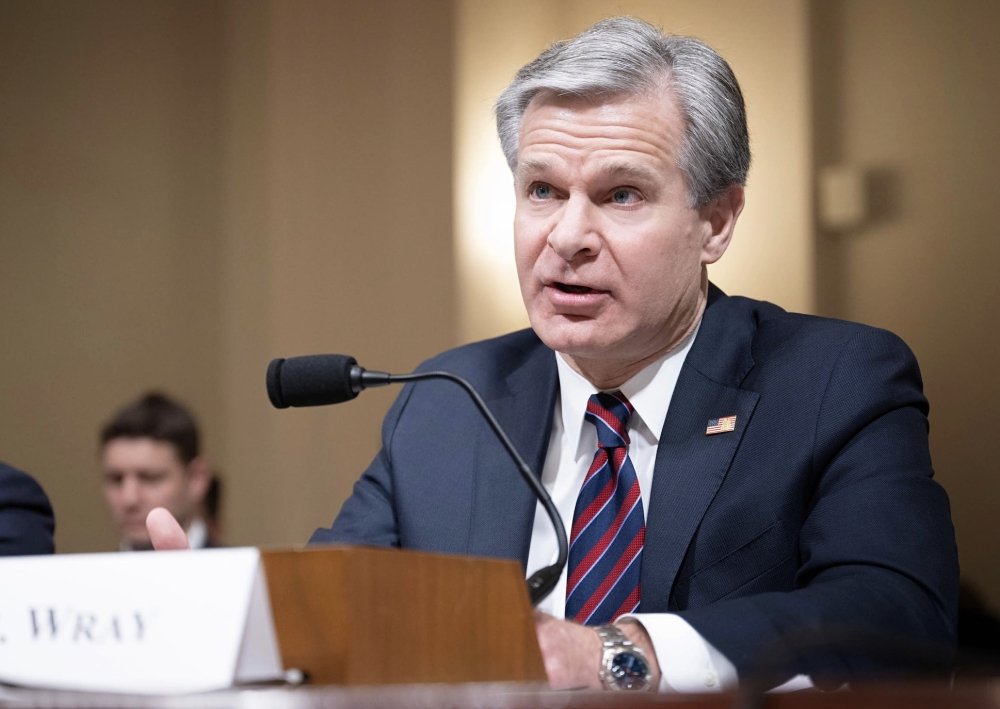 On Nov. 15, FBI director Christopher Wray warned that the United States faced growing dangers at home from the war between Hamas and Israel thousands of miles away. A "rogue's gallery" of terrorist groups--including Hezbollah, al Qaeda and ISIS-- had called on followers to attack the United States, the primary source of arms and financial aid to Israel. With the threat of terrorism already raised, the latest Middle East war elevated the threat "to a whole other level," he told the House Committee on Homeland Security.
 Wray said Iran, "the world's largest state sponsor of terrorism," had also directly and indirectly targeted U.S. personnel both at home and abroad. It has hired criminals to plot assassinations against high-ranking current and former U.S. officials as well as dissidents living on American soil. Hezbollah, Iran's most powerful proxy, has sought to buy weaponry, seed operatives and raise funds in the United States, he told the powerful committee.
Beyond the threat from countries and organized militias, Wray cited the danger of a "lone actor" inspired by tensions in the war to launch attacks "on our own soil." The FBI has "aggressively" tracked the trends, with recent arrests in Houston, Chicago, Los Angeles and at Cornell University. Although the FBI had not identified a specific plot, it was concerned about how "intentions might evolve."
Christine Abizaid, director of the National Counterterrorism Center, told the congressional hearing that the United States will need to carefully monitor how the Middle East war unfolds "and the degree to which it may help renew otherwise declining terrorist actors across the globe." The "inherently unpredictable" range of terrorist actions will require "agile responses to emerging threats and crises" that play out both at home and overseas. At the House hearing, Homeland Security Secretary Alejandro Mayorkas said U.S. intelligence expects the threat of violence by lone offenders or small group attacks in 2024 "will remain high" and may happen "with little or no warning."  Foreign terrorist groups, such as al Qaeda and ISIS, "are rebuilding overseas, and they maintain worldwide networks of supporters that could target the Homeland."
Wray Testimony Excerpts
"It's been more than five weeks since Hamas terrorists carried out their brutal attacks against innocent Israelis, dozens of American citizens, and others from around the world, and our collective efforts remain on supporting our partners overseas and seeking the safe return of the hostages. But this hearing, focused on threats to our homeland, is well-timed given the dangerous implications the fluid situation in the Middle East has for our homeland security.
"In a year when the terrorism threat was already elevated, the ongoing war in the Middle East has raised the threat of an attack against Americans in the United States to a whole other level.
"Since October 7th, we've seen a rogue's gallery of foreign terrorist organizations call for attacks against Americans and our allies. Hizballah expressed its support and praise for Hamas and threatened to attack U.S. interests in the Middle East. Al-Qaida issued its most specific call to attack the United States in the last five years. Al-Qaida in the Arabian Peninsula called on jihadists to attack Americans and Jewish people everywhere. ISIS urged its followers to target Jewish communities in the United States and Europe.
"Given those calls for action, our most immediate concern is that individuals or small groups will draw twisted inspiration from the events in the Middle East to carry out attacks here at home. That includes homegrown violent extremists inspired by a foreign terrorist organization and domestic violent extremists targeting Jewish Americans or other faith communities, like Muslim Americans.
"Across the country, the FBI has been aggressively countering violence by extremists citing the ongoing conflict as inspiration. In Houston, we arrested a man who'd been studying bomb-making and posted about killing Jewish people. Outside Chicago, we've got a federal hate crime investigation into the killing of a six-year-old Muslim boy. At Cornell University, we arrested a man who threatened to kill members of that university's Jewish community. And in Los Angeles, we arrested a man for threatening the CEO and other members of the Anti-Defamation League. I could go on.
"On top of the so-called "lone actor" threat, we cannot—and do not—discount the possibility that Hamas or another foreign terrorist organization may exploit the current conflict to conduct attacks here, on our own soil.
"We've kept our sights on Hamas and have multiple investigations into individuals affiliated with that foreign terrorist organization. And while, historically, our Hamas cases have identified individuals located here who are facilitating and financing terrorism overseas, we continue to scrutinize our intelligence to assess how the threat may be evolving.
"But it's not just Hamas. As the world's largest state sponsor of terrorism, the Iranians have directly, or by hiring criminals, mounted assassination attempts against dissidents and high-ranking current and former U.S. officials, including right here on American soil. Or take Hizballah, Iran's primary strategic partner, which has a history of raising money and seeking to obtain weapons here in the United States. FBI arrests in recent years also indicate that Hizballah has tried to seed operatives, establish infrastructure, and engage in spying here domestically—raising our concern that they may be contingency planning for future operations in the United States.
"And while we're not currently tracking a specific plot, given that disturbing history, we're keeping a close eye on what impact recent events may have on those terrorist groups' intentions here in the United States, and how those intentions might evolve. 
"Now, I want to be clear: While this is certainly a time for heightened vigilance, it is by no means a time to panic. Americans should continue to be alert and careful, but they shouldn't stop going about their daily lives.
"All across the country, the FBI's men and women are working with urgency and purpose to confront the elevated threat. That means working closely with our federal, state, and local partners through our FBI-led Joint Terrorism Task Forces; taking an even-closer look at existing investigations and canvassing sources to increase awareness across the board; and doing all we can—working with our partners—to protect houses of worship here in the U.S.
"Bottom line: We're going to continue to do everything in our power to protect the American people and support our partners in Israel.
"Protecting Americans from the threat of terrorism is and remains our number one priority. But as you all know, the range of threats we battle each and every day is enormous.
"But I can tell you, it would be absolutely devastating if the next time an adversary like Iran or China launches a major cyberattack, we don't see it coming because 702 was allowed to lapse. Or, with the fast-moving situation in the Middle East, imagine if a foreign terrorist organization overseas shifts intentions and directs an operative here who'd been contingency-planning to carry out an attack in our own backyard. And imagine if we're not able to disrupt that threat because the FBI's 702 authorities have been so watered-down."
Abizaid Testimony Excerpts
  "We continue to closely monitor, evaluate, and take appropriate actions with respect to potential threats to the United States in the wake of the 7 October Hamas attacks against Israel and the resulting regional tensions. …We are monitoring the actions of a range of terrorist actors for key signs of terrorist escalation, including from Iran-aligned proxies in the region; al-Qa'ida and ISIS branches and affiliates from West Africa to Southeast Asia; and other terrorist organizations or lone actors who may seek to exploit the conflict.
"The cascading effects of Hamas' brutal and highly complex attacks inside of Israel underscore the need for vigilance against a diverse array of terrorist actors who retain the capability and intent to conduct operations against the United States and our interests. Today's Middle East conflict and the potential implications thereof hits center-mass for a national CT effort that otherwise had been tracking an overall reduced threat emanating from ISIS and al-Qa'ida in the region and was adjusting to a more discrete, though geographically dispersed, terrorist threat.
 "How this conflict unfolds in the coming days, weeks and months – and the degree to which it may help renew otherwise declining terrorist actors across the globe – will require careful monitoring. In the meantime, the United States must be careful to preserve the capabilities to address an inherently unpredictable range of terrorist adversaries and enable agile responses to emerging threats and crises, even as we confront a myriad of other national security challenges that play out both overseas and in the United States…
"These categories of terrorists and threat actors generally align as violent Sunni extremist groups such as ISIS and al-Qa'ida; Iran and Iranian-aligned terrorist groups such as Lebanese Hizballah, some militant groups in Iraq and Syria, the Yemen-based Houthis, Hamas, and Palestinian Islamic Jihad (PIJ); and Homegrown Violent Extremists and other lone actors such as Racially or Ethnically Motivated Violent Extremists with a foreign nexus.
" CT pressure by the United States and foreign partners during the last 15 years has been critical in degrading the capabilities of the most concerning threats, particularly by disrupting experienced leaders and operatives and exerting sustained pressure against key networks. Consistent with the last two years of testimony to this committee, we assess the most likely threat in the United States is from lone actors, whether inspired by violent Sunni extremist narratives, racially or ethnically motivated drivers to violence, or other politically motivated violence.
"This is not to say that the threat from organized foreign terrorist groups is gone. Indeed, despite success at deterring sophisticated, hierarchically-directed terrorist attacks in the Homeland since 2001, as of 2022, terrorism threat reporting remained at roughly the same level as in 2010, when al-Qa`ida was at its relative peak, before the death of Osama bin Laden and rise of ISIS. Today's current conflict will undoubtedly fuel even more threat reporting…
"Three key themes characterize our leading CT challenges: regional expansion of global terrorist networks despite degradation of their most externally focused elements; the growing danger from state involvement with terrorism; and the reality that lone actors are the most likely to succeed in carrying out terrorist attacks.
"The United States is safer today because of the suppression of the most dangerous elements of ISIS and al-Qa`ida's global networks. Thanks in large part to American and regional partner CT operations, both organizations have suffered significant losses of key personnel and sustained CT pressure is constraining their efforts to rebuild in historical operating areas. Al-Qa'ida is at a low point in Afghanistan and Pakistan, where its revival is unlikely because it has lost target access, leadership talent, group cohesion, rank-and-file commitment, and an accommodating local environment.
"Meanwhile, since early 2022, ISIS has lost three overall leaders and more than a dozen other senior leaders in Iraq, Syria, and Somalia—including some who had been involved in planning attacks outside the region—as a result of pressure from the United States and international allies, regional governments, and local opposition forces. These terrorist losses have been partially offset by an increased external threat from ISIS-Khorasan in Afghanistan and the expansion of both ISIS and al-Qa'ida networks across Africa, although these remain largely regionally focused. Thus far ISIS-Khorasan has relied primarily on inexperienced operatives in Europe to try to advance attacks in its name and, in Afghanistan, Taliban operations have for now prevented the branch from seizing territory that it could use to draw in and train foreign recruits for more sophisticated plots…
"That said, given Afghanistan's history and the mix of terrorist and insurgent groups that have long operated from its territory, a top CT priority remains protecting against threats emerging from that country. In North and West Africa, we are concerned that the erosion of democratic norms and the withdrawal of some traditional partners could further embolden terrorist groups who already pose a threat to U.S. interests in the Sahel...
"In the Middle East, Al-Qa'ida in the Arabian Peninsula (AQAP) remains al-Qa'ida's most dedicated driver of external plotting despite its own losses of key personnel and resources. Remaining senior members of the Yemen-based group continue to produce media reinforcing the cohesion of al-Qa'ida's global network as well as calls for attacks against our interests globally. How AQAP, ISIS, or other regional groups may seek to capitalize on HAMAS' 7 October attack to recruit and rebuild anti-West attack capabilities will be critical to assess as tensions and violence rise as the conflict continues.
"Our CT enterprise remains focused on the Iranian Government's persistent global activity, including in the Homeland, targeting multiple populations over the past four years, such as Israeli or Jewish interests; Iranian dissidents; and U.S. officials in retaliation for the death of IRGC-QF Commander Qasem Soleimani in 2020. Lebanese Hizballah, a number of Iran-aligned militant groups in Iraq and Syria, the Houthis, PIJ, and Hamas all have long-standing relationships with Iran and have received materiel, financial support, and training from Iran. These groups and surrogates pose an asymmetric threat to the United States and Israel, and the prospect of the Iranian Government's provision of more lethal and sophisticated capabilities to them remains a serious concern.
"More relevant to the Homeland, we are watching for signs that Iran could pursue additional operations here, though we assess they would be unlikely to do so given the consequences amidst the current conflict. Iran and its proxies do have a history of external operations; Iranian state agents have pursued several dozen lethal plots and assassinated at least 20 opponents across four continents since 1979, while Lebanese Hizballah has conducted international terrorist attacks in Argentina, Saudi Arabia, and Bulgaria.
"Over the last several years, Iran has plotted against the United States, other Western interests, and Iranian dissidents more aggressively than they have at any time since the 1980s and become increasingly explicit in threats to carry out retaliatory attacks for the death of Iranian officials, especially against current and former U.S. officials whom it holds primarily responsible for Soleimani's death.
"As of mid-October, Iran is allowing its partners and proxies in the region to conduct attacks amidst the Israel-Hamas conflict. For the United States, this has included Shia militant rocket and unmanned aircraft system attacks against U.S. facilities in Syria and Iraq, leveraging a longstanding capability. Both Iran and Lebanese Hizballah are conducting or permitting dangerous actions that demonstrate their increased risk tolerance within the current crisis. So far, they appear to be avoiding dramatic actions that would immediately escalate the contours of the current conflict or open up a concerted second front with Israel. However, in the present regional context, their actions and those of their proxies carry great potential for miscalculation.
"Violent extremists who are not members of terrorist groups will probably remain the most likely to carry out a successful attack in the United States over the next several years. The recent resurgence of such attacks in Europe, and the context of the ongoing Hamas-Israel conflict reinforces our assessment. By their lack of affiliation, lone actors are difficult to detect and disrupt. While these violent extremists tend to leverage simple attack methods, they can have devastating and outsized consequences, as we have experienced in the Homeland with attacks in San Bernadino, CA; Orlando, FL; El Paso, TX; and in Buffalo, NY, to name a few.
"Since 2010, violent extremists influenced by or in contact with ISIS, al-Qa`ida, and other foreign terrorist organizations have conducted 40 attacks in the United States that have killed nearly 100 and injured more than 500 people. In 2022, there were two such attacks in the United States, which is a decline of about 70 percent compared to the seven attacks in 2015—the height of ISIS's territorial control in Iraq and Syria and English-language messaging efforts. This averages out to a decline of almost 7 percent year-on-year during this period. The last Foreign Terrorist Organization-inspired lethal attack was in August 2021. However, we are on high alert for whether the current conflict in the Middle East may prove to be a catalyst for individuals to mobilize for attacks.."
Mayorkas Testimony Excerpts
"The world has changed after Hamas terrorists viciously attacked thousands of innocent men, women, and children in Israel on October 7, 2023, brutally murdering, wounding, and taking hostages of all ages…Although the terrorism threat in the United States has remained heightened throughout 2023, Hamas's attack on Israel, along with other recent events, have sharpened the focus of potential attacks on targeted individuals and institutions perceived as symbolic of or tied to the conflict. These tensions, coupled with the widespread sharing of graphic and disturbing content related to this conflict, increase the prospects for violence in the United States.
"In 2024, we expect the threat of violence from violent extremists radicalized in the United States will remain high, marked by lone offenders or small group attacks that occur with little to no warning. Foreign terrorist groups like al-Qaeda and ISIS are rebuilding overseas, and they maintain worldwide networks of supporters that could target the Homeland.
"Among state actors, we expect Iran, the principal funder of Hezbollah and Hamas, to remain the primary state sponsor of terrorism and continue its efforts to advance plots against individuals in the United States. Foreign terrorists continue to engage with supporters online to solicit funds, create and share media, and encourage attacks in the United States and Europe while their affiliates in Africa, Asia, and the Middle East prioritize local goals.
"In Afghanistan, ISIS's regional branch, ISIS-Khorasan, continues to harbor intent to conduct external operations and maintains English‑language media releases that aim to globalize the group's local grievances among Western audiences.  
"Over the past year, domestic violent extremists (DVEs) and homegrown violent extremists (HVEs) inspired by foreign terrorist organizations have engaged in violence in reaction to sociopolitical events. These actors will continue to be inspired and motivated by a mix of conspiracy theories; personalized grievances; and racial, ethnic, religious, and antigovernment ideologies, often shared online.
"The threat of a "lone wolf" actor attempting to exploit the conflict between Israel and Hamas and incited to violence by an ideology of hate is of particular concern. Foreign terrorist organization and lone offender reactions based on perceptions of U.S. support to Israel could further escalate the threat to Jewish, Muslim, and Arab-American communities in the United States and to U.S. government officials. As the conflict endures, graphic visuals will likely continue to circulate online and garner significant media attention, potentially acting as a catalyst for various violent actors who have shared and continue to share this kind of material…The PRC [China] and Iran likely will remain the most aggressive actors within the United States." 
Related Program
The Islamists
Learn more about Hamas and how it relates to similarly aligned organizations throughout the region.  Read more