Violence-plagued Horn of Africa in Need of Strategic Policy Vision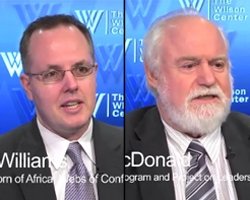 The Horn of Africa has been one of the world's most violent geographic regions. Since 1990, it has endured more than 200 armed conflicts. In a new study commissioned by the Wilson Center, author Paul Williams of George Washington University describes a new policy framework intended to bring peace and development to the region. He argues that viewing the Horn through a conflict resolution and peace building lens would move policymakers beyond putting out fires and reacting to problems as they occur. The publication is the first of two documents in a new series on the Horn of Africa. The second is a set of policy recommendations for a regional US policy towards the Horn titled, Pathways to Peace in the Horn of Africa: What Role for the US? We spoke with Professor Williams to learn more about his analysis of violence in the region and also to hear about policy recommendations offered. Additionally, we spoke with the Africa Program's director, Steve McDonald, to gain his perspective on the usefulness of the conflict resolution approach to addressing problems.
Paul D. Williams is Associate Professor of International Affairs and Associate Director of the Security Policy Studies Program at The George Washington University's Elliott School of International Affairs.
Steve McDonald is Director of the Wilson Center's Africa Program and Project on Leadership and Building State Capacity.
Hosted By
Africa Program
The Africa Program works to address the most critical issues facing Africa and U.S.-Africa relations, build mutually beneficial U.S.–Africa relations, and enhance knowledge and understanding about Africa in the United States. The Program achieves its mission through in-depth research and analyses, including our blog Africa Up Close, public discussion, working groups, and briefings that bring together policymakers, practitioners, and subject matter experts to analyze and offer practical options for tackling key challenges in Africa and in U.S.-Africa relations.   Read more