The Wilson Center Once Again Named A Top 10 Think Tank Worldwide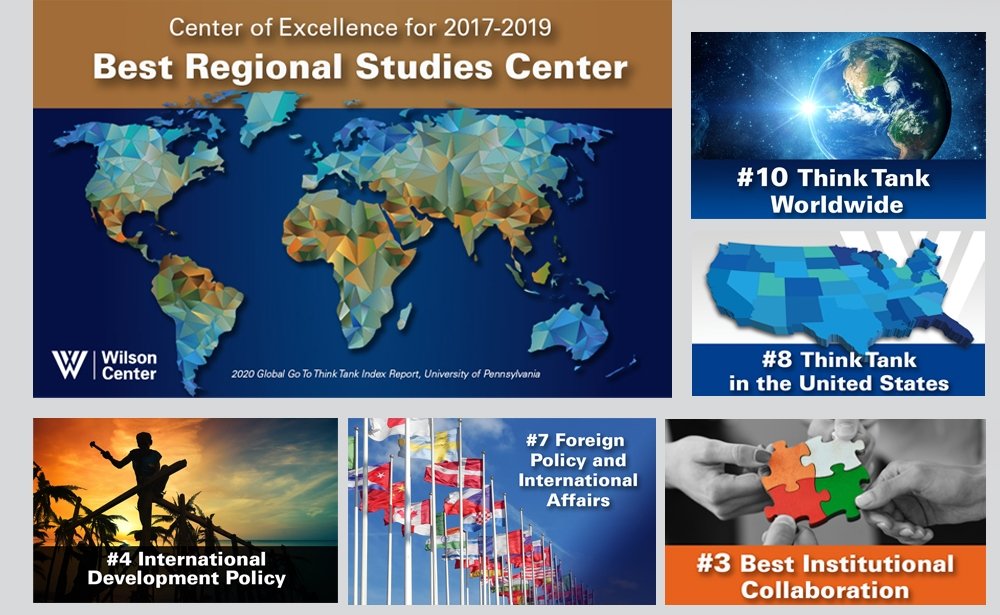 PRESS RELEASE
Contact: Ryan McKenna
Phone: (202) 691-4217
ryan.mckenna@wilsoncenter.org
January 28, 2021
WASHINGTON –The Woodrow Wilson International Center for Scholars is ranked one of the top 10 think tanks in the world and is designated as a Center of Excellence in Regional Studies in the 2020 University of Pennsylvania Global Go To Think Tank Index Report, released today.
The Wilson Center was also ranked third in institutional collaboration and sixth in think tanks to watch for Wilson's "excellent research and innovative advances within the past 24 months."
Wilson President, Director and CEO Jane Harman said, "The Center once again gets top ratings, a huge tribute to our team and ability to expand our reach on a variety of platforms during this long quarantine.   We are more productive than ever, and it is gratifying that our peers recognize this year after year."
The Center was also recognized as:
#4 International Development Policy
#7 in Foreign Policy and International Affairs Think Tanks
#8 U.S. Think Tank
#9 in Best AI Policy and Strategy Think Tanks
#10 in Think Tanks with the Most Significant Impact on Public Policy
The University of Pennsylvania's Think Tanks and Civil Societies Program has produced the Global Go To Think Tank Index annually since 2007, drawing on the input of nearly 4,000 scholars, policymakers, journalists, and funders. It is widely regarded as the definitive resource on the study of think tanks. The full rankings are available here: https://repository.upenn.edu/cgi/viewcontent.cgi?article=1019&context=think_tanks
Notes to Editors:
The Wilson Center was chartered by Congress as the nation's living memorial to President Woodrow Wilson. Through the work of its staff and fellows, it connects deep scholarship to urgent policy questions.