Wilson Center's Dan Hamilton Awarded Poland's Order of Merit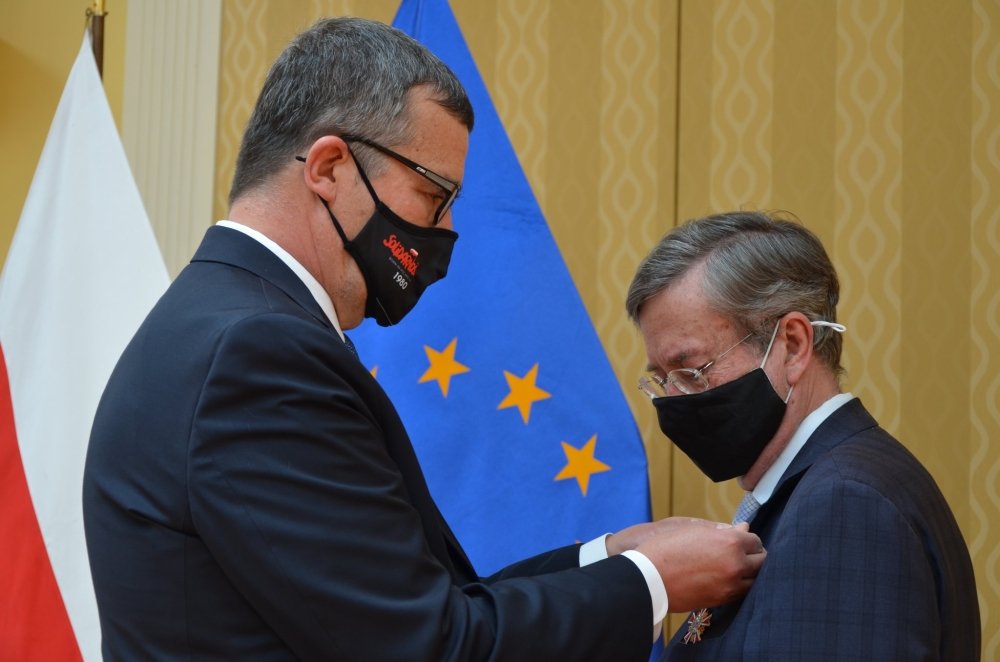 PRESS RELEASE
Contact: Ryan McKenna
Phone: (202) 691-4217
ryan.mckenna@wilsoncenter.org
May 7, 2021
WASHINGTON – Dr. Daniel Hamilton, Director of the Global Europe Program and the Austrian Marshall Plan Foundation Distinguished Fellow at the Wilson Center has been awarded the Officer's Cross of the Order of Merit of the Republic of Poland. Dr. Hamilton received the distinction in a ceremony on Thursday, May 6. Poland's Ambassador to the United States Piotr Wilczek presented the Order of Merit to Dr. Hamilton on behalf of the Polish President, Andrzej Duda.
The Order of Merit of the Republic of Poland is bestowed on foreigners and Polish citizens permanently living abroad, who by their activities have made outstanding contributions to international cooperation and to bonds between the Republic of Poland and other nations and countries.
Dr. Hamilton has cultivated many personal and professional ties to Poland over four decades. As a U.S. diplomat he was deeply involved in facilitating Poland's entry into NATO and to developing U.S.-Polish bilateral relations. In his scholarly and think tank activities he has worked closely with Polish colleagues to address common political, economic and security challenges facing our two countries.
Dr. Hamilton is also the recipient of Germany's Cross of the Federal Order of Merit (Bundesverdienstkreuz); France's Knighthood of the Ordre des Palmes Académiques; Sweden's Knighthood of the Royal Order of the Polar Star; and the U.S. State Department's Superior Honor Award.
 Notes to editors:
The Wilson Center provides a strictly nonpartisan space for the worlds of policymaking and scholarship to interact. By conducting relevant and timely research and promoting dialogue from all perspectives, it works to address the critical current and emerging challenges confronting the United States and the world.
Related Program
Global Europe Program
The Global Europe Program addresses vital issues affecting the European continent, U.S.-European relations, and Europe's ties with the rest of the world. It does this through scholars-in-residence, seminars, policy study groups, media commentary, international conferences and publications. Activities cover a wide range of topics, from the role of NATO, the European Union and the OSCE to European energy security, trade disputes, challenges to democracy, and counter-terrorism. The program investigates European approaches to policy issues of importance to the United States, including globalization, digital transformation, climate, migration, global governance, and relations with Russia and Eurasia, China and the Indo-Pacific, the Middle East and Africa. Read more