Brazil's Bolsonaro Gets a Little Help From His Critics on US Tour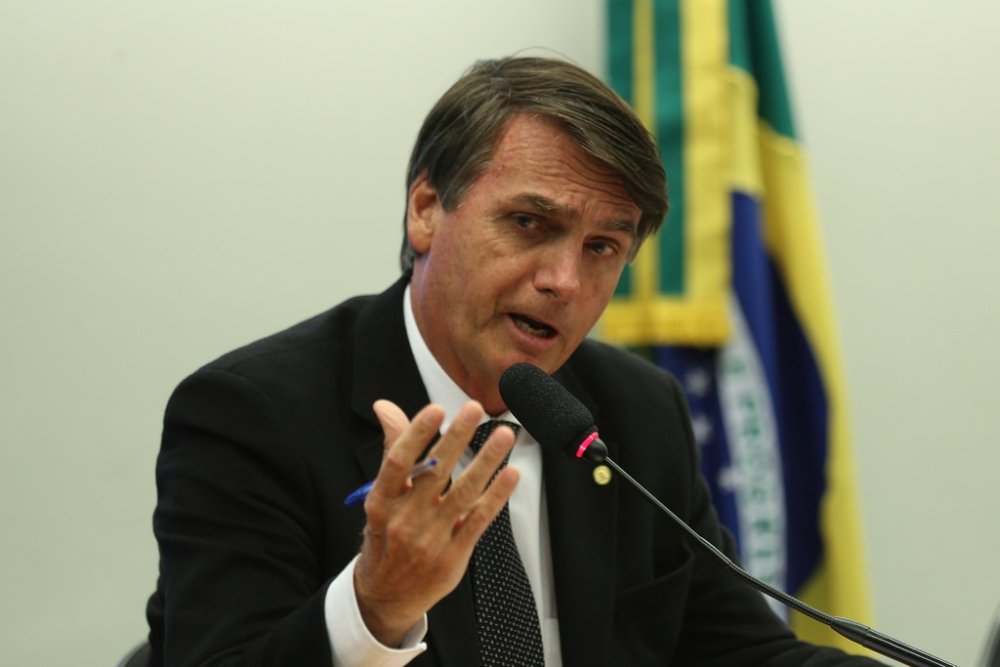 Jair Bolsonaro, a Brazilian ultra-conservative congressman and former military officer, who gained political prominence as an apologist of torture, rape, racism and homophobia, will get a little help from his critics on a trip to the US this week to promote his bid for Brazil's presidency.
Currently second in opinion polls a year ahead of the October 2018 elections, just behind his nemesis, the disgraced former president Luiz Inácio Lula da Silva, Mr Bolsonaro will meet audiences of business executives, students and Brazilian immigrants and tourists in Miami, New York, Washington and Boston.
The tour's organisers, including Mr Bolsonaro's three sons, say it aims to present him as a family man untainted by revelations of widespread corruption that have poisoned Brazil's political landscape and fuelled an unprecedented crisis in Latin America's largest nation, discrediting familiar politicians and opening space to newcomers.
On Sunday, in Miami, the legislator from Rio de Janeiro met members of the upper-middle class community of Brazilian residents in Florida. An event in Boston, home to tens of thousands of Brazilian economic immigrants, was organised by evangelical leaders.
His appearances in New York and Washington are likely to generate the most controversy and publicity, and in that way that may help accomplish the objective of the tour: to normalise Mr Bolsonaro as a supporter of liberal economics and a man open to dialogue.
The events in New York will be accessible only to members of the two organisations hosting Mr Bolsonaro and a few invited guests.
The Brazilian-American Chamber of Commerce of New York and the Americas Society/Council of the Americas have scheduled private, off-the-record presentations. The media are not invited. 
The hosts have not hidden their discomfort in welcoming such a controversial figure, famed for his talent for outrageousness. One representative of the Chamber expressed personal shame about hosting Mr Bolsonaro after watching a recent video he posted on the web.
For the Council of the Americas, a spokesperson said: "We have a long tradition of hosting presidential candidates of all stripes, including people our members may strongly disagree with." The fact that the deeply divisive congressman is, to many, of a particularly repugnant stripe of politics is seen as part of the cost of doing business.
In Washington, Mr Bolsonaro will speak on Friday at a public event at the George Washington University, five blocks from the White House and the closest he will probably get to his US idol, President Donald Trump.
Hundreds of professors and researchers signed a letter to the university protesting the event, which they see as an act of validation that will help the congressman soften his image.
"By welcoming him into your university and allowing him to speak, your institution would be helping a racist, sexist, homophobic rightwing extremist to achieve international recognition and solidify the political viability of his candidacy," they wrote.
Last year, Mr Bolsonaro dedicated his vote to impeach then President Dilma Rousseff to a former army colonel he called "a national hero" for his role as commander of a unit in São Paulo where hundreds of political prisoners were tortured in the early 1970s, including Ms Rousseff. Fifty of them died, according to the Truth Commission created during Ms Rousseff's administration.
In a more recent episode, the congressman attacked a colleague from the floor of the Chamber of Deputies, former Human Rights Minister Maria do Rosário, saying that he would not rape her "because she is ugly and does not deserve it".
"Democracy requires debate founded upon respect and reason," the university said in a statement. Apparently oblivious to past political tragedies brought about by figures of the same ilk who emerged from democratic processes in times of crisis, the university justified the decision to host Mr Bolsonaro by highlighting his popularity among Rio's voters.
Days before this Friday's event, organisers were nervously devising a system to control the flow of questions and answers in the hope that the session would not serve the rightwing candidate's purposes.
"Bolsonaro is the ugly face of Brazil and Latin America's past," warned José Miguel Vivanco, director of Human Rights Watch Americas. "With his trip to the US, he seeks to portray himself as a reasonable mainstream politician. Make no mistake, he is not."
Full disclosure: Mr Bolsonaro's emissaries attempted to contact me in recent weeks looking for an invitation to speak at the Wilson Center. Their call has been and will remain unanswered.
The original content published by Paulo Sotero in the Financial Times can be found here.
Image by Agência Brasil/Flickr