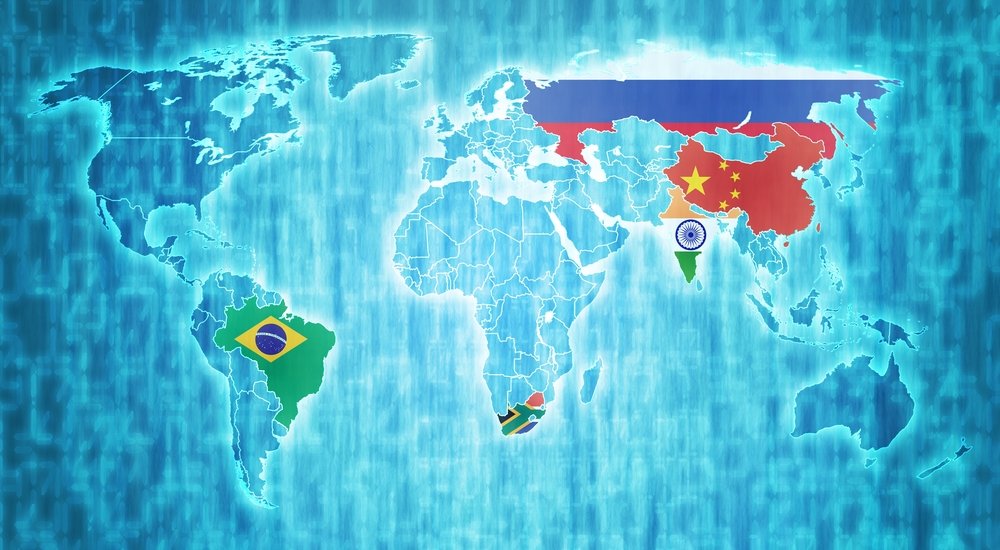 The BRICS countries represent 43% of the world's population, 16% of the world's trade, and a larger share of the world's GDP than the G7. Nineteen additional countries are reportedly interested in joining the alliance.
The acronym BRIC (Brazil, Russia, India, and China), was coined in 2001 by Goldman Sachs economist Jim O'Neil to refer to four countries (Brazil, Russia, India, and China) then enjoying high rates of economic growth. As this grouping evolved into a coalition and added South Africa to its ranks, many characterized the BRICS as a symbol of economic hope and optimism for developing countries in Africa, Asia, Latin America, and Oceana, aka the Global South. In terms of what economists refer to as "purchasing power parity," the combined GDP of the BRICS recently surpassed that of the G7.
However, the original logic that O'Neil asserted would bring the BRICS together—a common experience in sustained economic growth—hasn't held. Brazil, Russia, and South Africa have fallen short of growth expectations, and while India has enjoyed stronger performance, it hasn't kept pace with China. Instead, the BRICS alliance has slowly evolved into a largely geopolitical coalition that aims to advance an agenda and approach to world affairs that is distinct from the Western-dominated G7.
Nowhere is that distinctive approach more obvious than with respect to Russia's war with Ukraine. None of the BRICS has supported sanctions on Russia. In fact, members including India and China have used Western-led boycotts of Russian energy to secure cheaper oil, gas, and other commodities for themselves.
The BRICS alliance has been active in its efforts to build its base of influence. When the World Bank and International Monetary Fund failed to carry out governance reforms demanded by BRICS members and others, the coalition created the New Development Bank by pooling $50 billion from each of the BRICS member countries, along with funds from others including Egypt, the United Arab Emirates, Uruguay, and Bangladesh. In addition, Russia now claims to be leading an effort to develop a new international trading currency for commerce among BRICS members.
The BRICS recently announced its willingness to consider the addition of new members, and reports are that as many as 19 countries have expressed an interest, including Saudi Arabia, Iran, Argentina, the UAE, Algeria, Egypt, Bahrain, and Indonesia. Thirteen countries have formally applied, and South Africa Foreign Minister Naledi Pandor—host of the June 1, 2023 BRICS Foreign Ministers Meeting—has identified Mexico and Nigeria as candidates for membership. Approval of new members is a formal agenda item for the upcoming summit in August.
But just as the varied economic performance of original BRICS members held the coalition back from achieving its most ambitious goals, the differing, sometimes conflicting, interests of members and potential members may prevent it from having a unified approach to setting policy and launching new initiatives. For example, from simmering border disputes to China's aggressive use of "debt diplomacy" with neighbors like Sri Lanka, there are signs of growing tensions between China and India, the two largest members.
As the BRICS summit approaches, one thing is clear: the alliance which began with high hopes and soaring optimism is at a crossroads. New members bring additional resources and opportunities, but they can also introduce new conflicts and disputes—among members and with outside interests.
This blog was compiled with the assistance of Caroline Moody.