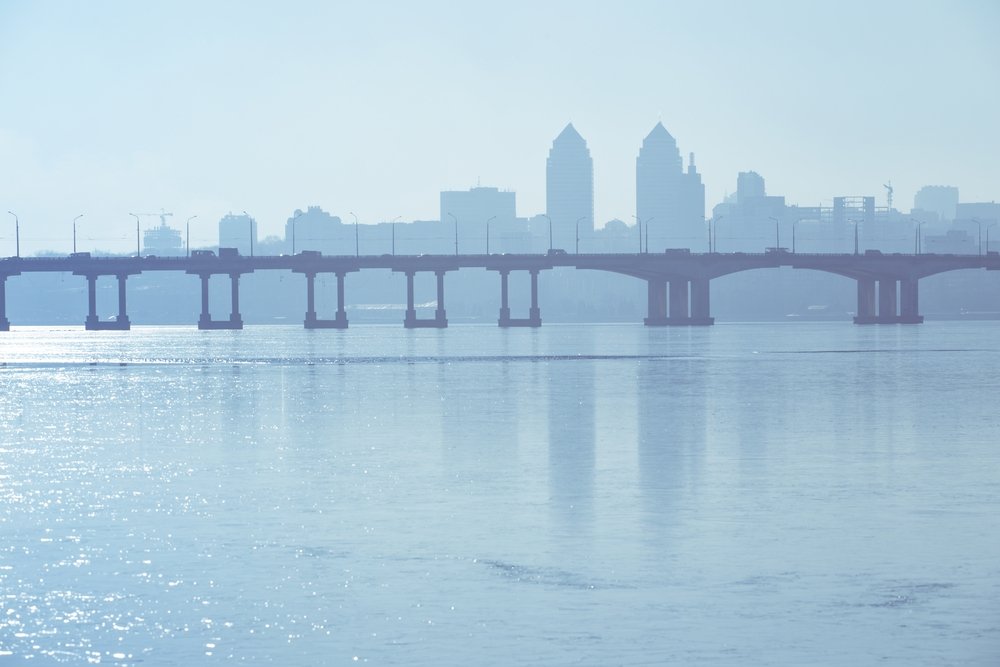 Performances of Soviet dissident playwright Julius Edlis's Where Is Thy Brother, Abel? stands out in the wartime repertoire at Dnipro's top-tier Shevchenko Theater. Written during the Brezhnev era, it tells the story of two former prisoners at a German concentration camp in Ukraine encountering one another 23 years later in a resort town café. The plot follows the broad outline of the biblical tale of Adam and Eve's first two sons, Cain and Abel, in which the elder Cain murders Abel out of jealousy over God's favoring of Abel's sacrifice. God punished Cain for his crime by condemning him to a life of wandering. Edlis's play challenges the audience to discern who is Cain and who is Abel in this retelling. More profoundly, it offers a meditation on the nature of evil within the context of authoritarian rule.
Born of Jewish origin in 1929 in Bessarabia (which was part of Romania at the time), Edlis and his family were evacuated to Tbilisi, Georgia, during World War II, where he graduated from the Higher Theater School. He continued his studies in Chisinau, Moldova, and relocated to Moscow when his first play, My White City, was banned from local stages in 1955. He joined the Soviet Writers' Union and enjoyed some success as a playwright, prose writer, and screenwriter. His focus on the moral and philosophical underpinnings of authoritarianism led to his banishment from Soviet stages. Edlis subsequently turned to writing prose works and was on the editorial board of the influential underground (samizdat) literary journal Kontinent. He died in 2009 in the famed Peredelkino writers' colony outside of Moscow.
The Shevchenko Theater company, which has presented escapist works like Aladdin, For the Sake of Love, and the folkloric comic romp Evenings on a Farm near Dikana, embraced Edlis's work as speaking in significant ways to the moral dilemmas of 21st century Ukraine, and never more so than following the beginning of hostilities with Russia in 2014. Formally named the Dnipro Academic Ukrainian Music and Drama Theatre, the company was founded in Kyiv in 1918 as Ukraine's first professional theater. It moved to Dnipro in 1927 and quickly established a close bond with its new city. The theater was named in honor of Ukrainian national poet Taras Shevcnehko in 1944, following its wartime evacuation to Central Asia. Renovated in 1979, the theater found renewed life following Ukrainian independence. Artistic Director Oksana Petrovska has won praise for her modernization of Ukrainian classics.
The city of Dnipro, a city of about one million in 2020, was founded in 1776 by Prince Potemkin as a major center of Russia's colonization efforts in southern Ukraine. Renamed several times, the city only found solid footing with the arrival of the railroad in the 1870s, when it quickly developed into a major industrial center. Renamed Dnipropetrovsk after local Bolshevik leader Grigory Petrovski (a name which remained until 2016), it drew on the development of the region's hydroelectric energy to become one of the Soviet Union's most important industrial centers. Centralized investments quickly brought the city back to life following Nazi occupation during World War II.
Ever more specialized around defense industries, the city became known as "Rocket City" during the 1950s and 1960s. Its strategic importance lent standing and power to a group of Soviet politicians surrounding Leonid Brezhnev informally known as the "Dnepropetrovsk Mafia." These networks seamlessly transformed into a similar group surrounding Ukrainian President Leonid Kuchma following independence.
Dnipro had developed a noteworthy cultural scene during the Soviet period. As historian Sergei Zhuk has argued in his masterful study of the vibrant local Soviet-era rock scene—Rock and Roll in the Rocket City—closed Soviet cities such as Dnipropetrovsk counterintuitively enjoyed greater cultural and intellectual latitude than other Soviet towns and regions, as they were thought to be already under regime control.
The Shevchenko Theater has recreated itself over the past decade as the Dnipro's vibrant cultural hub by hosting a range of performances, from classical plays to contemporary dance. It has become a symbol of cultural resilience, especially in the months since the full-scale Russian invasion of 2022. The theater has presented as innovative a repertoire as possible, given war-time restrictions. These productions include works of authors such as Edlis, who wrestled with the moral quandaries of authoritarianism during the Soviet period. Like the story of Cain and Abel, Where Is Thy brother, Abel? speak to the eternal human quest for dignity, morality, and freedom even in the face of a brutal war being fought at Dnipro's doorstep. 
The opinions expressed in this article are those solely of the author and do not reflect the views of the Kennan Institute.
See our newest content first.
Subscribe to receive the latest analysis from Focus Ukraine.
About the Author
Blair A. Ruble
Distinguished Fellow;
Former Wilson Center Vice President for Programs (2014-2017); Director of the Comparative Urban Studies Program/Urban Sustainability Laboratory (1992-2017); Director of the Kennan Institute for Advanced Russian Studies (1989-2012) and Director of the Program on Global Sustainability and Resilience (2012-2014)
Read More
---
Kennan Institute
The Kennan Institute is the premier U.S. center for advanced research on Russia and Eurasia and the oldest and largest regional program at the Woodrow Wilson International Center for Scholars. The Kennan Institute is committed to improving American understanding of Russia, Ukraine, Central Asia, the Caucasus, and the surrounding region though research and exchange. Read more