Can Pakistan Experience an Era of Change?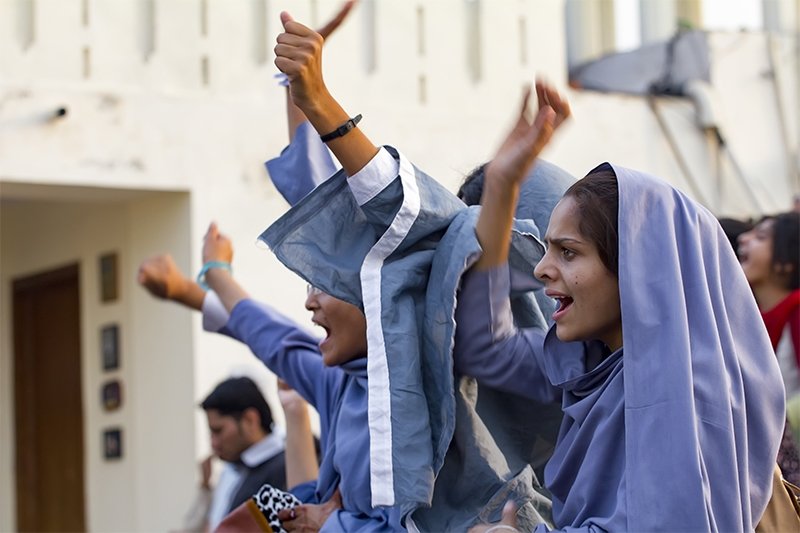 Pakistan's new government has promised to shake things up.
Elected in July and led by cricketer-turned-politician Imran Khan and his Pakistan Tehreek-e-Insaf party (PTI), the new administration has vowed to do away with business as usual. The PTI projects itself as something different—a clean party not led by a family dynasty—and insists it will run the country differently from previous government as well.
This vow has entailed a range of early pledges. Some of them are quite ambitious—eliminating  long-entrenched corruption, reforming poorly performing institutions, and tackling climate change in a big way. Others are rather unconventional, such as calling on the Pakistani diaspora to help fund the construction of a large dam.
It's way too early to tell how successful the PTI will be in these efforts. Admittedly, the obstacles will be considerable. These include its own inexperience (the PTI has never led a national government) and a deeply polarized political environment (the PTI could confront an obstructionist opposition, led by the Pakistan Muslim League-Nawaz party, which sparred repeatedly with the PTI when it led the previous government). And then there are factors like bureaucratic inertia and resistance from special interests that often come into play when policy paradigm shifts and big-bang reforms are put on the table. 
Still, all this aside, Islamabad does appear genuinely committed to bringing about change—and given the broad consensus in Pakistan that policy corrective are needed across the board, such commitment is a very good thing.
It is in this spirit of change and reform that the Wilson Center's Asia Program, in partnership with the Indus organization, will host a two-day conference on Pakistan on October 17 and 18. The core objective of this policy symposium, entitled "Pathways to Change," is admittedly ambitious, but also fairly simple: Host a series of discussions that identify and discuss realistic and actionable policy recommendations, with an eye toward serving two purposes. One is to help Pakistan take advantage of its many opportunities, which range from an improved security situation and a series of economic growth sectors to an affluent diaspora. The other is to help Pakistan address its many challenges—from its relations with the United States and Afghanistan to economic distress and extremism—some of which threaten to jeopardize the progress Pakistan has enjoyed in recent years.
This conference does not intend to simply rehash the same debates that have already taken place at length in recent years. Nor does it intend to simply be a series of history lessons about the past struggles of U.S.-Pakistan relations, or why Pakistan's economy has performed poorly, or why the country suffers from extremism. While historical context is important, this conference is meant to largely be a forward-thinking discussion that emphasizes the question of "what now."
The symposium, much like all of the Wilson Center's work on Pakistan, will apply a broad lens to a country that in Washington tends to be viewed through the narrow prism of security. Panel discussions will revolve around U.S.-Pakistan relations (How can the U.S. and Pakistan arrive at a realistic and workable relationship?); Afghanistan (How if at all can Kabul, Islamabad, and Washington cooperate to achieve an endgame that works for all parties?); extremism (How can Pakistani society and the state make real and lasting progress tackling radicalization and extremism?); Pakistan's economy (What are the most effective steps that Pakistan can take to address its economic challenges?); women's entrepreneurship (What can be done to foster more women's entrepreneurship in Pakistan's formal economy?); and the role of the diaspora (How can Pakistani-Americans help strengthen the Pakistani economy?).
The symposium will feature more than two dozen speakers, with many of them coming from Pakistan. They include academics, policymakers, journalists, and business leaders.
In addition, senior officials from both countries—U.S. Deputy Assistant Secretary of State for South Asia Henry Ensher on October 17 and Pakistani Adviser to the Prime Minister Ishrat Husain on October 18—will offer opening addresses to set the tone for the day's discussions. 
The conference agenda, and RSVP info, is available here.
---
Follow Michael Kugelman, deputy director of the Asia Program and senior associate for South Asia, on Twitter @MichaelKugelman.
The views expressed are the author's alone, and do not represent the views of the U.S. Government or the Wilson Center. Copyright 2018, Asia Program. All rights reserved.
About the Author
---
Asia Program
The Asia Program promotes policy debate and intellectual discussions on U.S. interests in the Asia-Pacific as well as political, economic, security, and social issues relating to the world's most populous and economically dynamic region.  Read more