Chernivtsi Philharmonic in Shelters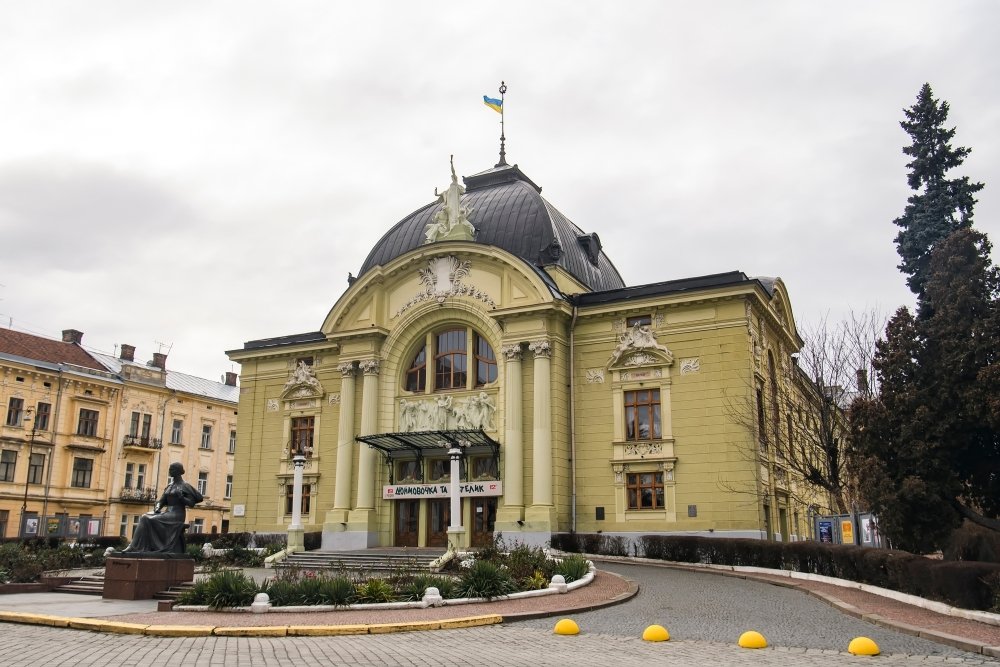 BY BLAIR RUBLE
At the outset of the war, the Chernivtsi Regional Philharmonic—joined by musicians displaced from other regions—began performing in bomb shelters and other sanctuaries. Now posted on Facebook and YouTube, videos from these impromptu concerts have been used to raise money for refugees and the Ukrainian Armed Forces.
Home to around a quarter of a million residents prior to this war, the southwestern Ukrainian city has provided sanctuary to tens of thousands displaced from eastern Ukraine. Some—though not all—travel farther to find safe haven in nearby Romania. Meanwhile, musicians from the local orchestra have dedicated themselves to providing moments of relief from the turmoil swirling around them.
More recently, as the current concerts continued, the orchestra began reaching into its video archive to put up segments of earlier performances. The joyous abandon of Aaron Copland's Rodeo, captured in an April 2019 performance under the baton of Robert Trocina, recalls a world now lost.
Conductor Trocina has enjoyed an international conducting career from his home base in Atlanta, where he has become a mainstay of several musical ensembles and organizations. He came to Chernivtsi in April 2019 to serve as a guest conductor for the local symphony orchestra. His choice of Copland's music offers a sharp contrast to the suffering of the pandemic and the war to follow.
Known during his lifetime as "the Dean of American Composers," the cosmopolitan Copland is best remembered today through the sparkling Americana oeuvre of his "populist" or "vernacular" period: ballets, film scores, and orchestra works such as Appalachian Spring, Billy the Kid, Rodeo, Third Symphony, and the magisterial Fanfare for the Common Man. Copland intended these pieces to be deliberately approachable in response to the hardships of the Great Depression and the World War II. They marked a surprising departure from the abstract modernism of his earlier career, which included a three-year stint studying with Nadia Boulanger in Paris. Their connection to Chernivtsi is not as remote as it might seem at first glance.
Chernivtsi—once Czernowitz—has been an important crossroads among Slavic, Byzantine, Ottoman, Hapsburg, and Romanian lands from the second century CE. A publishing center, the city became home to Jewish, Romanian, German, Polish, and Ukrainian intellectual life. In 1908, Nathan Birnbaum organized the first international conference promoting the Yiddish language which brought together many theater artists as well as other religious, literary, and intellectual leaders. The city's Jewish community gave birth to Yiddish theater and remained a focal point for Jewish life in the Bukovina region until World War II.
Romanian, Russian, German, Polish, and Ukrainian forces fought over the city after the collapse of the Hapsburg Empire in 1918. Czernowitz eventually fell to the Romanians as part of the postwar settlement. Long a university town, the city became one of Romania's major intellectual centers. The 1930 Romanian census placed the city's population at 112,400, of which 26.8 percent were Jewish, 23.2 percent Romanian, 20.8 percent German, and 18.6 percent Ukrainian, with Poles and other groups constituting the remainder. More than half of the city's and region's Jews perished in the Holocaust. Deportations followed the transfer of the city and region to Soviet Ukraine, virtually eliminating the city's vibrant Yiddish life.
Yiddish culture extended well beyond any single center. Copland was born in 1900 into a Brooklyn Conservative Jewish family of Lithuanian origins. He could not have avoided New York's vibrant Yiddish cultural life of his youth even as he might have strived to move beyond it. The same theatrical traditions that had stirred Birnbaum to action in Czernowitz churned away in Manhattan's Lower East Side.
That cultural explosion reshaped American popular theater, song, and film through some of Yiddish culture's most masterful artists, such as Irving Berlin in pop music, Stella Adler and Lee Strasberg in theater, the Marx Brothers in Hollywood, and Shalom Aleichem in literature. These artists moved from their beginnings along Second Avenue's "Jewish Rialto" into the American mainstream. Superstars Boris and Bessie Tomashefsky's grandson, Michael Tilson Thomas, arguably is now the "dean" of twenty-first-century American classical conductors. Like Copland, these artists transcended their immigrant backgrounds to capture an intangible spirit in American culture. Copland's homage to the American West is as quintessentially "cowboy" as any music composed west of the Mississippi.
Though not immediately obvious, this trail from today's somber migrant refuge bomb shelters in Chernivtsi to Copland's joyful dancing cowboys is direct. Such connections become obscure when we build walls and barriers between ourselves and those whom we deem to be unlike us. Culture ignores such walls, flowing over, through, and under man-made obstructions to generate something new and startling. Such eruptions have animated Chernivtsi in its various incarnations for two millennia—and continues to do so despite Russian bombs and rockets.
The opinions expressed in this article are those solely of the authors and do not reflect the views of the Kennan Institute.
About the Author
Blair A. Ruble
Distinguished Fellow;
Former Wilson Center Vice President for Programs (2014-2017); Director of the Comparative Urban Studies Program/Urban Sustainability Laboratory (1992-2017); Director of the Kennan Institute for Advanced Russian Studies (1989-2012) and Director of the Program on Global Sustainability and Resilience (2012-2014)
Read More
---
Kennan Institute
The Kennan Institute is the premier U.S. center for advanced research on Russia and Eurasia and the oldest and largest regional program at the Woodrow Wilson International Center for Scholars. The Kennan Institute is committed to improving American understanding of Russia, Ukraine, Central Asia, the Caucasus, and the surrounding region though research and exchange. Read more