China's Geopolitical Gambit in Gwadar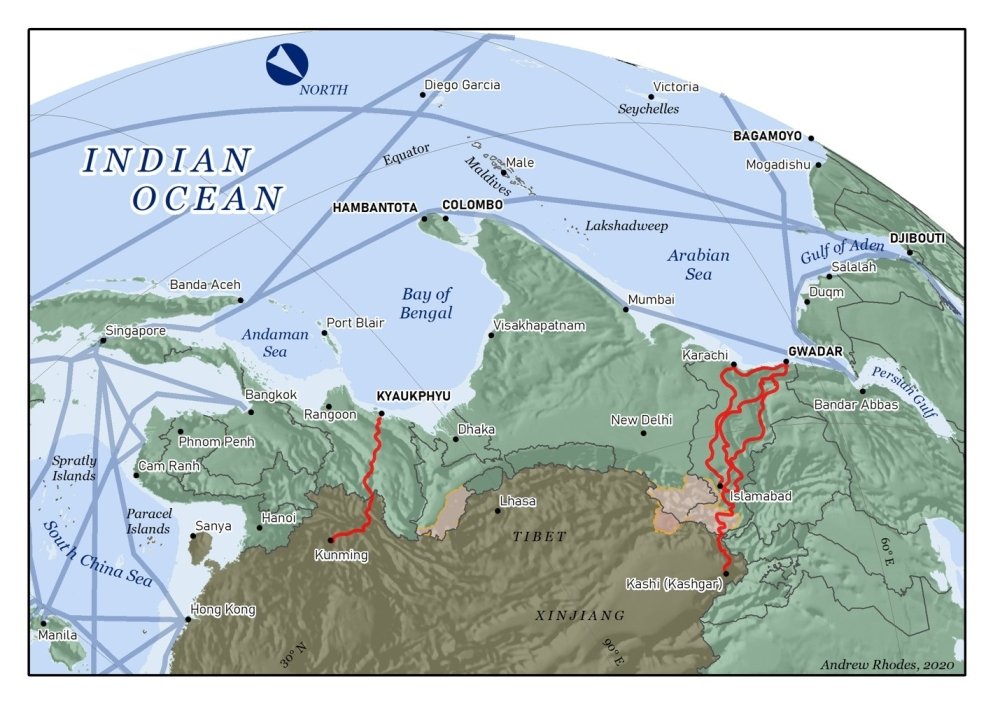 The port of Gwadar, on Pakistan's Makran coastline near the Strait of Hormuz, is owned and operated by a Chinese firm. Foreign analysts often consider the long-suffering commercial venture to be a likely site for the next People's Liberation Army (PLA) overseas base. While we should not rule out that possibility, a recent case study of the port by scholars at the China Maritime Studies Institute (CMSI) at the U.S. Naval War College finds that Gwadar already serves Beijing's foreign policy – regardless of whether it becomes a military facility. The port's most important quality is its geographic position as a gateway between western China and the Indian Ocean (pictured above, with red lines representing real and proposed road, rail, and pipeline infrastructure, and blue lines representing major commercial sea lanes).
China's "maritime lifeline" (海上生命线) runs from the Taiwan Strait, through the South China Sea, and into the Indian Ocean via the Malacca Straits. Passing west of the Indian subcontinent, it splits in two. One lane skirts the northern tier of the Arabian Sea and transits through the Hormuz Strait into the Persian Gulf. The other continues on to the Horn of Africa and funnels through the Bab al Mandeb Strait into the Red Sea. From there, it exits through the Suez Canal and into the Mediterranean. These key sea lanes of communication (SLOCs) are China's "lifeline" because they connect it to vital resources and markets – most notably, the 80 percent of China's oil imports and critical minerals that flow from Africa and the Middle East, and the major export markets of India and Europe.
The PLAN has conducted an anti-piracy mission in the Gulf of Aden since 2008 as a dry run for more complex operations overseas, but still lacks the military bases or "places" in the region required for more significant power projection beyond China's "near seas" in East Asia.
These burgeoning "overseas interests" increasingly draw PRC firms and citizens to trade, invest, live, and work in nations across the Indian Ocean region. It falls to the PLA, especially the PLA Navy (PLAN), to "safeguard the security of China's overseas interests." However, with only one military base outside of China (at Djibouti, established in 2017), Chinese officials continue to lament "deficiencies in overseas operations and support." The PLAN has conducted an anti-piracy mission in the Gulf of Aden since 2008 as a dry run for more complex operations overseas, but still lacks the military bases or "places" in the region required for more significant power projection beyond China's "near seas" in East Asia. China's planners thus face a dilemma: China must protect its people, its assets, and its SLOCs in the Indian Ocean region, but must do so in a manner that does not provoke concerted balancing from India, the United States, and others who perceive a threat from a more muscular PLA presence in the region.
Gwadar, in southwest Pakistan, has long been considered as part of the solution to this problem (see map for an unconventional view that better highlights its critical location). Since the project's inception in 2001, foreign analysts have considered the Chinese-built multipurpose port just east of Hormuz to be "China's naval outpost on the Indian Ocean." The PLAN, however, has yet to visit the site – even after a Chinese firm took over the development of the project in 2013. Concern about Gwadar is nonetheless warranted, given its strategic location and the deep and intimate ties between the PRC and Pakistan. Therefore, CMSI has been analyzing the issue as part of a series of case studies on China's "strategic strongpoint" (战略支点) ports across the Indian Ocean.
Our detailed analysis of this potential strategic strongpoint dives into China's lively domestic discussion of Gwadar. We assess technical elements of the port's development and its physical capacity, its connections to Chinese infrastructure projects and potential markets in Pakistan, and consider the various strategic and operational purposes it may come to serve. We follow leading Chinese analysts and officials in employing the strategic strongpoint concept because it best captures the distinctive strategic and economic functions of the most important Chinese overseas port projects, viz.:
strategic location, positioned astride major sea lines of communication (SLOCs) and/or near vital maritime chokepoints;
high-level coordination among Chinese party-state officials, state-owned enterprises, and private firms;
comprehensive commercial scope, including Chinese-led development of associated rail, road, and pipeline infrastructure and efforts to promote trade, financing, industry, resource extraction, and inland markets; and
potential or actual military utilization, with dual-use functions that can enable both economic and military activities.
The study finds that Gwadar is the "project of the future" (and may remain so) – but it already serves some important PRC foreign policy purposes. While commercially challenged, the project is likely to attract sustained support from Beijing. That is because Gwadar satisfies two important foreign policy objectives: (1) to enable direct transport between China and the Indian Ocean, and (2) to anchor an effort to stabilize western China by shoring up insecurity on its periphery. China's interest in Gwadar — and in Pakistan's economic development in general — thus does not depend primarily on commercial returns or military utilization. Instead, the Gwadar project is a mode of strategic investment in China's external and internal security.
Externally, Gwadar's principal strategic purpose for China is to become an "exit to the ocean" (出海口) — that is, a direct route via Chinese infrastructure to secure reliable access to the strategic space and resources of the northern Indian Ocean and the Persian Gulf. Along with Myanmar and India, Pakistan is the only country that connects western China directly to the Indian Ocean and its vital markets and resources. Military logisticians and cost-conscious merchants alike are excited by the prospects of eliminating the circuitous passage from eastern China through the South China Sea, Malacca, and across the long trunk route of the Indian Ocean. The confluence of land and sea access to the Indian Ocean region (and greater Middle East) afforded by Pakistan is unique and, if realized, geostrategically quite significant.
The inland markets and resources of Pakistan...present some commercial prospects for China's "great western development" program, but these have not yet borne much fruit due to severe insecurity.
Internally, Gwadar addresses some of Beijing's most acute national security and development objectives to develop and stabilize its western regions. The inland markets and resources of Pakistan (and landlocked Afghanistan) present some commercial prospects for China's "great western development" (西部大开发) program, but these have not yet borne much fruit due to severe insecurity. More immediately, the commercial linkages between western China and Pakistan are supposed to develop and secure Pakistan, thus mitigating perceived threats to social stability in Xinjiang. China's repressive internal campaign in its western regions benefits from Pakistan's socio-economic health. Regional development, aided by Gwadar, "provides a 'cure' for the terrorist threat in the region," according to a former PRC Ambassador to Pakistan.
Xi Jinping's "holistic national security outlook" treats these internal and external security drivers in integrated fashion. From this perspective, Pakistan is a part of the same integrated socio-economic and security system as Xinjiang, as well as a vital check on Indian power in the region. China's senior leaders – including Xi Jinping himself – have thus staked considerable capital and credibility on the success of Gwadar. The manifold challenges of doing business in Pakistan may complicate realization of these lofty aims (and the global pandemic is not helping), but Beijing is committed to the project for reasons that transcend commercial gain or even bodily risk to Chinese personnel.
To serve Beijing's purposes, Gwadar does not need to become a PLA base. PLAN vessels already visit Pakistan's principal port in Karachi instead, where they satisfy most logistical needs and conduct major bilateral military engagements with their Pakistani Navy (PN) partners. Gwadar's low commercial utilization, however, has allowed its extensive use by the PN, which operates frigates and patrol vessels bought from China and will also field Chinese-made submarines. PN facilities, parts, and technicians may thus be readily employed for some of the Chinese fleet in the event the PLAN opts to call on Gwadar. There is no obstacle to such activities from a capacity standpoint: Gwadar's port facilities have the pier space and depth to support the PLAN's largest vessels. Further, beyond the pier, Gwadar possesses a sizeable laydown yard for marshalling military equipment and materials. If and when the PLAN calls at Gwadar, the existing commercial port can provide for its basic requirements without any further development.
If the PLAN does begin to utilize Gwadar, it will have some immediate utility for peacetime operations and for some limited conflict scenarios (e.g., non-combatant evacuation operations). If the inland infrastructure projects mature, Gwadar could also become a key peacetime replenishment or transfer point for PLA equipment and personnel. Prepositioning parts, supplies, and other materials at Gwadar would be a productive use of the port and airfield facilities.
However, Gwadar will not necessarily have utility as a base in a wartime scenario. For Gwadar to be employed in armed conflict, Pakistan would need to commit to belligerent status and thus invite retaliation – especially from India, which enjoys geographic advantages in the region that will persist even as the PLAN matures. China and Pakistan may profess to be "all-weather partners," but when push comes to shove China has not intervened on Pakistan's behalf. Will Pakistan sacrifice its own security for China's gain? In an ongoing research project as a Wilson China Fellow, I am exploring the extent and limits of China's influence in Pakistan for which this is a critical (if hypothetical) case. China should not expect Pakistan's full cooperation in conflict scenarios with India or the United States.  
This massive economic footprint is intended to develop and secure Pakistan for China's benefit.
All told, Gwadar is not such a potent "pearl" in the presumed Chinese encirclement of India. Instead, it is best understood as an emerging strategic strongpoint. In this model, China puts its best foot forward — namely, the immense scale of trade, investment, finance, and construction that its government and state-owned enterprises can deliver in concert. This massive economic footprint is intended to develop and secure Pakistan for China's benefit. In doing so, China creates permissive conditions that might support military utilization of the port and its surrounding infrastructure. For now, China's Gwadar gambit addresses more immediate concerns with China's internal stability, peripheral security, and access to its maritime lifeline in the Indian Ocean.
---
Follow the Asia Program on Twitter @AsiaProgram. or join us on Facebook.
The views expressed are the author's alone, and do not represent the views of the U.S. Government or the Wilson Center. Copyright 2020, Asia Program. All rights reserved.
About the Author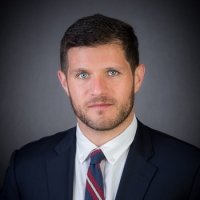 Isaac Kardon
Wilson China Fellow;
Assistant Professor, Department of Strategic and Operational Research at the U.S. Naval War College
Read More
---
Asia Program
The Asia Program promotes policy debate and intellectual discussions on U.S. interests in the Asia-Pacific as well as political, economic, security, and social issues relating to the world's most populous and economically dynamic region.  Read more