Coming to Terms with Putin Requires a "Process," Not Just a "Trial"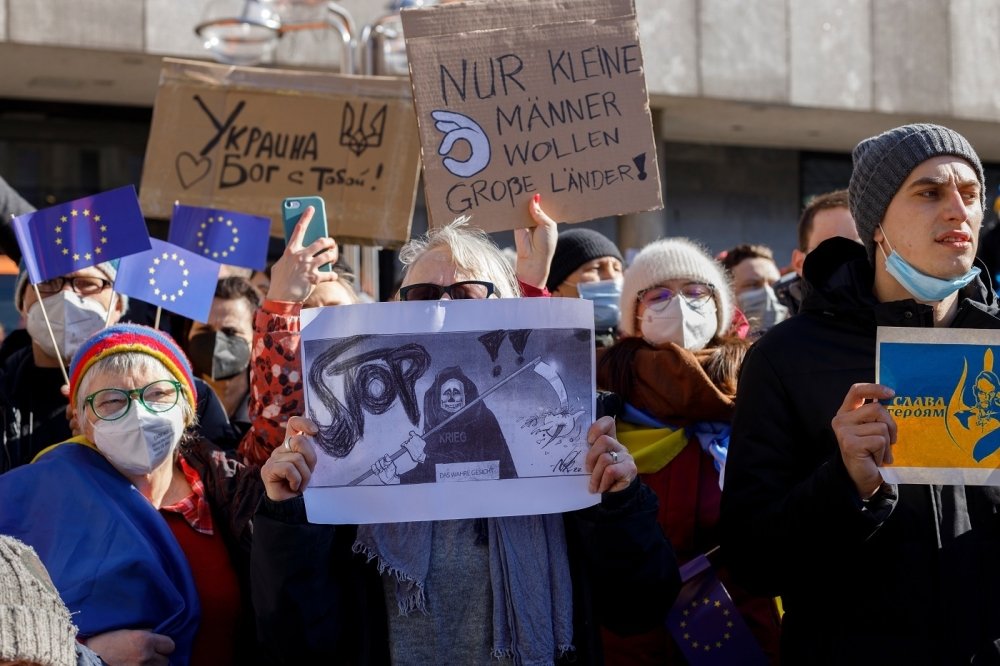 Vladimir Putin's decision to invade Ukraine runs deeper than a single event. As a recent Ukrainian-German theatrical collaboration underlines, coming to terms with Putin requires a process involving everyone. This frame empowers the actors to explore the war and Putinism from multiple perspectives, ranging from that of the individual to those of official institutions.
Theater director and actor Andriy May, founder of the Vsevolod Meyerhold Center in Kherson, was allowed to leave Ukraine as a single parent, as Russian troops neared his city. He landed in Cologne. Once settled, he reached out to the local theater community and found like-minded partners in the city's celebrated Theater der Keller, one of Germany's most innovative theater companies. Founded in 1955 by Marianne Jentgens and Heinz Opfinger, Cologne's oldest private theater opened in an air raid shelter (hence its name, "in the celler").
Wartime's life-changing events led May to reflect on the nature of modern authoritarianism and its effect on society and citizens. He began to work with the theater's dramaturge Ulrike Janssen to interrogate authoritarianism generally, and Putin specifically. Their collaboration, Putinprozess, is the result. Financial assistance from the Goethe Institute allowed May to work with choreographer Viktor Ruban, an artist-activist-theater historian from Kyiv; costume designer Katya Markush; video and sound engineer Yevhen Yakshin; and singer-performer Tetiana Zigura from Kyiv.
On November 18, 2022, their collaboration resulted in the premier of Putinprozess, an 80-minute exploration of the creation of "little Putins" in everyday life. The three-character play has been in the theater's repertoire throughout the winter, with actors Zigura and Ballenberger joining May on stage.
As Janssen has explained, "Putinprozess is not about a trial. Instead, we are dealing with the double sense of a process, to which we are all at the mercy. The performance is working on different levels, from the private positions of the performers to the propaganda of Russian institutions. The play lets the audience think about the question: what is my position, what is my role in this process?"
Several German theater critics engaged such issues in their reviews this November. The Nachtkritik reviewer wrote, "Trial? It would be nice. The German-Ukrainian production Putinprozess…has to do with completely different things" (Nov. 19). The Choices critic said, "the characters move between tenderness and apathy with stories about exclusion, political persecution, and longing for artistic development. The ensemble reminds us of the value of listening, of sympathy" (November 2022). Kölnische Rundschau reported, "May's Putinprozess is not a tribunal; it is about the difficult process of orienting yourself in a constantly changing scenario" (Nov. 22).
Theater der Keller's Putinprozess exposes the process by which the ruthlessness and cruelty of Putin's regime insinuated itself into Russian society. Modern totalitarian regimes rest on a noxious combination of top-down ruthless willfulness and bottom-up passivity and disorientation. This melding of Ukrainian and German perspectives on totalitarian violence creates fresh possibilities for understanding how such aggression occurs. As May has observed, "Putin himself is not interesting." Perhaps the collaborative design of theater emphasizes process more than the current widespread fascination with Putin as a personality.
There will be a time to sort through the Putin regime's multitude of enablers. Theater works such as Putinprozess will be invaluable in helping to craft paths forward to foreclose on yet another authoritarian horror tale.
The opinions expressed in this article are those solely of the author and do not reflect the views of the Kennan Institute.
See our newest content first.
Subscribe to receive the latest analysis from the Focus Ukraine blog.
About the Author
Blair A. Ruble
Distinguished Fellow;
Former Wilson Center Vice President for Programs (2014-2017); Director of the Comparative Urban Studies Program/Urban Sustainability Laboratory (1992-2017); Director of the Kennan Institute for Advanced Russian Studies (1989-2012) and Director of the Program on Global Sustainability and Resilience (2012-2014)
Read More
---
Kennan Institute
The Kennan Institute is the premier U.S. center for advanced research on Russia and Eurasia and the oldest and largest regional program at the Woodrow Wilson International Center for Scholars. The Kennan Institute is committed to improving American understanding of Russia, Ukraine, Central Asia, the Caucasus, and the surrounding region though research and exchange. Read more