The Comprehensive Part of the US-Vietnam Comprehensive Strategic Partnership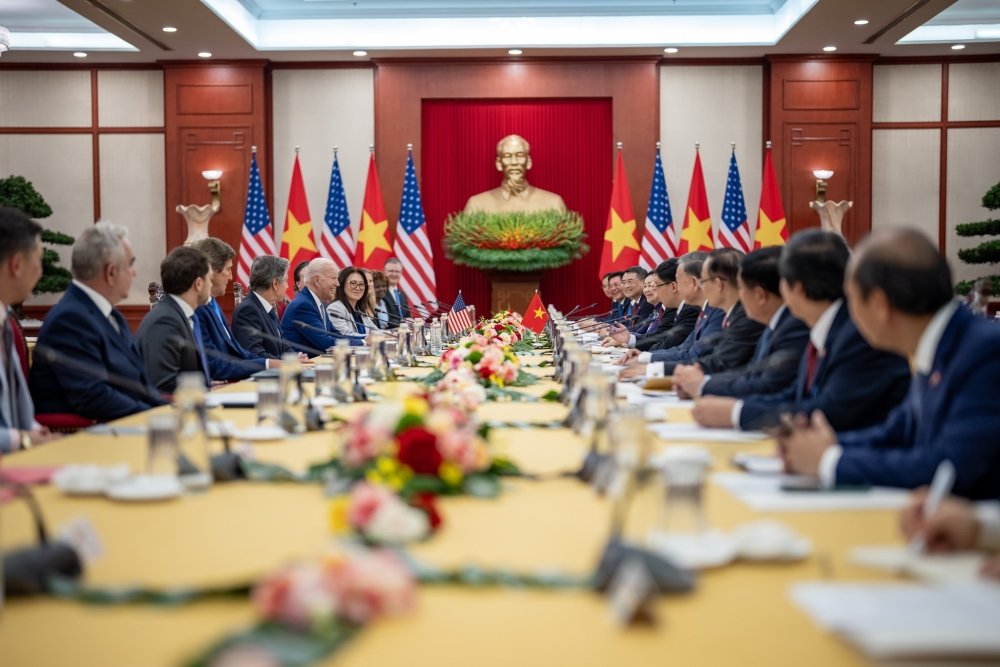 On September 10th, 2023, President Joseph R. Biden traveled to Vietnam to elevate US-Vietnam relations to the Comprehensive Strategic Partnership level during a meeting with the General Secretary of the Communist Party of Vietnam, Nguyễn Phú Trọng, skipping straight past Strategic Partnership from the decade-old Comprehensive Partnership title. A Comprehensive Strategic Partnership ranks the United States as equivalent to China and Russia in Vietnam's hierarchy of diplomatic relationships. This marks a remarkable improvement in US-Vietnam ties considering the two nation's history of Cold War conflict half a century ago. 
While the geopolitical reality driving Washington and Hanoi together remains a shared sense of threat from Beijing, a Comprehensive Strategic Partnership is not a formal military alliance, nor is it a fundamental shift. Rather, the upgrade reflects the accelerating improvement in US-Vietnam bilateral relations, particularly in the economic and people-to-people spheres.
Key takeaways from the announcement include cooperation on trade, addressing Vietnam War legacies, joint climate action, science and technology, new opportunities for bilateral investment, and people-to-people relations. 
Perhaps most crucially, the Comprehensive Strategic Partnership solidifies the "friendshoring' trend  towards Vietnam as firms exit the Chinese market due to uncertainties and political concerns. New semiconductor manufacturing opportunities in Vietnam are an especially important development, with an American-firm opening a "state-of-the art factory" in October 2023 worth $1.6 billion. Although expanding domestic production is important for resilient supply chains, Southeast Asia will play an increasingly vital role in "friendshoring" for manufacturing. If successful, the shift towards Southeast Asia can enhance resilience for critical US supply chains and reduce vulnerability and dependence upon China.
Viewed within the context of Vietnamese hedging behavior, the Comprehensive Strategic Partnership does not mean Hanoi is aligning with the United States or moving away from Beijing.
On the geopolitical front, the joint statement avoided all mention of China and President Biden emphasized that the partnership is "not about containing China." This is crucial given Vietnam's sensitivities regarding alienating China. Hanoi practices hedging in its foreign policy, always mindful of triggering Chinese retaliation for Vietnam's embrace of the United States. Prior to upgrading ties with the United States, Vietnam's Prime Minister made a point of meeting with China's Premier in Jakarta, and General Secretary Trọng traveled to Beijing to meet President Xi Jinping in October 2022. Viewed within the context of Vietnamese hedging behavior, the Comprehensive Strategic Partnership does not mean Hanoi is aligning with the United States or moving away from Beijing. It is instead a sign of improving US relations as part of Vietnam's strategy of balancing between the great powers to protect itself and advance its own interests. Vietnam-China relations have not necessarily suffered as a result of the US-Vietnam Comprehensive Strategic Partnership.
Washington also practices its own balancing act in Southeast Asia between promotion of democracy and human rights and its strategic interest in countering growing Chinese influence. Elevating US-Vietnam relations are a good example of strategic imperatives leading Washington to quiet its concerns about democracy and human rights. Indeed, the Joint Leaders' Statement states: "Vietnam also underscores the fact that mutual understanding of each other's relevant situation, respect for each other's legitimate interest, and non-interference in each other's domestic affairs are fundamental factors with great significance in our bilateral." 
Yet, this does not mean the United States completely ignores Hanois' rights record, as the statement later mentions that "[President Biden] also raised the importance of respect for human rights as a priority for both my administration and the American people. And we'll continue…our candid dialogue on that regard." For the United States, Vietnam is geostrategically vital, and Washington has to strike a difficult balance between a values-based foreign policy and strategic national interests without sacrificing either. Moreover, Washington also understands Vietnam's historically close ties to Russia and refrains from pushing Hanoi too hard on Moscow's invasion of Ukraine in the interest of improving ties.
Overall, the Comprehensive Strategic Partnership is not a fundamental change but rather a retitling to describe more accurately a rapidly improving relationship. The ambiguity in the months leading up to the visit as to whether it would be an elevation to Strategic Partnership or a Comprehensive Strategic Partnership did not reflect problems in the US-Vietnam relationship but rather the complexities facing Hanoi. Vietnam simultaneously wishes to maintain its economic and Party-to-Party relationships with Beijing, while also hedging against the very real threat of Chinese aggression in the South China Sea by drawing closer to the United States. 
With that complexity in mind, it is important to emphasize that the Comprehensive Strategic Partnership is not a military alliance, nor is it Vietnam abandoning China to align with the United States. But, it is comprehensive, and framing it as about the totality of the relationship rather than China is the right move. The elevation demonstrates clearly that the US-Vietnam relationship is improving across all metrics, from security and maritime cooperation to climate change and economics.
The views expressed are the author's alone, and do not represent the views of the U.S. Government or the Wilson Center. Copyright 2023, Asia Program. All rights reserved.
About the Author
---
Asia Program
The Asia Program promotes policy debate and intellectual discussions on U.S. interests in the Asia-Pacific as well as political, economic, security, and social issues relating to the world's most populous and economically dynamic region.  Read more