The Costs of Revoking Kashmir's Autonomy, One Year Later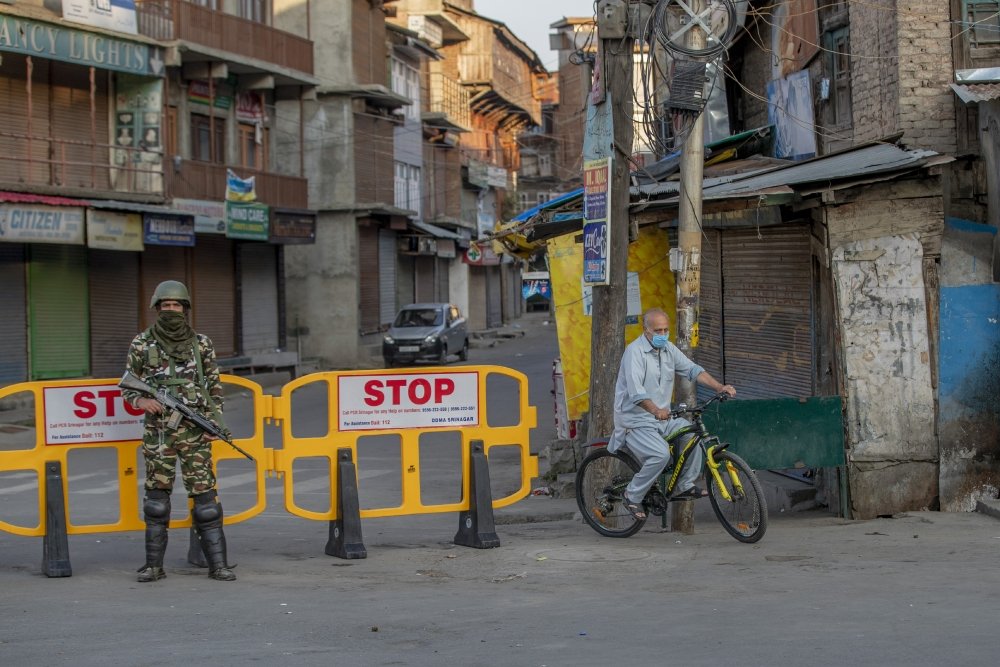 This week marks one year since India repealed Article 370 of its constitution, a move that revoked the autonomy of India-administered Jammu and Kashmir (J&K) and made it a union territory of India.
The Indian government claimed that changing the region's status would usher in stability and prosperity. Over the last year, New Delhi has released data to make a case that it's succeeding: Fewer people are joining militancy, violent attacks are down, and large infusions of development assistance and investments are being disbursed.
But the last year also illustrates the move's high costs for New Delhi, both internally and regionally.
For many Kashmiris, particularly those in the restive Kashmir Valley, the revocation of Article 370 forced them to become a formal part of a nation they despise. Government actions over the last year have only hardened such sentiments. New Delhi detained thousands, imposed communication bans (a high-speed Internet ban remains in place), and intimidated local media into becoming subservient and self-censoring. There have been few efforts at dialogue. New upliftment packages come across as tone deaf for a population that demands dignity, not development.
"A silence enforced by the barrel of a gun and fear of jail can never be long lasting." -Editorial in the Kashmir Walla
 "This relentless effort to enforce a silence, criminalize dissent, stop media, [and] disallow any political and society activity on [the] ground can only ensure peace of a graveyard," warns a recent editorial in the Kashmir Walla, one of the few remaining independent press outlets in Kashmir. "A silence enforced by the barrel of a gun and fear of jail can never be long lasting."
Many Kashmiris charge New Delhi with using the repeal of Kashmir's autonomy—and the accompanying justifications of building prosperity and stability—as a smokescreen for the pursuit of demographic change in India's only Muslim-majority region. In addition to repealing Article 370, New Delhi eliminated a related clause, known as Article 35A, which had enabled the Jammu and Kashmir legislature to define who is a permanent resident. Its removal facilitates the ability of Indians from around the country—and by extension Indian Hindus—to live and work in Kashmir.
Recent developments heighten Kashmiris' fear of state-sanctioned demographic change. New domicile laws passed in April stipulate that those having lived in the region for at least 15 years, or who studied there for seven years, can now become permanent residents and gain access to jobs and property previously reserved for locals.
Over the last year, India hasn't conciliated Kashmir's angry and alienated population. It hasn't won hearts and minds; it has further embittered them. Unsurprisingly, many Indian security analysts predict upsurges in unrest—even after a year that featured attacks on civilians, property destruction, and shootouts between security forces and militants, belying New Delhi's happy talk about peace and stability.
The Article 370 revocation also precipitated deleterious geopolitical consequences for New Delhi. It generated extensive international media coverage, and the draconian measures that followed prompted condemnations from senior leaders in many key capitals. This is problematic for an Indian government that much prefers the world stay quiet on Kashmir.
Additionally, the move plunged relations with Pakistan—already tense since a military crisis in February 2019—to a dangerous low. For New Delhi, the danger is not the perilous state of bilateral relations—it's how Islamabad may retaliate.
Islamabad, which deems India's control of Jammu and Kashmir illegal, spent the last year capitalizing on the heightened global focus on Kashmir by attempting to launch an international campaign that calls out India for its excesses in Kashmir, demands changes in policies there, and advocates for Kashmir's status to be reexamined.
Most countries still view Kashmir—as India does—as an internal matter.
Despite global criticism of India's actions, this campaign hasn't gained traction. Most countries still view Kashmir—as India does—as an internal matter. There's little desire to rock the boat and risk antagonizing an Indian state widely viewed as a geopolitically significant country and important market.
This gives Islamabad precious few options. One is talks with New Delhi, but that's unlikely given the freeze in relations. The other is scaling up its infiltration of militants across the border to stage attacks on Indian security forces—a tactic to which it has resorted less often in recent years, but one it has a strong incentive to embrace in the absence of other options to keep the pressure on New Delhi.
Furthermore, India's Article 370 move likely contributed to one of New Delhi's biggest foreign policy crises in years. India's current border spat with China—one that involved a deadly clash in June that killed 20 Indian soldiers —has plunged India-China relations to their lowest point in decades.
The crisis began when Chinese forces made large-scale incursions in multiple places across the disputed border in Ladakh. The likely proximate trigger was India's completion of a large and strategic border road. Infrastructure development has often caused previous India-China border crises as well, but China's actions this time around were unusually robust. And that's because Beijing was likely motivated not just by Indian road-building, but by India's Article 370 move.
That decision, which reorganized Ladakh—a region partly controlled by China—into an Indian union territory, prompted a strongly worded statement of rejection from Beijing the very next day. Subsequent developments—including a parliamentary speech by India Interior Minister Amit Shah describing Aksai Chin, the China-controlled portion of Ladakh, as an "essential" part of India, and New Delhi's publication of new official maps depicting post-Article 370 repeal India—angered China as well. The Article 370 move may not be the sole trigger for China's provocations in Ladakh, but it's likely a major contributing factor.
Thanks to the repeal of Article 370, India confronts a growing powder keg in Kashmir and greatly heightened tensions with its two top rivals.
These are costs that New Delhi is willing to bear. But they will be difficult to manage—and especially for a government already struggling to combat a pandemic and overcome its worst economic crises in years.
Follow Michael Kugelman, deputy director of the Asia Program and senior associate for South Asia, on Twitter @MichaelKugelman.
The views expressed are the author's alone, and do not represent the views of the U.S. Government or the Wilson Center. Copyright 2020, Asia Program. All rights reserved.
About the Author
---
Asia Program
The Asia Program promotes policy debate and intellectual discussions on U.S. interests in the Asia-Pacific as well as political, economic, security, and social issues relating to the world's most populous and economically dynamic region.  Read more