Discovering the Power of Community in Unexpected Places
Any understanding of "community" loses texture and vitality as it becomes a term of art spoken too often in policy debates without much thought.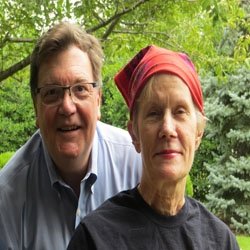 Recently, I have been hearing a lot about supporting "community" as a way to address pressing urban challenges, such as rising crime, entrenched poverty, and substandard education systems.  The concept of "community" – especially those deemed to be "sustainable" and "resilient" – has come to be a currency of the realm in discussions about cities, development, and rebounding from disaster. Any understanding of "community" loses texture and vitality as it becomes a term of art spoken too often in policy debates without much thought. 
During this summer I had an opportunity to witness an example of the healing power of community.  While profoundly personal, the experience taught me some lessons about human nature that offer universal insights into the power of shared experience to secure a meaningful sense of community.
In July (2015), my wife Sally and I attended the Spinal Injury Recovery Unit's annual Bar-B-Q in the lovely garden at Washington, D.C.'s National Rehabilitation Hospital, where Sally was a patient.  Nature cooperated with a pleasant, relatively cool and humidity-free evening.
The garden is lovely, with quiet shaded places for patients to sit and a small well-designed piazza dominated by the sounds of an elegant fountain.   There were five or six dozen patients, with assorted family and staff members comfortably filling in the available spaces.
The main event was a dunking stand where patients could launch their doctors into a pool of water by hitting a target with a ball (or, in some instances, their wheelchairs).  Everyone caught the spirit, although the game turned edgier as doctors began to play against one another.
Carolina culture still lives in D.C.  Most rural migration to Washington over the past century came from the Carolinas.  Back in the day, many African American Washingtonians called the city the largest town in North Carolina.  Fittingly, therefore, the main course -- and the first non-hospital food in a long time for many of the patients -- was a scrumptious slightly sweet western North Carolina Bar-B-Q.
National Rehabilitation Hospital is full of patients who don't want to be there.  The older patients tend to be recovering from the ravages of strokes, heart and brain issues, and diabetes.  The younger patents are mending from car crashes, other accidents, military casualties, and gun shots on the streets of the city.  Rehabilitation is hard work compounded by the uncertainty of the outcome.  The evening was special because everyone could forget why they were where they have to be on the lovely gentle summer evening.
The hospital's remarkable staff and doctors nurture a wholly supportive environment for everyone there.  Of course, everyone at the party has a powerful individual story -- a large, dramatic, and tragic tale of one sort or another -- and their consequent infirmities created a bond among them. Clusters of patients -- some alone or chatting with one another; others surrounded by family members and loved ones -- created a strong sense of connection among people who otherwise might never have encountered one another.
Those of us who write about cities and the urban future have come to use words such as "community" with an effortlessness that at times eviscerates all meaning.  On that summer night in Washington, several dozen patients -- each confronting an intense personal battle -- demonstrated that "community" can be real.  The human connections underlying shared destiny add the power of others to one's own struggle to heal.
About the Author
Blair A. Ruble
Distinguished Fellow;
Former Wilson Center Vice President for Programs (2014-2017); Director of the Comparative Urban Studies Program/Urban Sustainability Laboratory (1992-2017); Director of the Kennan Institute for Advanced Russian Studies (1989-2012) and Director of the Program on Global Sustainability and Resilience (2012-2014)
Read More
---
Urban Sustainability Laboratory
Since 1991, the Urban Sustainability Laboratory has advanced solutions to urban challenges—such as poverty, exclusion, insecurity, and environmental degradation—by promoting evidence-based research to support sustainable, equitable and peaceful cities. Read more
Urban Sustainability Laboratory
Since 1991, the Urban Sustainability Laboratory has advanced solutions to urban challenges—such as poverty, exclusion, insecurity, and environmental degradation—by promoting evidence-based research to support sustainable, equitable and peaceful cities. Read more