Even the Trees Needed Bandages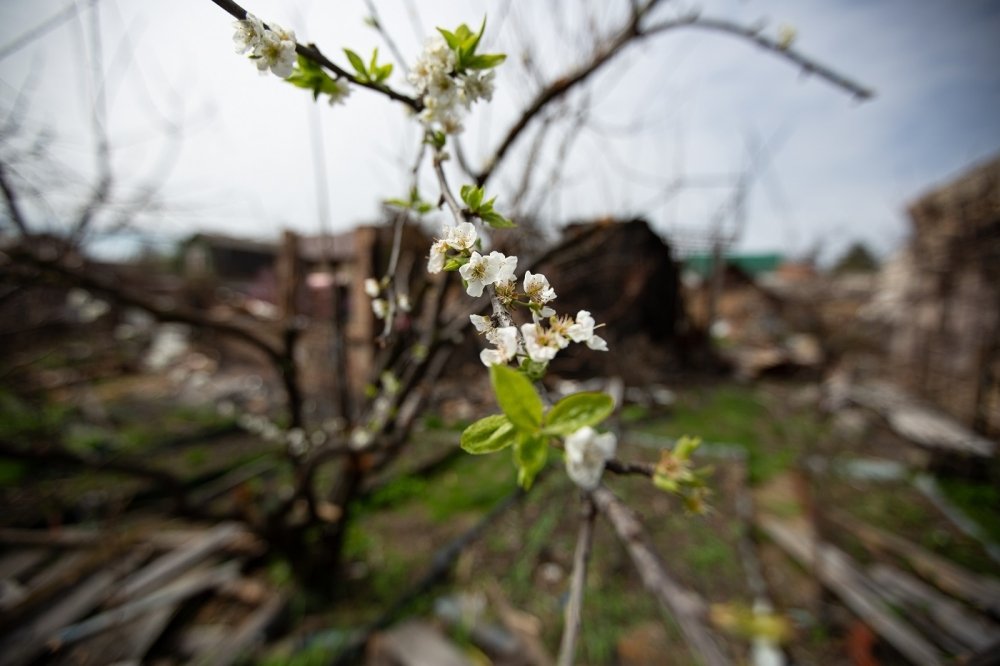 For three weeks in March 2022, Russian soldiers tried to capture the Kyiv suburb of Irpin. Those neighborhoods not occupied by the Russians were largely destroyed by artillery attacks. More than 300 civilians of all ages lost their lives, along with 50 soldiers. Hundreds of buildings were damaged and destroyed, including many homes that had been built by their owners' hands over decades. Nearly every car was burned, and ended up in junk piles surrounding the town after liberation. Vegetable gardens were destroyed; fruit and other trees were shot up and damaged; animals were slaughtered along with their owners.
What does recovery mean is such a ravaged place? The trauma is so overwhelming that words alone are not enough to communicate the devastation of a town where even the trees needed bandages.
Video artist Olia Mykhailiuk of the innovative Ukrainian ArtPole Agency took her camera and microphone to Irpin in May to find out. She kept filming into the autumn. Her video notes show the process of recovery. Irpin's elderly residents lost their homes, crops, and families. For one interviewee, "Putin took her grandson," after Chernobyl had taken her daughter.
Mykhailiuk followed the efforts of traumatized residents to reassemble their lives, though their lives cannot be fully recovered. The forests, once so vital for local life, have become minefields. What food can grow must be planted and harvested in the local river's demined floodplain. Some interviewees expressed gratitude for all the good people who somehow managed to help. Others dismissed humanity, choosing to spend as much time with plants and animals, as they "don't lie." Mykhailiuk managed to capture Irpin's suffering and the new realities there on her YouTube video, "Irpin. Chronicles of Revival" (1:15).
Mykhailiuk's Irpin project is but one of many for her and her ArtPole colleagues. Founded in Kyiv in 2007 by Mykhailiuk and journalist Myroslava Ganyushkina, ArtPole has grown from Ukraine's first international open air world music and land art festival, "Sheshory," into a formidable artistic collective. It brings together painters, performers, musicians, wordsmiths, and media artists. From the outset, ArtPole has worked with prominent Ukrainian literary figures like Serhyi Zhadan and Yurii Andrukhovych and it has organized some of the first large concerts for the international megastar band DakhaBrakha. The agency's works are often site-specific and always convey nonverbal realities, which have shaped so much of Ukrainian history in recent years.
ArtPole launched a special project entitled "Crimea. The Third Dimension" following the Russian invasion in 2014. This initiative sought to preserve connections, no matter how ephemeral, between the peninsula and the Ukrainian mainland. Video artists and musicians captured the sounds of Crimea, from folk music to the rustle of bushes and the crashing of waves, to weave video and soundscapes together, preserving a link between multiple dimensions beyond the political.
This project, which came to fruition in 2021, prompted other works, including "No Man Is an Island," dedicated to Mariupol, designed by Mykhailiuk, Tomasz Sikora, and Suren Voskanian. Other projects over the past decade have encouraged a variety of artists to explore what it means to be in Simferopol, Kyiv, Minsk, Kherson, and Ivano-Frankivsk.
ArtPole associates have drawn on their individual artistic visions and techniques to ask and answer questions of one another, to share videos, to exchange recordings of music and the sounds of waves and grass in order to capture the moods of Ukrainian places before, and now during, the war. Collectively, they create a sensory tapestry of what Ukraine means to them, and to other Ukrainians.
Having worked for some time with Polish artists such as Sikora, a musician, sound engineer, producer, and animator, ArtPole has been well placed to continue its work and performances from Warsaw in recent months. Sikora, a member of the Wrocław band Karbido, has been an important collaborator, bringing Ukrainian and Polish artists and musicians together for more than a decade. Such partnerships have taken on extra meaning with the Russian invasion, which has only strengthened the relationships between Ukraine and the West.
Mykhailiuk and Ganyushkina have observed that their agency's projects "pulsate each with its unique rhythm. We observe, analyze, implement new ideas that, from time to time, refurbish and transform older projects. In such cases, we return but do not repeat ourselves—our projects keep evolving." Just as Ukrainian society and its remarkable artistic communities have done throughout this war.
The opinions expressed in this article are those solely of the author and do not reflect the views of the Kennan Institute.
See our newest content first.
Subscribe to receive the latest analysis from Focus Ukraine.
About the Author
Blair A. Ruble
Distinguished Fellow;
Former Wilson Center Vice President for Programs (2014-2017); Director of the Comparative Urban Studies Program/Urban Sustainability Laboratory (1992-2017); Director of the Kennan Institute for Advanced Russian Studies (1989-2012) and Director of the Program on Global Sustainability and Resilience (2012-2014)
Read More
---
Kennan Institute
The Kennan Institute is the premier U.S. center for advanced research on Russia and Eurasia and the oldest and largest regional program at the Woodrow Wilson International Center for Scholars. The Kennan Institute is committed to improving American understanding of Russia, Ukraine, Central Asia, the Caucasus, and the surrounding region though research and exchange. Read more