Event Summary | Pioneering Space Force: A Fireside Chat with General John W. "Jay" Raymond
United States Space Force General John "Jay" Raymond and the Wilson Center's Mark Kennedy discussed the past, present, and future of the Space Force in a fireside chat hosted by the Science and Technology Innovation Program.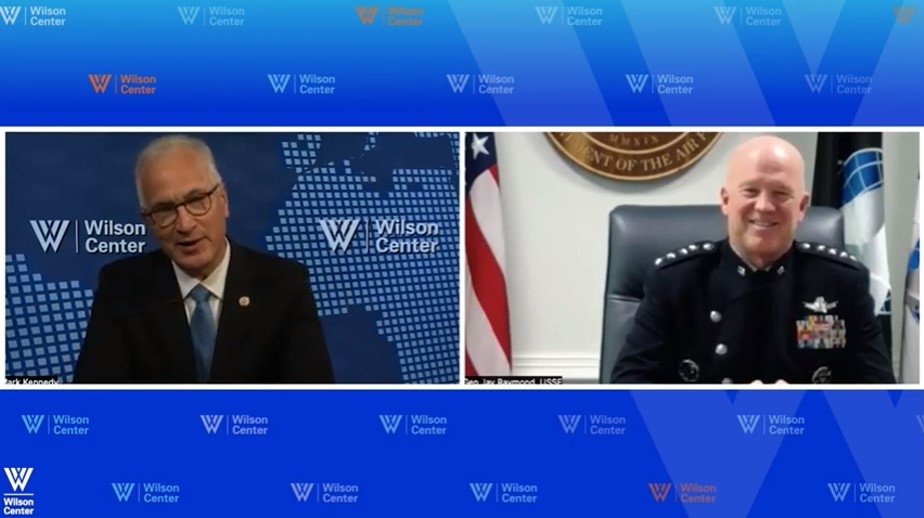 "Space underpins every instrument of our national power, whether it be diplomatic, information, military, or the economy," said United States Space Force General John "Jay" Raymond at a Wilson Center Fireside Chat on the past, present, and future of the United States Military's newest branch. Amid the growing value of space to the global economy and sharpening geopolitical competition, General Raymond emphasized the importance of the Space Force to U.S. interests, which range from checking the weather at breakfast to national defense. "Most people use space multiple times before they have their first cup of coffee, noted the General. In the hour-long dialog, he and moderator Mark Kennedy discussed the role of the Space Force, the unique mission and capabilities General Raymond has fostered, and the future challenges awaiting the fledgling branch.
The Role of a New Force
The establishment of a Space Force is, according to General Raymond, a sensible reaction to the growing importance of space. With over 4,500 objects in space, many of them integral to communications and the information economy, the domain has become a linchpin of the information economy. Space-based assets are also vital to our national security enterprise, providing communications, ISR, and navigation capabilities to other facets of the defense and intelligence communities. General Raymond reflected on this far-reaching importance, remarking that "there's nothing that we do as a nation, or as a joint [or] coalition force, that isn't enabled by space."
Perhaps because of this growing importance, "space has become more congested, has become more competitive, and has become more contested," said the General. "Since the end of the Cold War," he notes, "we've had the luxury of treating space as a given." In an era of increasing great power competition, that may be changing. While U.S. relationships with partners such as Japan and NATO allies remain strong, ties with Russia and China, some of the most influential spacefaring nations, are strained. Earthly geopolitical tensions are spilling into space. Russia, for example, has announced its intentions to withdraw from the International Space Station before its anticipated decommissioning. China's dream of hosting European astronauts on its own station—notably launched after the US congress outlawed Chinese participation in the ISS program—has been imperiled by a range of issues.
According to General Raymond, launching an independent service tailored to the unique demands of space has allowed the U.S. to maintain its advantage in this increasingly challenging strategic environment. He reflected on the conceptualization of the force in 2019, saying that "…a service that came to work every day, focused on the space domain… could elevate its importance and… stay ahead of [today's] strategic environment."
Establishing a Culture
Even before the establishment of the Space Force, Department of Defense officials recognized that a unique and carefully curated culture would be vital to this day-to-day focus on space. When asked about the contours of that unique culture, General Raymond articulated the ideal Space Force culture clearly: "we want to have a culture that is bold and innovative and can move at speed." To forge this culture, General Raymond has worked to build bridges with academia and private industry. The Space Force now partners with a consortium of sixteen universities on its most pressing challenges, yielding both solutions and potential talent. "We think this partnership… is going to be something that's going to deliver advantage for our nation," said Raymond of the consortium program.
Attracting talent from a variety of professional backgrounds has been one of General Raymond's top priorities. It has also been one of the Space Force's key challenges. Because the Space Force will draw on skill sets and talent pools not conventionally associated with the military, General Raymond has prioritized recruitment based on relationships and flexibility. "…[W]e're looking at innovative ways to be able to have a connection with each and every guardian, give them more choices, and attract talent that traditionally might not have been attracted to come into the military," said Raymond. And it appears to be working. The Space force has grown rapidly, drawing talent from academia and private industry as well as from other branches of the uniformed services. According to Raymond, "the biggest advantage that we've had after establishing the Space Force is the talent that we're attracting."
To the Future and Beyond
Though the Space Force is recruiting heavily outside of traditional military spheres, the role and mission of the novel military branch align neatly with the Department of Defense's broader objectives. "Space is a warfighting domain just like all other domains—air land sea," clarified Raymond. He emphasized the centrality of partnerships to achieve warfighting readiness, build a credible deterrent, and maintain advantage in space. "[O]ne of the big things that we've been focusing on," he said, "is developing partnerships globally."
While many of these partnerships involve extending traditional alliances to a new domain, the Space Force has also sought to cultivate partnerships with the booming domestic space industry. "One of the great advantages that I see is the U.S. commercial industry," said Raymond. "I would never bet against our industry. They're innovative, they're moving fast, and we're working hard to develop a more fused relationship, if you will, with both traditional and non-traditional commercial partners as we move forward."
General Raymond concluded by acknowledging the importance of the fledgeling force. "We understand the urgency of getting this done and doing it right," he said. "This is a team sport, and we're proud to be teammates with a whole lot of folks."
About the Author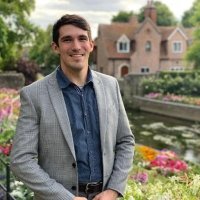 Daniel Kroth
Research Analyst, Science and Technology Innovation Program;
Director, Digital Investigations and Emerging Methods, Ukraine Digital Verification Lab
Read More
---
Science and Technology Innovation Program
The Science and Technology Innovation Program (STIP) brings foresight to the frontier. Our experts explore emerging technologies through vital conversations, making science policy accessible to everyone. Read more