Federal Citizen Science and Crowdsourcing Initiative Named Finalist for Harvard's 2017 Roy and Lila Ash Award for Public Engagement in Government: Reflections from the Wilson Center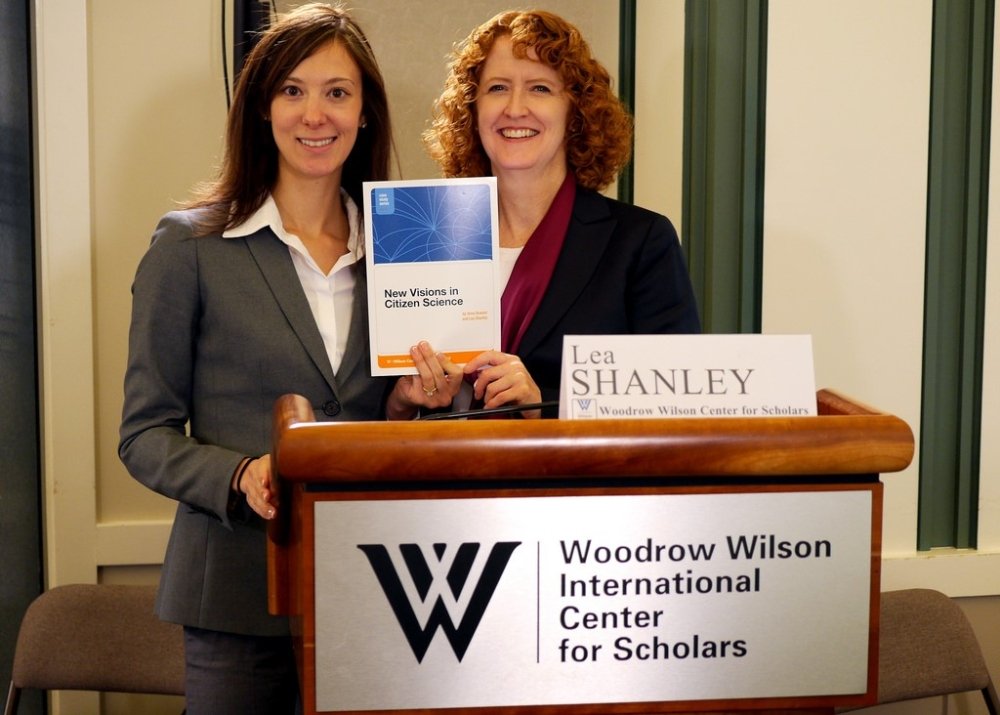 The Federal Citizen Science and Crowdsourcing Initiative was announced as a finalist in this year's Roy and Lila Ash Award for Public Engagement in Government by the Ash Center for Democratic Governance and Innovation at the John F. Kennedy School of Government, Harvard University. As one of four finalists named for the Roy and Lila Ash Award on May 2, 2017, the Federal Citizen Science and Crowdsourcing Initiative will compete for a $100,000 grand prize during presentations to the Innovations in American Government Awards National Selection Committee, chaired by Kathleen Kennedy Townsend, former Lieutenant Governor of Maryland, on May 17 in Cambridge, Massachusetts. The presentations will be livestreamed on the Ash Center website.
About the Federal Citizen Science and Crowdsourcing Initiative
At the heart of The Federal Citizen Science and Crowdsourcing Initiative lies the Federal Community of Practice for Crowdsourcing and Citizen Science (CCS). This community was formalized in June 2013 by small group of federal practitioners, with the support of their agencies and in collaboration with the Wilson Center. This group drew from many government organizations including EPA, NOAA, NSF, NIH, USFS, USGS, the Wilson Center, and the US Global Climate Change Program. In just three years, the Federal community grew from a small group sitting around a lunch table in 2013 to over 300 members representing 60 federal organizations today.
Since 2013, CCS has developed a collection of resources designed by and for federal practitioners, now pubic through a centralized, high-profile site at CitizenScience.gov. The site contains three components: a Community portal to CCS for federal employees, a how-to Toolkit and, a Catalog now listing over 400 federal projects. The Wilson Center, in cooperation with CCS and the GSA, has hosted and maintained the Catalog since a pilot version was launched in 2014. The Catalog documents citizen science projects supported by federal agencies, allowing researchers to track project over time, seeks to network like-minded practitioners by providing information about similar projects and data, and helps members of the public find projects to contribute to.
Ever since Alan Irwin and Rick Bonney started talking about "citizen science" in the 1990s, a crucial goal of this paradigm has been to democratize traditionally closed processes like scientific research and government through greater public participation. Watching the Federal Citizen Science and Crowdsourcing Initiative advance to the finalist round of the Roy and Lila Ash Award for Public Engagement in Government is tremendous validation for the field of citizen science as a whole. This is also an exciting moment for the Wilson Center, where we have been privileged to watch this community coalesce and mobilize since 2013. 
Lea Shanley conceived of the first major convening of federal practitioners together and the broader citizen science community, a workshop called New Visions for Citizen Science, in 2013. A Research Intern at the time, I helped coordinate the event, find speakers, and write a whitepaper highlighting federal citizen science projects that has been downloaded thousands of times. When Lea moved on to support CCS as a Presidential Innovation Fellow with NASA, Elizabeth Tyson in collaboration with the Kennedy Center for the Arts kept support going by inviting federal employees from agencies like NASA and BLM to pitch a problem or data set to "hack on" during the Wilson Center's Science Hack Day in 2015. An award-winning prototype developed during the Hackathon, Eco Orchestra, provides a new way to engage the public in conversations about ecological change by transforming NASA Landsat data into sound.
DC Science Hack Day 2015. From ArtsEdge and the Commons Lab, 100 artists and scientists came together over the course of 36 hours to solve many diverse problems, many pitched by federal employees with new and innovative solutions.
One of my favorite memories of working with CCS is hosting, along with EPA, a workshop on Citizen Science Data and Metadata in 2015. In retrospect many of us were still trying to articulate the value of developing data and metadata standards, controlled vocabularies, standardized protocols, and similar tools during this time, and I am not entirely sure if we effectively communicated this value to workshop attendees. Still, many members of CCS showed up to contribute their time and domain expertise. The controlled vocabularies that we worked on became the basis for the listings of citizen science projects that are now published in the Federal Catalog. These controlled vocabularies also allow us to exchange records with SciStarter, providing a way for federal citizen science projects to reach an even broader audience of willing volunteers through the SciStarer community. This anecdote illustrates how our relationship with CCS has always been mutually beneficial. It also demonstrations what I consider to be a core CCS value, the willingness to look beyond the boundaries of agency offices to engage external stakeholders in government processes. CCS does this both by helping federal agencies become more knowledgeable of citizen science to fund, run, or take benefit from projects and initiatives, and also by working with collaborators in the private sector to improve processes, share best practices, and ultimately amplify impacts.
About the Award
Tony Saich, director of the Ash Center and Daewoo Professor of International Affairs, remarked that these programs "demonstrate the expanding horizons of how technology can be used to engage citizens and disseminate information more broadly than it ever has before. These programs are not just changing the old town hall method of public discourse, but also showing how the principles and tools of engagement, crowdsourcing, and open information can be used in initiatives working to address diverse societal challenges, such as enfranchisement and informed voting, mental health, criminal justice, and community development."
The Roy and Lila Ash Award for Public Engagement in Government aims to highlight government programs, policies, and initiatives that encourage public participation in a range of budgetary, regulatory, and policy decisions. This award was also designed to recognize those efforts that successfully employ digital technology and crowdsourcing techniques to broaden public involvement in government decision-making and drive problem-solving.
The Innovations in American Government Awards was created by the Ford Foundation in 1985 in response to widespread pessimism and distrust in government's effectiveness. Since its inception, over 500 government innovations across all jurisdiction levels have been recognized and have collectively received more than $22 million in grants to support dissemination efforts. Such models of good governance also inform research and academic study around key policy areas both at Harvard Kennedy School and academic institutions worldwide. Past winners have served as the basis of case studies taught in more than 450 Harvard courses and over 2,250 courses worldwide.
The Ash Center for Democratic Governance and Innovation advances excellence in governance and strengthens democratic institutions worldwide. Through its research, education, international programs, and government innovations awards, the Center fosters creative and effective government problem solving and serves as a catalyst for addressing many of the most pressing needs of the world's citizens. For more information, visit www.ash.harvard.edu.
About the Author
Anne Bowser
Global Fellow
Dr. Anne Bowser is a Global Fellow at the Wilson Center, the former Deputy Director and Director of Innovation with the Science and Technology Innovation Program (STIP). Her work investigates the intersections between science, technology and democracy.
Read More