Fighting Two Fronts in the Trade War, With Only One Popular Path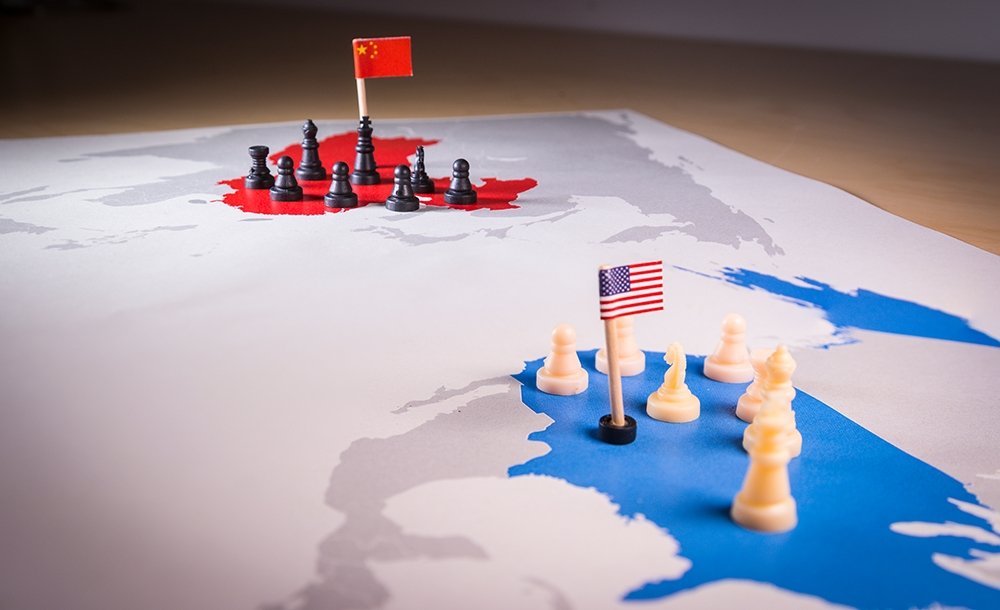 With both Beijing and Washington expressing satisfaction with the latest round of bilateral trade negotiations, the U.S.-China talks appear to be heading on a track for a win for both sides. Expectations for China to buy more U.S. products and to be willing to make concessions on structural issues have undoubtedly increased, and hopes are high that some kind of resolution can be reached for the March 2 deadline in bilateral talks. 
Still, the fact remains that Washington continues to fight a trade war against China on two fronts, the first being to reduce the U.S. trade deficit of goods. Much of the focus has been on whether or not an additional $200 billion in tariffs should be levied on Chinese products in addition to the $50 billion already hit by Section 301. But how Beijing could appease Washington by buying more U.S. agricultural, energy, and other products has done little to enhance U.S. standing across Asia. Rather, Washington's singular focus on reducing its trade deficit of goods with China has only increased wariness of U.S. trade policy, especially in Tokyo as Japan continues to negotiate its own trade deal with the United States. In short, the more China is pushed to concede to Washington's tariff threats, the more alarmed other countries across Asia and beyond will become about how they too will be expected to bend to U.S. demands.
Still, the fact remains that Washington continues to fight a trade war against China on two fronts.
Washington's concerns about China's unfair trade practices, on the other hand, is widely supported by key allies including Japan and the European Union, and has the potential to enhance the United States' position as a global leader of rules-based economies. As Deputy USTR Jeffrey Gerrish led the U.S. delegation in the latest round of negotiations in Beijing in early January, USTR Robert Lighthizer met with his Japanese and EU counterparts Hiroshige Seko and Cecilia Malmstrom. They made clear that the EU, Japan, and the United States would continue to work closely together against the unfair practices of non-market economies and unite against violation of intellectual property rights and forced technology transfers in particular. 
Amid persistent criticisms against the White House's trade policies, the united front demonstrated by Tokyo, Brussels, and Washington in promoting free market principles is not only refreshing, but it is also a much-needed example of common values uniting countries when friction has become so pervasive. Much has been made about the liberal democratic order and the need to preserve that system. Yet in spite of the framework being the foundation of global growth since World War II, confidence in the liberal order and free markets in particular being a prerequisite for future prosperity has been shaken. Emerging markets, especially among emerging markets in Asia, have been questioning the value of the liberal order as a means for their growth moving forward. At the same time, the populist anti-globalization movement remains deeply rooted in both the United States and Europe, and it too has led to a fundamental rethinking of values that have hitherto been seen as absolute. 
By coordinating efforts to fight China's unfair trade practices with the EU and Japan, the United States has an opportunity to breathe new life into its role as a global leader in promoting not only the liberal international order, but also multilateralism itself. Those values are at the heart of the Indo-Pacific strategy that provides a viable, alternative vision to China's roadmap for the region. 
As the United States continues to fight its trade war on two fronts, focusing on reducing its trade deficit with China may help it to win the battle against an imbalance in numbers, but it will not help Washington win the war to ensure that the system that has been critical for its economic success to date remain in place. The good news is that industrialized countries are very much in favor of the United States prevailing in its fight against unfair trade practices by non-market economies. The challenge moving forward will be to focus on pushing for structural reform and behavioral change by Beijing, instead of merely looking at deficit numbers and seeking short-term gains that will not lead to longer-term competitiveness.
Follow Shihoko Goto, senior associate for Northeast Asia, on Twitter @GotoEastAsia.
The views expressed are the author's alone, and do not represent the views of the U.S. Government or the Wilson Center. Copyright 2018, Asia Program. All rights reserved.
About the Author
Shihoko Goto
Deputy Director for Geoeconomics and Senior Associate for Northeast Asia, Asia Program
Read More
---
Asia Program
The Asia Program promotes policy debate and intellectual discussions on U.S. interests in the Asia-Pacific as well as political, economic, security, and social issues relating to the world's most populous and economically dynamic region.  Read more