Games Round Up: Space Education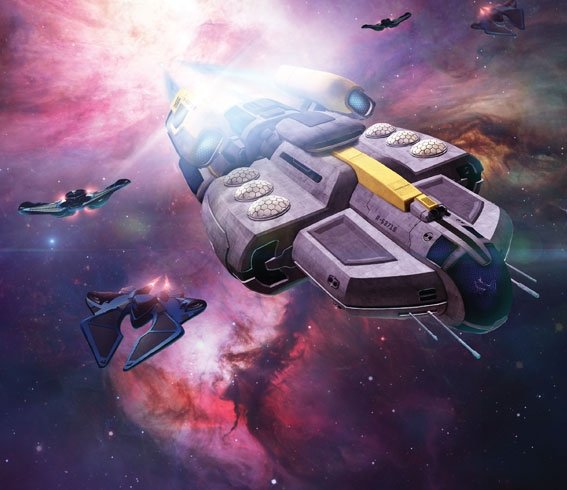 Image from At Play in the Cosmos: A Video Game (c) W.W. Norton & Company, Inc
The recent success of the Falcon Heavy from SpaceX will hopefully spark renewed interest in space exploration and science, technology, engineering and mathematics (STEM) learning. STEM learning, particularly at an early age, is crucial to fostering a lifelong appreciation of science – and for space exploration, promoting an interest in the cosmos is key to producing the next generation of pioneers.
When you want to promote learning, it's critical in our opinion to make it accessible, dynamic, and (dare we say) fun. Naturally, for us at the Serious Games Initiative, this adds up to thinking of games about space science.
We've highlighted a few games and digital media that focus on the science of space and are intended for a wide age range. These are just a starting point for keeping young minds engaged in the topic, but hopefully it will make it a fun start and will help to usher in the next generation of space enthusiasts!
Fun At-Home Learning

Screenshot taken from NASA Space Place
NASA has a wide number of games geared for younger ages through their Space Place website, as well as quite a few resources for teachers. But many of them can be played at home with parent supervision. One of our favorites is Galactic Explorer, which uses a very simple mechanic to highlight the differences in galaxies. Much like an old arcade game, kids will race through the galaxies while trying not to be bombed by quasars. (Grades K-6, Free, Web)
DIY Sun Science, a NASA-funded project, takes the fun of learning outside the digital realm. Parents and children can choose from a range of activities that help illustrate the science around our sun in hands-on, simple experiments you can do from home. Children can also see live NASA footage of the sun, courtesy of the Sun Observatory part of the app, as well as fun facts about our local yellow dwarf star. (Grades 5+, Free, Mobile)
If you want to make the rest of the solar system come alive, try the Solar System for iPad. An interactive book styled app, it allows children to be their own explorers as they chart out the galaxy. From the stunning photos to interactive components, the backbone of this app are the number of articles and information that is put right at your fingertips. (Grades 5+, $13.99, iPad)
More for an older group of children, SSI's Starchitect (funded in part by NASA and NSF) that puts the life of the solar system in your hands -- literally. You start with the building blocks of the solar system (stars and planets), and see how systems evolve over time. Can you spawn life in your solar system? (Grades 6-12, Free, Web)
Great for the Classroom

Image from the Earth History Campaign of KerbalEdu (c) TeacherGaming LLC
Critically acclaimed, At Play in the Cosmos exemplifies how games can be used alongside a traditional textbook. The product of a collaboration between astronomers, publishers and games-based learning experts, the game itself couples a compelling storyline with scientific learning goals. Starting with the baseline of the universal laws that hold the galaxy together, the game evolves to illustrate the tools astronomers use to explore our universe. (High School+, $35+, Desktop)
If you want to tap into the Minecraft bug, look to KerbalEdu. This game takes the popular indie game Kerbal Space Program and builds in teaching tools to align with the classroom setting. The game challenges players to build their own space program and learn about physics and math as they build and launch rockets. Better yet, the game has a historical component as well, allowing for players to take part in "Earth History Campaign" and build historic rockets. For teachers looking for ways to create lessons that bridge between science and the humanities, this may be a small step in that direction. (K-12, $17-$40, Desktop)
Gravity Simulator helps underscore the physics behind our solar system. Scalable for a wide range of audiences, it is a good sandbox game where students can experiment with the principles of mass, acceleration, and gravitational constants. According to some sources, the game aligns with the Next Generation Science Standards (NGSS) 3-PS2-1 and MS-ESS1-2. (K-12, Free/5.99, Web/Desktop)
That's our quick launch of our space edition of a games round up! What would you add? Let us know @WilsonSTIP on Twitter.
We have not vetted all of these games, but have in some cases relied on reviews and publications surrounding the games. Being included on this list is not an act of endorsement by the Wilson Center, Science and Technology Innovation Program, or Serious Games Initiative. This post is intended for educational purposes only.