God Gave Humanity One More Chance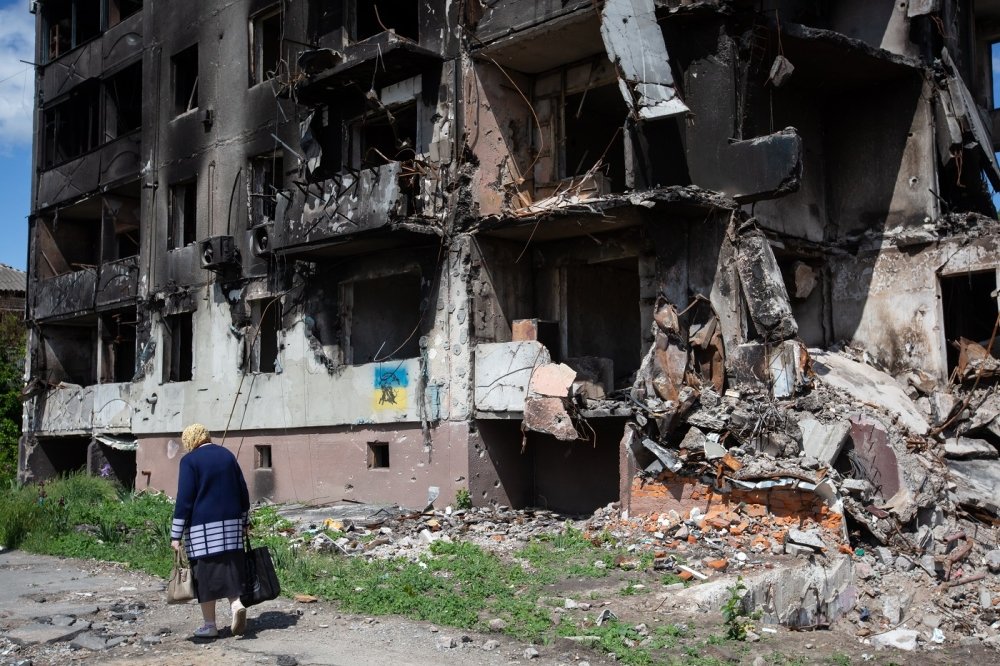 Sasha Denisova's wartime play, My Mama and the Full-Scale Invasion, is being given a prime spot in the upcoming seasons of two of America's leading regional theaters: Washington, DC's Woolly Mammoth Theatre and Philadelphia's Wilma Theater. The show kicks off the new Woolly Mammoth season in September and October and will be performed by Wilma in February. The productions bring Denisova's scorching account of the first days of the February 2022 Russian invasion to American audiences in an unapologetic, in-your-face style.
Denisova's online exchanges with her 80-something year old mother in Kyiv inspired the play's storyline. Her mother, having lived in Kyiv all her life, refused to leave her home in part because of her aching bones and in part because she didn't want to leave her kitchen. She also felt that she was needed in Kyiv rather than elsewhere. Besides, she had survived Hitler's bombardments; she would survive Putin's.
Denisova imagines her strategizing with President Zelensky, knocking down Russian drones with her jars of pickles, and debating her husband "Man," who appears in the play's imaginary recreation of her mother's apartment. The action begins when the character identified only as "Daughter" arrives at a blacked-out apartment in Kyiv's Solomenka suburb. She is on a mission to check on her mother amid constant Russian bombardment. 
As Daughter interrogates Mother, trying to get her to leave, she and her mother recount stories of their family enduring other traumatic moments in the city's history, including the 1917 Revolution and Russian Civil War, Nazi bombardment in World War II (Mother was born during one such attack), the Chernobyl nuclear catastrophe, and now, Russia's full-scale invasion. They also review their own tumultuous relationship with one other.
Initially, the mysterious "Man"—at one level of realism, Mama's husband, but something far different metaphorically—gives stage directions as Daughter and Mother give details about the life of their city and of their family. Mother, it turns out, had been a successful concert pianist and Daughter is an aspiring playwright who "has produced a show at the Moscow Art Theater, although not on the main stage."
Man assumes an ever-larger role in these conversations until Mother asks the old man with a beard who he is. "I am an aggregate of all the quantum vibrations inside protein tubes," he declares, "meaning inside human beings, and also in the cold stars, glaciers, seas, deserts, in restaurants and at the beaches, in bunkers and in occupied territories, I am just an aggregate of your Quantum desires, and what can I do if it is your desire to extinguish each other?" In other words, God.
God has come to Kyiv to bring an end to humankind's folly by provoking a nuclear war. However, the passion, love, and affection shown by Mother and Daughter to one another, their family, and their city have led him to reconsider. As Daughter declares with a hint of irony, "this is how, thanks to my mother, God gave humankind one more chance."
Without revealing too much, the play ends with Mother and Daughter at a peaceful Black Sea beach.
Real-life Sasha Denisova grew up in Kyiv and graduated with a degree in philosophy from the National University of Kyiv. She collaborated with the British Royal Court Theater and the Edinburgh Theater Festival, and began writing and directing documentary theater. She continued her work with the courageous independent Teatr.doc in Moscow before Russian authorities shut it down. She also served as the deputy artistic director of Moscow's Mayakovsky Theater and won a prestigious Golden Mask Award in 2012 for her play Light My Fire. 
Denisova fled Moscow for Europe when Russia launched its full invasion of her native country and has been working as a refugee theater artist in Poland, Spain, Mexico, and the United States. Her tragic comedy The Gaaga, which she describes as a "site specific phantasmagoria," has enjoyed success in Europe and the U.S. My Mama and the Full-Scale Invasion premiered at the distinguished Center for Contemporary Culture in Barcelona last spring.
Woolly Mammoth and Wilma found Denisova's play a heartfelt yet darkly funny statement about the current war as well as about the resilience of individuals, families, and Ukrainian society. Both theaters are known for presenting works which explore difficult contemporary challenges, often through the lens of intimate human relationships. These productions—based on Misha Kachman's translation, adapted by Kellie Macleary, and directed by Wilma co-artistic director and Woolly Mammoth company member Yury Urnov—demonstrate how Denisova's work highlights the power of resilience and love during times of war. 
My Mama and the Full-Scale Invasion is but one of numerous powerful plays written by Ukrainian writers since the war began. Its appearance on prominent American stages no doubt will be followed by many more works casting light on the human condition in ways universal, individual, and specific to this war. 
At one point in response to Daughter, Mother declares with passion and some wit: "Whatever happens, happens. I've lived my life. I believe we will achieve victory! So, you may live in peace and prosperity! Learn languages, live life to the fullest. Forge your own path! Achieve self-fulfillment! No matter! I believe you will go international. Break through! Write! Create performances! Communicate! Make friends! Glory to Ukraine—Glory to the Heroes! Putler kaput!" In other words, live a life that is no longer possible in Putin's Russia.
The opinions expressed in this article are those solely of the author and do not reflect the views of the Kennan Institute.
See our newest content first.
Subscribe to receive the latest analysis from Focus Ukraine.
About the Author
Blair A. Ruble
Distinguished Fellow;
Former Wilson Center Vice President for Programs (2014-2017); Director of the Comparative Urban Studies Program/Urban Sustainability Laboratory (1992-2017); Director of the Kennan Institute for Advanced Russian Studies (1989-2012) and Director of the Program on Global Sustainability and Resilience (2012-2014)
Read More
---
Kennan Institute
The Kennan Institute is the premier U.S. center for advanced research on Russia and Eurasia and the oldest and largest regional program at the Woodrow Wilson International Center for Scholars. The Kennan Institute is committed to improving American understanding of Russia, Ukraine, Central Asia, the Caucasus, and the surrounding region though research and exchange. Read more