Hong Kong Celebrates Wartime Ukrainian Theater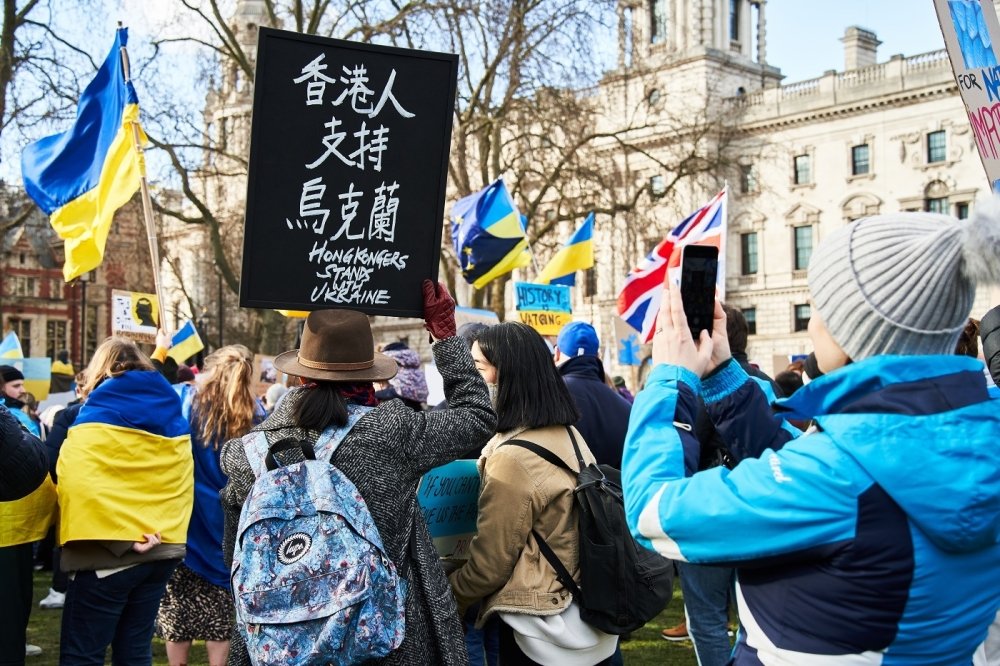 In late October, Blank Space Studio HK joined with the Worldwide Ukrainian Play Readings campaign to bring 12 new texts about the scourge of war to Hong Kong stages. Produced and directed by Donald Chung, Amy Sze, and William Wong, the festival presented six productions from seven directors with 28 actors on two consecutive weekends. It was the largest fundraising event for Ukrainian theater in Asia.
Chung, Sze, and Wong were unfamiliar with Ukrainian theater prior to the Russian invasion last February. Sze was studying for a master's degree in London. She met a classmate from Moscow with a Ukrainian cultural background and was drawn to the play readings organized by the Worldwide Ukrainian Play Readings Project.
Chung was also in London. As a theater maker, he set out to find Ukrainian plays in bookstores only to be disappointed in how little Londoners and other Europeans knew about their neighbors. Recalling similar disinterest in Hong Kong about events in Thailand, Myanmar, and elsewhere in Asia, Chung began to think about how to use theater to break down walls of unfamiliarity. He too sought out the Worldwide Ukrainian Play Reading Project's London readings.
Sze and Chung found the Ukrainian plays speaking to themes of resistance and resilience that resonated with their own experience as theater makers in Hong Kong. As Chung says, "deep down, I am searching for a purpose to continue to tell stories during my city's difficult times. These Ukrainian works have ignited my hope and faith in humanity, which was also what I wanted to share with other Hong Kongers."
Hong Kong theater leading light William Wong made his own discovery of Ukrainian plays during the weeks following the Russian invasion. While he had never thought of Ukrainian plays before, the opportunity to read Natalya Vorozhbit's Bad Roads led him to think about what was happening. His Blank Space Studio brought a reading of "Bad Roads" to the local stage shortly after the outbreak of the war.
A center for alternative art, the Blank Space company has brought practitioners from different performing arts together to curate cultural activities to promote exploration of Hong Kong's art scene. The new Ukrainian plays embody the group's goals of empowering artists to respond quickly to socio-cultural issues. Wong and Chung enthusiastically responded to Sze's proposal for a festival of play readings.
Sze and Chung presented excerpts from seven new Ukrainian works: Elena Astaseva's "Dictionary of Wartime Emotions 1 & 2"; Neda Nezhdana's "Condensation"; Andrii Bondarenko's "Survivor Syndrome"; Natalia Blok's "Fur"; Maksym Kurochkin's "Red Swallow"; Olga Matsiupa's "Flowering"; and Polina Pologenceva's "Save the Light." All seven were translated by the Worldwide Ukrainian Play Readings Project, which has commissioned more than 100 plays by Ukrainian writers. This work has generated 191 texts in several languages that have been heard at more than 250 readings in more than two dozen countries since the beginning of the war (see previous blog post, "Ukraine, Eurasian Theater's New Leader").
Each of the plays in October's festival has been translated into Cantonese and performed with English subtitles. They each reflect the impact of the war on Ukrainian life and speak to human emotions which transcend time, place, and culture. While speaking of Ukraine, the playwrights often speak to the traumas of life in Hong Kong and elsewhere.
Nezhdana's "Condensation," for example, explores the efforts of four women who did not know one another to find a way to survive even as they do not—and do not want to—remember how they ended up sharing the same six-sided dark room. They are unable to see their fingers, the sky, or the ground outside. Their journey, from screaming in terror to retracing their paths stage by stage, leads the protagonists to realize that the road to survival is within themselves.
In Natalia Blok's "Fur," an ordinary woman decides to start a new life, taking her children on countless night trains to some indeterminate location. One day, inexplicable brown spots—symbolic of the ache of war—grow on her dull and painful thighs. At first worried about beauty, the woman comes to feel comparatively lucky as others suffer greater tragedy as a result of war.
In Astaseva's "A Dictionary of Emotions in a Time of War," a woman takes her daughter to Italy immediately upon hearing of the Russian invasion on February 24. She leaves Kyiv grateful for escape yet guilty about leaving others behind to suffer. She fantasizes that only those who have been shot or violated have the right to suffer, as the hardships of evacuation are trivial in comparison.
Neda Nezhdana's "Closed Sky" is an epic drama based on four women's true stories from the Russian attacks on Mariupol. Nina Zakhozhenko's "Tooth" tells the tale of an old Jewish dentist who recalls his military childhood while consulting a patient with a toothache over the phone, all while trying to get ready to evacuate. All of the plays connect the disruptions and horrors of war with the most mundane human situations.
The effort to pull together the festival had a profound impact on Chung, Sze, and Wong. Chung found the experience helped him appreciate the purpose of the arts at times of conflict. "Artists have continued to create in extreme situations, and I am deeply touched and encouraged," he said. Sze saw an opportunity for theater "to share the real story of individuals to the Hong Kong audience which has been receiving information about the war through numbers and statistics." Wong saw the works of the Ukrainian playwrights as an opportunity to prompt Hong Kongers to deal with the traumas of their own recent history, especially through art.
The playwrights have been surprised by the welcome from Hong Kong audiences. Astaseva said that she hopes her work "will find its audience, touch the hearts, [and] enhance understanding of Ukraine and of our emotions." Pologenceva is grateful for the interest in and support for her work, hoping that there will be light after a period of darkness, and that only good heroes win in Ukraine as well as in Hong Kong.
The plays helped Hong Kong audiences to understand what was happening in Ukraine in a new, more direct way than the sporadic stories appearing in local media. The works also spoke to their own ordeals in perhaps unexpected ways. According to Chung, "the works created a distance (physical, aesthetic, emotional) for the audience to reflect on their own experiences, which they have been unable to do. Some were shocked, some were touched. And then silence." He continued, "after two to three hours in the theater, audiences were able to experience a good time collectively, and then were better equipped to return to their own lives with more energy."
Recounting several post-show audience discussions, Wong observed that "the audience members were in tears; sharing the play reminded them of how they fought against tyranny in 2019. It seemed to me that these works actually helped the audience to ease their pain and made them feel less lonely."
Beyond possible parallels between recent Ukrainian and Hong Kong history, all three festival organizers found the Ukrainian works address general human themes about war, suffering, the wrenching experience of civilians in conflict, and how to mobilize feeling like a victim to positive ends.
The organizers were also interested in distinctions between the countries. Sze, for example, "became intrigued by the language differences in Ukrainian and Cantonese, especially the difference in our ways of speaking, even when we are trying to use humor or sarcasm." All three are interested in producing more Ukrainian works.
The Hong Kong festival reminds us that as Ukrainian playwrights struggle with what has happened to their country and to themselves, they speak to a broader human condition, bringing wisdom and insight from various cultures and societies across national lines. These works speak to Ukrainians and, it turns out, to people in Hong Kong as well. Theater accentuates the particular while shining light on all that is human.
The opinions expressed in this article are those solely of the author and do not reflect the views of the Kennan Institute.
See our newest content first.
Subscribe to receive the latest analysis from Focus Ukraine.
About the Author
Blair A. Ruble
Distinguished Fellow;
Former Wilson Center Vice President for Programs (2014-2017); Director of the Comparative Urban Studies Program/Urban Sustainability Laboratory (1992-2017); Director of the Kennan Institute for Advanced Russian Studies (1989-2012) and Director of the Program on Global Sustainability and Resilience (2012-2014)
Read More
---
Kennan Institute
The Kennan Institute is the premier U.S. center for advanced research on Russia and Eurasia and the oldest and largest regional program at the Woodrow Wilson International Center for Scholars. The Kennan Institute is committed to improving American understanding of Russia, Ukraine, Central Asia, the Caucasus, and the surrounding region though research and exchange. Read more