Hurdles Ahead for Japan's Bridge-Building Future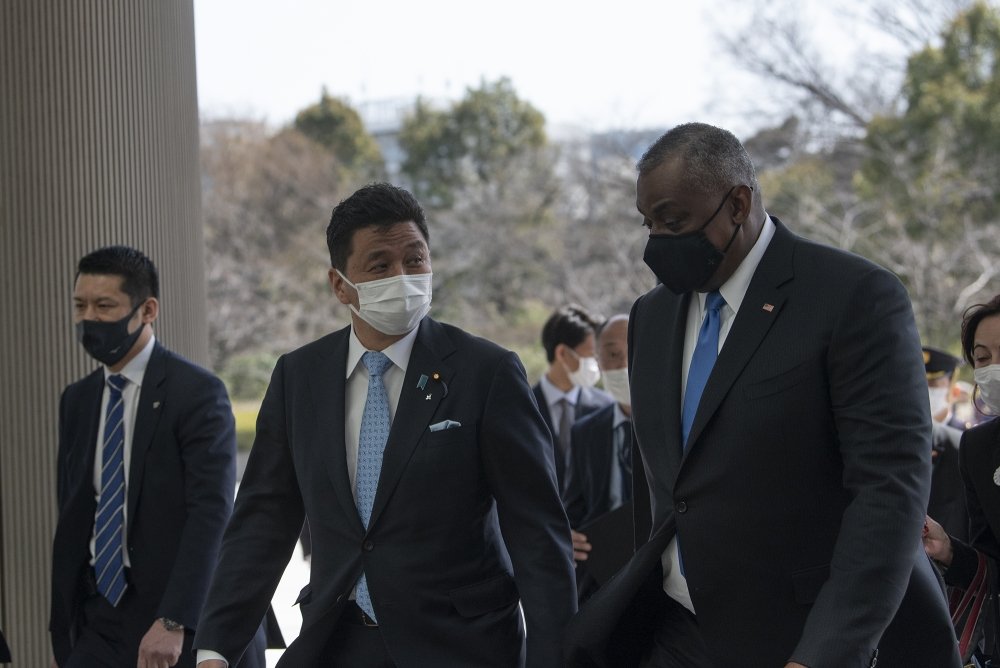 After four years of playing a key role in ensuring regional stability, Japan has emerged not only as a reliable U.S. ally in the Indo-Pacific, but also as a country that will play a major role in shaping the future of U.S. relations with other countries in the region, most notably with China. That is clearly the message heard in Tokyo, and Japan is eager to step up to the plate as it welcomes the return of the United States that has demonstrated its willingness to work with allies and prioritize confronting Chinese aggressions. The challenge, though, will be to map out a common stance regarding China on the economic front, and to ensure that Japan remains politically stable domestically. 
Much has been made about the significance of Japan being the first foreign country for both the Secretaries of State and Defense to visit as recently appointed cabinet members of the Biden administration. Certainly, symbolism matters in public diplomacy, and the fact that both Anthony Blinken and Lloyd Austin chose Tokyo as their first stop on their Asia tour made clear Washington's commitment to furthering relations with Japan as much as the Biden White House's focus on the Indo-Pacific. Moreover, the fact that Prime Minister Yoshihide Suga will be the first foreign leader to visit President Biden at the White House in April will only reinforce the understanding that Tokyo remains Washington's most reliable ally in the Indo-Pacific. 
What has emerged too is that Japan will not only continue to be an anchor for U.S. presence in the region, but will also play a pivotal role in defining diplomatic and security as well as economic relations in the Indo-Pacific moving forward. Japan's leadership in shaping economic multilateralism in recent years has been particularly striking on the trade front, with Tokyo pushing forward the completion of the CPTPP in the absence of the United States on the one hand, and being an integral part of RCEP deal on the other. With the United States unlikely to join CPTPP any time soon due to domestic considerations and not party to RCEP, it will be leaning more on Tokyo to reflect Washington's concerns and will certainly need Japan's support to set the regional agenda on critical issues including digital trade. It represents a remarkable evolution of Japan from being slapped as a rule-breaker of global trade norms, to becoming a rule-follower, and now growing solidly into the role of rule-maker.  
China is now Japan's single biggest trading partner...At the same time, its biggest security threat comes from China.
But it is in confronting the China challenge that the United States will need not just Japan's cooperation, but also guidance. Like all Asian nations, China is now Japan's single biggest trading partner, not the United States. At the same time, its biggest security threat comes from China. The fact that Chinese vessels have increased their presence around the Senkaku islands since revising its coast guard law in February, which would allow the Chinese to remove foreign ships by force if they are seen to have illegally entered Chinese waters, has rattled Tokyo. So too has the increasingly strident Chinese approach to what it defines as core interests, including Taiwan and Hong Kong as well as Xinjiang and Tibet.  
Yet at the same time, Japan had been confronting Chinese aggressions, most notably through territorial disputes, over the years. Its experience and strategy in balancing economic interests and security concerns vis a vis China will be of strategic importance to the United States. Although Prime Minister Suga's visit to Washington in April will be a diplomatic coup for Tokyo and no doubt an opportunity to demonstrate the strong partnership between Japan and the United States, differences in approach to economic strategy vis a vis China are likely to emerge. To be sure, the two sides will focus on cooperating on key issues related to economic security, most notably to establish supply chains that are less dependent on China. Yet there is already growing concern in Tokyo of potential conflicts in economic interest between the two sides, not least in differences in balancing competition and cooperation with China. Tokyo's drive to decouple economic interests from security challenges with China will resonate well with countries across the Indo-Pacific as well as in Europe. 
But as Japan looks to play a bigger role as a regional stabilizer, it will be facing challenges at home. With Suga facing the prospect of a general election by September at the latest and his popularity continues to dwindle, his hold on the top position remains ambiguous. The political jockeying within the Japanese leadership and domestic politics could derail stability at home, which in turn would hamper Japan's role as a bridge-builder for the United States. 
---
The views expressed are the author's alone, and do not represent the views of the U.S. Government or the Wilson Center. Copyright 2020, Asia Program. All rights reserved.
Follow Shihoko Goto, deputy director for geoeconomics and senior associate for Northeast Asia, on Twitter @GotoEastAsia.
About the Author
Shihoko Goto
Deputy Director for Geoeconomics and Senior Associate for Northeast Asia, Asia Program
Read More
---
Asia Program
The Asia Program promotes policy debate and intellectual discussions on U.S. interests in the Asia-Pacific as well as political, economic, security, and social issues relating to the world's most populous and economically dynamic region.  Read more