Mark and Susan Marie Rhea and Irish Theater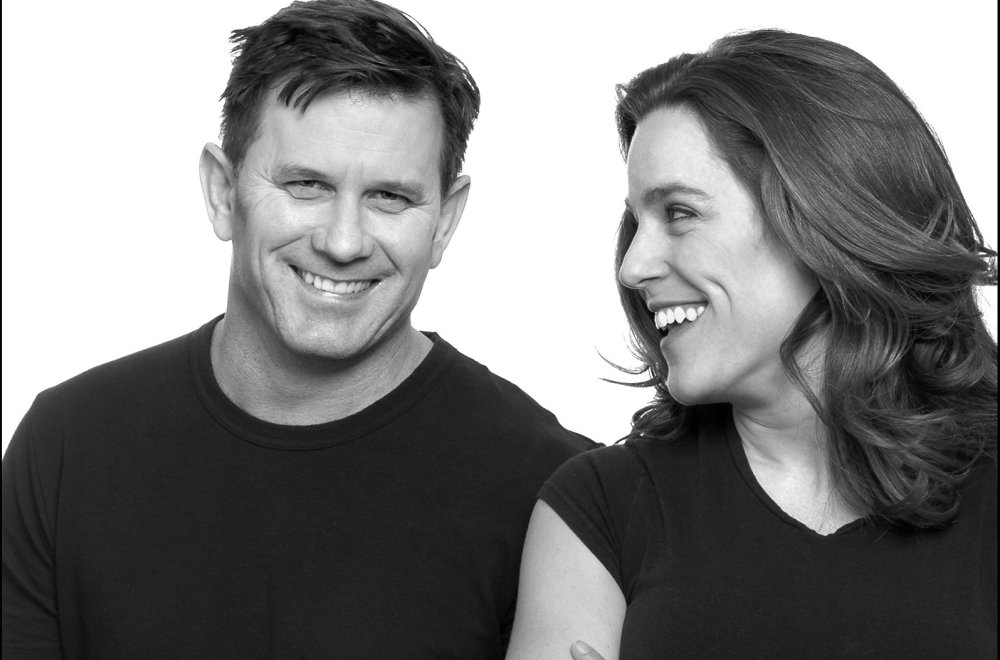 Nearly two decades have passed since two young actors appeared after one another as Brick and Maggie in a small foundling theater company's second production of Tennessee Williams's Cat on a Hot Tin Roof as Brick and Maggie. Texan Mark Rhea had just combined his love for Irish and American theater within a newly formed Keegan Theatre in Washington, D.C., and New York-trained Susan Marie (now) Rhea won the play's lead. Both had worked together in an earlier production of The Taming of the Shrew yet the emotional demands of Williams's sparring characters deepened their connection with one another and with the fledgling company.  Much to the delight of Washington theater audiences, the Rheas and their Keegan Theatre have thrived ever since.
Mark founded Keegan to share his passion for the Irish theater that had developed as he explored his own heritage. His unique vision was to bridge two theatrical traditions by forming a company that would take American classics to Ireland and perform Irish masterpieces in the United States. The company garnered enthusiastic audiences and enjoyed immediate critical success on its first tour to Galway in 1999 and has returned to Ireland on tour almost every year since. The company similarly has won praise and a passionate following in Washington presenting a blend of Irish and American classics as well as lively musical productions.
Mark and Susan Marie similarly were ambitious in their artistic goals. They have shaped their company around a belief that theater succeeds only in so far as it presents an honest, pure exploration of the human condition. Moreover, they have been committed to allowing actors to draw on their own experiences to explore their characters and the play's text. They have sought out directors equally committed to open, participatory artistic leadership.
Throughout the company's history Keegan has sought to create opportunities for young talent to enjoy theatrical excellence in their work. Their intern program has encouraged dozens of young theater professionals to pursue their passions while their work with young artists similarly has nurtured budding talent.
Beyond what happens on stage, the Rheas are on a mission to bring classic and modern plays and musicals to the community at affordable, neighborhood prices. They have consistently promoted an artistic vision which links sophisticated drama to the experiences of real people and have done so by bringing real people into their productions.
The results of their efforts have been stunning. Their Irish productions of American classics continue to reap enthusiastic kudos from audiences and critics alike; their Washington shows earn critical acclaim as evident in enthusiastic reviews, fervent audiences, dedicated supporters and armfuls of the Washington Helen Hayes theatrical awards.
Throughout the company's first decade, they performed wherever that could find a stage. They wandered around the Washington area performing in Arlington and elsewhere in Northern Virginia, in churches and schools. Despite this drifter existence, they retained a growing audience which managed to find their productions no matter how inconvenient the venue may have been.  In 2009 they took advantage of Synetic Theatre's move to Arlington to find a permanent home at the historic Church Street Theatre in Dupont Circle.
The Church Street Theatre was a diminutive century-plus old gymnasium that had once been attached to a long dispatched private school. Independent companies had found its intimate dimensions and low overhead congenial with various productions passing through over the years. Synetic and its earlier incarnation, the Stanislavsky Theatre Company, settled in at the end of the twentieth century and, in 2009, Keegan moved in to take its place.
Charming deterioration threatened to decline into degrading decay by the time Keegan arrived. The Rheas and their supporters secured a generous gift from an anonymous donor who purchased the building and underwrote a $2 million renovation. When it opened in 2015 with a fitting production of Cat on a Hot Tin Roof, the company enjoyed a theatrical gem. The addition of a glass enclosed entranceway, a more spacious lobby, functioning restrooms and improved stage and backstage facilities left the theater's intimate performance space largely untouched. Rechristened The Andrew Keegan Theatre, there are few stages in Washington better suited for transporting audiences into the world playing out on stage.
The connection between theater and community could not be stronger. Nestled on a bucolic one block-long stretch of Church Street between Sixteenth and Seventeenth Streets just off of Dupont Circle, the theater and its neighbors have largely avoided the intrusion of the area's hyper-gentrification.
Trendy is to be found nearby, and development is transforming overbuilding in the surrounding area. Indeed, a park nestled in the ruins of the burned out church that gave the street its name is being replaced by an overscaled condo development just a few hundred feet away. A row of popular taverns and restaurants can be found a couple of hundred feet in the opposite direction on Seventeenth Street.
Keegan is very much embedded in one of the city's most dynamic and energetic corners. Nonetheless, a sense of serene charm washes over audiences as they step out of the theater after a performance onto historic sidewalks surrounded by three-story Victorian townhouses exuding a quiet domesticity that remains compatible with the company's artistic values.
The Rheas have dedicated their professional lives to promoting bold, honest classical theater that brings life's serious conundrums to life on stage. Blending lively musicals and children-oriented productions with works by some of Ireland's and America's most thoughtful dramatists, they have forged a deep bond between two communities, and between the theater and community.
Long time African American Washingtonians speak of the souls of their city's earlier residents who manifest themselves to all who embrace their ideals. Many of this country's leading writers have lived within a five minute walk of the Church Street Theater during some of their most productive years. Langston Hughes, for example, as well as Duke Ellington, Sinclair Lewis, John Dos Passos, and Frances Parkinson Keyes. They all undoubtedly walked past the old gymnasium many times over; probably not paying it much mind. The Rheas--with their dedication to forceful, honest and sophisticated artistic expression--honor such spirits by insuring that they continue to enrich the city even as redevelopment runs at fast pace.
Artistic Visionaries and Community Creators
The power of the performing arts to nurture inclusive communities has been praised widely in recent years; so much so that "creative placemaking" is now seen as a powerful tool in community development. The supportive role of community in fostering artistic innovation is less acknowledged. This series highlights the work of visionaries for whom creating communities of students, protégés, audiences, and donors has become a strategic element in transforming their arts.
About the Author
Blair A. Ruble
Distinguished Fellow;
Former Wilson Center Vice President for Programs (2014-2017); Director of the Comparative Urban Studies Program/Urban Sustainability Laboratory (1992-2017); Director of the Kennan Institute for Advanced Russian Studies (1989-2012) and Director of the Program on Global Sustainability and Resilience (2012-2014)
Read More