No. 10 | Queering the Arctic
The views and opinions expressed are those of the authors and do not necessarily reflect positions of the Polar Institute.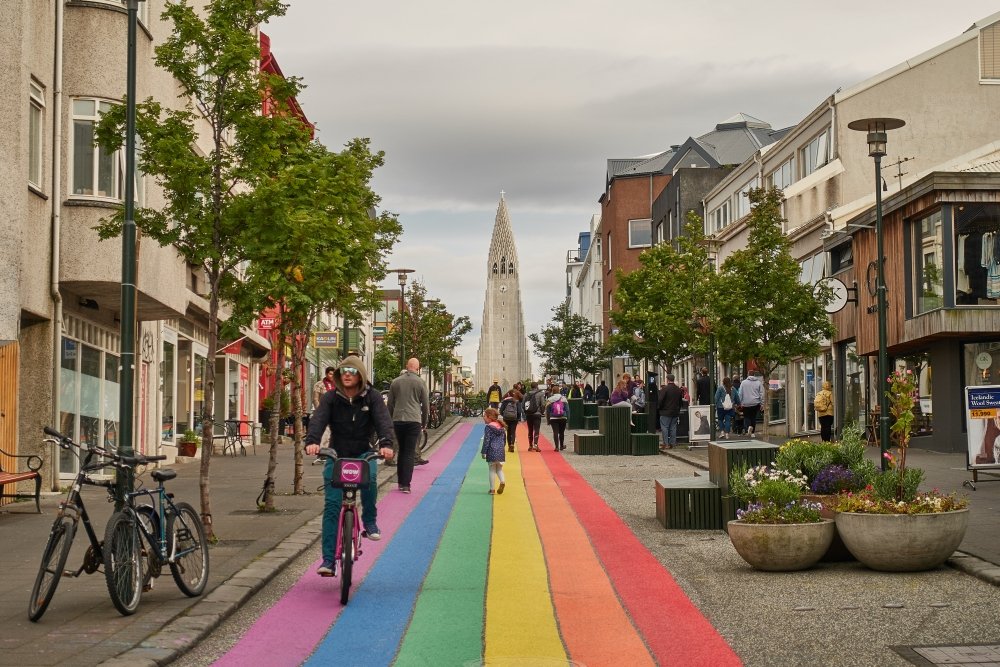 Authors: Hjalti Ómar Ágústsson (Directorate for Gender Equality), Stephan Dudeck (European University at St. Petersburg), J. Otto Habeck (University of Hamburg), Gudbjörg Ríkey Th. Hauksdóttir (University of Iceland), Takeshi Benjamín Kaji (Lund University), Embla Eir Oddsdóttir, Gertrude Saxinger (University of Bern; Austrian Polar Research Institute), Kyle Shaughnessy (Dalhousie University), Federica Scarpa
It was April 2020 when a small group of friends, colleagues, and activists representing very diverse backgrounds and driven by different motivations found themselves wondering the same question: why are queer issues almost invisible in the Arctic? It was this simple question that brought us together with the ambitious goal of finding answers and taking action to make the "invisible" a bit more visible. What was initially convened as a meeting to discuss an Arctic conference proposal planned in the Fall of 2020 – postponed due to the ongoing pandemic – became a venue to raise awareness for queer people and their communities across time and space in the Arctic.
Over the last centuries, state policies and social norms in many societies, combined with colonial hegemonies over Arctic Indigenous peoples, have led to discrimination and stigmatization of individuals, households, and communities that for a variety of reasons do not comply, or do not want to comply, with mainstream heteronormative expectations and lifeways. These currents have also led to the loss or neglect of Indigenous concepts of gender and sexuality. In fact, Indigenous concepts of gender and sexuality were frequently exoticized and described as deviant in anthropological research at least until the 1960s. 
If we define privilege as the absence of obstacles in pursuing interests, goals or careers, then the inequalities some individuals face become increasingly evident.  Activists, including Indigenous activists, human rights organizations, academics and others have worked hard for the advancement and recognition of equal rights for LGBTQI2S+ communities in the Arctic, but discrimination based on sexuality and gender identity still deeply affect the people living in the region, including Indigenous and non-Indigenous peoples, researchers and visitors.
Against this background, a general lack (with regional variations) of a public and open dialogue on queer identities and related issues persists in the Arctic. One of the very rare events where high-profile governmental figures have publicly addressed the issue occurred at a conference in October 2020, when Guðmundur Ingi Guðbrandsson, Iceland's Minister of Environment and Natural Resources stated, "Human rights are universal. As such, they must apply equally to all people in all places and always. It goes without saying that this also applies to LGBTI people in the Arctic and worldwide." Several months later at the 12th Arctic Council Ministerial Meeting (May 2021), Minister Guðbrandsson declared: "Iceland emphasizes the rights of LGBTI people." The meeting ended the Icelandic Chairmanship and ushered in the Russian Chairmanship of the Arctic Council.
Apart from these very recent statements, queer issues are seldom on the agenda when sustainable development or community wellbeing are addressed. For example, a cursory search of the terms "Queer" and "LGBT" in the eight Arctic States' Arctic Policies/strategies texts returned no result, while the word "Gender" was mentioned at least a couple of times in the case of Canada, the Kingdom of Denmark, Iceland, and Norway, and more consistently in the texts of  Finland and Sweden. The topic also seems to be largely invisible in most conferences, events and workshops on Arctic issues. Furthermore, research and attempts to quantify such discrimination is severely hampered by the invisibility of queer statistics and demographics.
It is with these issues in mind that the group came to be formed. Building on key events such as the Queering Indigeneity Workshop, one of our goals/objectives has been to attend, plan and participate in Arctic events, conferences, and workshops where we could raise discussions on queer issues in the region, from various and inclusive perspectives.
Before starting, however, we needed to address and agree on an important issue: terminology. What does the word "queer" stand for and why do we use it? We use it here as a shorthand for a range of non-heteronormative life-ways. Despite the word's derogatory origins, various marginalized groups have "reclaimed" it – namely, those who identify with the many letters in the abbreviation LGBTQIA2S+. This alphabet soup is unified by the common experience of marginalization itself and the experience that such marginalization stems from not complying with hegemonic categories. "Queer" implies questioning the neat categorizations of bodies, sexual identities and sexual orientation. By questioning dominant labels, the word "queer" helps forge alliances of individuals and groups who have been silenced. By becoming aware of identity labels and the ways these labels limit our lives and hopes, we seek to overcome structural barriers and to foster a sense of solidarity. The diverse collective of authors has therefore come together to speak about a specific topic: namely, marginalized genders and sexualities in what is called "the Arctic."
The first event we organized, Icelandic Arctic Talks: Current Challenges and Future Perspectives of Arctic Youth – Rural Areas and LGBTI Communities, brought together academics and other experts such as activists, supporters, artists and first-hand experience holders to openly discuss queer identity and related issues in the Arctic. The session highlighted the need for advancing this topic in both research and literature, for fostering education and conversation, as well as platforms for an open dialogue, effective communication, and outreach. Presentations and dialogue explored the interplay between local and global trends in understandings of and attitudes toward gender and sexuality, including the current and historical intersections between Indigenous and Western/colonial worldviews.
A second event titled Arctic LGBTQI+ Communities took place at the International Congress of Arctic Social Sciences (ICASS X) in the session "Futures of Gender in the Arctic." In the presentation, the collective of authors introduced the main challenges related to queer identities and related issues in the Arctic, and presented and compared the development of queer rights in different Arctic States and territories.
Our continued efforts to advance these important issues include: continuing to submit abstracts and proposals to foster open and free discussions on queer issues at Arctic conferences, workshops, and events, and welcoming supporters to join the discussion with new perspectives and ideas. If you want to join us or suggest actions, please send us an email. If you are interested in sharing or receiving relevant information consider subscribing to https://lists.univie.ac.at/mailman/listinfo/gender-arctic.
In a petition prepared by the group in 2020, the objectives of this collaboration were reflected in the following statement:
Over the past decades, activists, human rights organizations, academics and others have worked hard for the advancement and recognition of equal rights for LGBTQI+ communities in the Arctic. Whilst the situation for Queer individuals and communities has significantly improved recently, the outcomes of this process vary widely across the different regions of the Arctic and the work is far from completed.
A general lack of a public and open dialogue on queer identity and related issues, the invisibility of queer statistics and demographics, the loss or neglect of traditional concepts of queerness such as Two-Spirit ways of being and episodes of discrimination are only a few examples that many Arctic Queer individuals and communities face today.  This affects those living in the region, Arctic Indigenous peoples as well as researchers and visitors.
We seek to bring together activists, first-hand experience holders and rightsholders, supporters, decision makers, academics and artists to openly discuss queer identity, queer rights and related issues in the Arctic.
We seek to explore how the diverse Arctic understands gender and sexuality, including the intersections between Indigenous and Western/colonial worldviews, from local, global, current-day and historical perspectives.
We seek to highlight the need for advancement of this topic in both research and public awareness, as well as the need for prominent platforms for effective communication and outreach.
We invite you to join us in furthering discussion of queer issues in the Arctic, taking action, creating programs, and advancing a shared, inclusive, and better-understood Arctic for all.
About the Author
Hjalti Ómar Ágústsson
Project Manager, Gender Equality in the Arctic Project, Phase III; Special Advisor, Directorate for Equality in Iceland
Read More
---
Polar Institute
Since its inception in 2017, the Polar Institute has become a premier forum for discussion and policy analysis of Arctic and Antarctic issues, and is known in Washington, DC and elsewhere as the Arctic Public Square. The Institute holistically studies the central policy issues facing these regions—with an emphasis on Arctic governance, climate change, economic development, scientific research, security, and Indigenous communities—and communicates trusted analysis to policymakers and other stakeholders. Read more