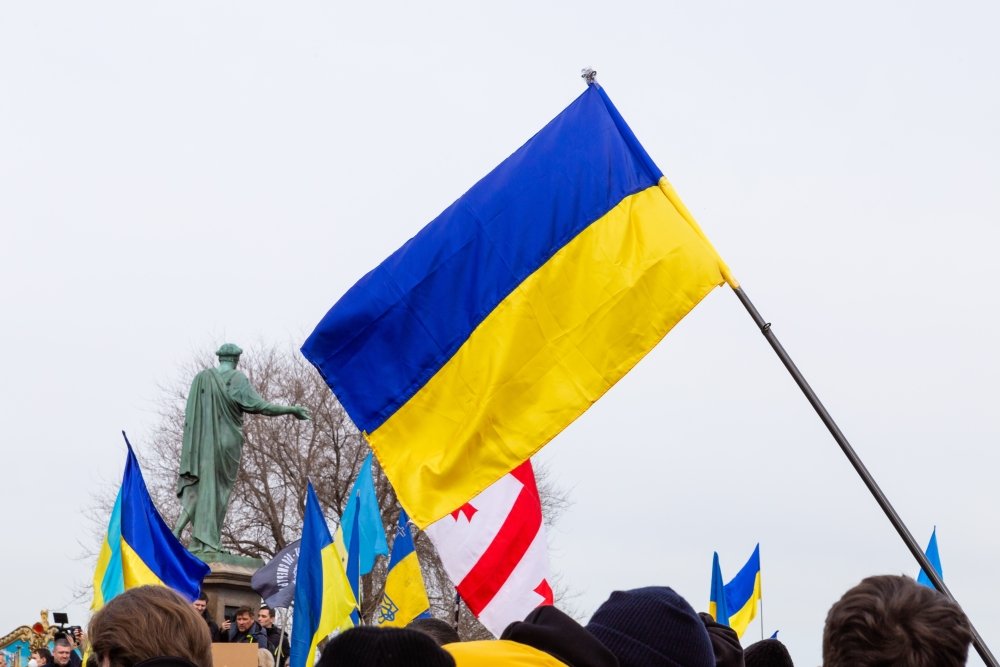 BY BLAIR A. RUBLE
On Saturday evening, February 12, 2022, with Russian troops poised to pounce not all that far away, hundreds of Odesans gathered at a concert of the Odesa Philharmonic Orchestra under the direction of its longtime conductor, Venezuelan American Hobart Earle. As the concert wound down, Maestro Earle raised his baton for a surprise encore: a rousing rendition of the Overture to Mykola Lysenko's opera Taras Bulba. The audience rose to its feet in patriotic fervor. No one in that hall doubted what country was home: Ukraine.
Odesans' embrace of Ukrainian independence had remained ambiguous until recently. The city's unique history and character transcend nation, and have from the beginning. Rather than nation, Odesa has demonstrated an exceptional embrace of freedom, albeit at times anarchic.
Traveling throughout my adult life to that part of the world once known as the Soviet Union opened up a multitude of wondrous opportunities. The region is full of natural beauty, exciting cities, and larger than life personalities. Yet even in the carnivalesque wreckage of the region's collapsed political system, nothing quite compares to the city of Odesa.
Odesa is not just a place, of course. It is more of a state of mind—or, at the very least, web sites for a virtual Odesa that exists in the imaginations of the thousands of former residents who have moved to places as varied as Moscow, Tel Aviv, Sydney, Toronto, and Brooklyn. This Odesa cannot be conquered by tanks and rockets.
The "real" Odesa exists as much in the ironic short stories in Odessa Tales byIsaac Babel, who was arrested and shot by Stalin's NKVD, as it does in the compelling stage productions of Babel's grandson, Andrei Maleev-Babel, who teaches acting in Florida. Odesa, in other words, is not just a city with a promenade and a famous staircase overlooking the Black Sea; psychically, it also extends from Siberia to Sarasota. It does so because, throughout a brief yet extravagantly tawdry history, Odesa has inspired people to create.
Odesa was officially established in 1794, and Catherine the Great's frontier settlement and Black Sea port quickly emerged as a vibrant mixture of nationalities and cultures. It has remained so ever since. The city took shape in the mind of a Neapolitan soldier of fortune, José Pascual Domingo de Ribas y Boyons (Osip Mikhailovich Deribas), before it assumed a physical presence. De Ribas was the child of a Spanish consul and his aristocratic Irish wife. Following the ultimate Russian victory over the Ottomans, De Ribas convinced Catherine that a patch of land near the mouths of four major European rivers—the Danube, Dniester, Dnieper, and Bug—would make an excellent location for a city.
Following the Russian practice of identifying settlements in the empire's recently acquired lands in the south, an area that became known as New Russia (in the pattern of New England, New France, and New Spain), De Ribas's town was to be named after a classical Greek hero. In this case, the name Odysseus was feminized to Odessa to honor the empress.
De Ribas set out to create a newer and more orderly version of his hometown, Naples. However, Odesa's sketchy origins—relying on a multitude of fortune hunters and adventurers representing any number of corners of the late eighteenth-century world—made coherence difficult to achieve. In some ways he succeeded, as the city grew outward along a logical grid. Nonetheless, there was nothing well-ordered about the people who filled it. The new city's residents came from a variety of backgrounds, drawn together by a presumed opportunity to get rich quickly.
Catherine's grandson, Alexander I, replaced De Ribas as Odesa's "city chief" (gradonachal'nik) with a French aristocrat, the duc de Richelieu (a great-nephew of the famous Cardinal Richelieu). De Richelieu was on the lam at the time, fleeing revolutionaries in Paris. As the governor of New Russia, he transformed Odesa into a city of Russia's least respected "estate" (soslovia, social class), the petit bourgeoisie (meshchane). Arriving semiskilled workers, tradesmen, shopkeepers, former serfs, Jews, and outcasts came seeking a new life, and they found it. Mark Twain, on visiting the city in 1867, declared that he had come home to America after tramping across Europe. I too have felt this same sensation a century and a half later.
The twentieth century was not as kind to Odesa as the nineteenth had been, with often tragic consequence: Revolution, a brutal Romanian occupation during World War II marked by horrific ethnic cleansing, and massive Jewish emigration during the Brezhnev years all took their toll.
Throughout its history, Odesa as a place—as a city—has prompted a constant rejuxtaposition of different historical, cultural, and political fragments of past and present. Like its Mississippi doppelganger New Orleans, Odesa absorbed influences from everywhere to create a unique urban culture. And like other similar mixing bowls of culture, Odesa cultivated a vivid literary scene in several languages. By the mid-twentieth century, Odesa had established a vibrant cinema scene as home to one of the Soviet Union's major film studios.
Italian musical culture joined with Jewish musical traditions to create a distinct musical sound.  Stalin's propagandists claimed that Odesa, not New Orleans, had given birth to jazz.  Hyperbole aside, homeboy Leonid Utyosov became the Soviet Union's first major jazz star.  David Oistrakh, Nathan Milstein, and many others drew on the same aural sources to develop a world-renowned school of violin playing.
Odesa prompts residents to seek new meaning in endless layers of cultural, religious, ethnic, political, and class differences. The city encourages a melding, reconciliation, and mutual borrowing of diverse cultural expressions and traditions to produce ever-new amalgams. For the past three decades, that fusion has added an independent Ukrainian identity.
As the wild applause to the Odesa Philharmonic's encore began to fade, a bass voice boomed out over the crowd, shouting "Spasibo". Odesa is a city where most residents speak Russian. Freedom, however, knows no linguistic boundaries.
The opinions expressed in this article are those solely of the authors and do not reflect the views of the Kennan Institute.
About the Author
Blair A. Ruble
Distinguished Fellow;
Former Wilson Center Vice President for Programs (2014-2017); Director of the Comparative Urban Studies Program/Urban Sustainability Laboratory (1992-2017); Director of the Kennan Institute for Advanced Russian Studies (1989-2012) and Director of the Program on Global Sustainability and Resilience (2012-2014)
Read More
---
Kennan Institute
The Kennan Institute is the premier U.S. center for advanced research on Russia and Eurasia and the oldest and largest regional program at the Woodrow Wilson International Center for Scholars. The Kennan Institute is committed to improving American understanding of Russia, Ukraine, Central Asia, the Caucasus, and the surrounding region though research and exchange. Read more