One-Time Nukes; Polling & Propaganda; Ukrainian Women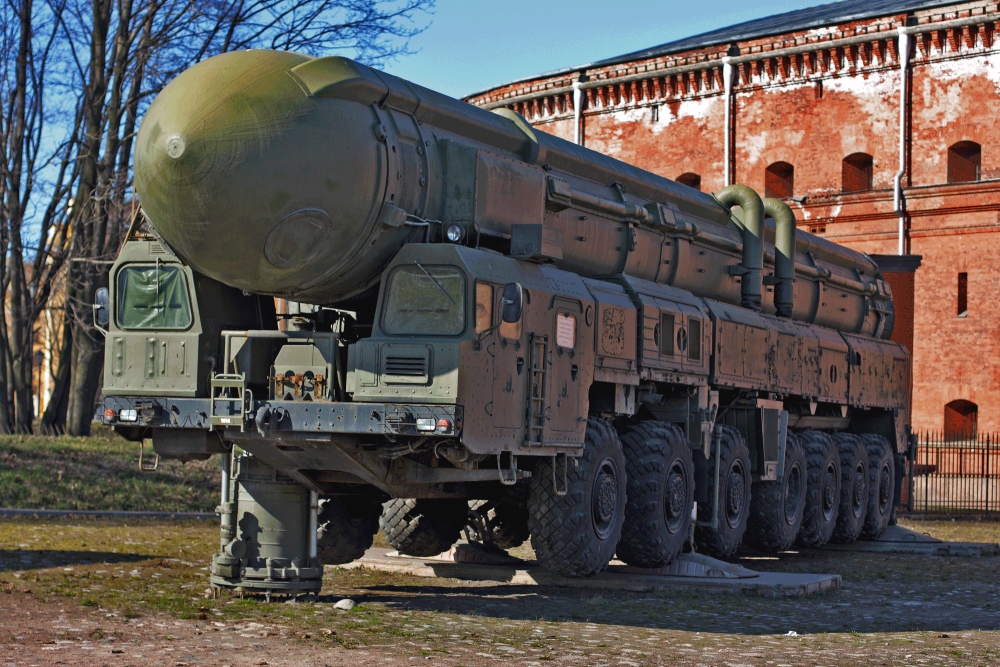 Ukraine once had nuclear weapons but gave them up at the urging of the U.S. and others, in return for Russian security assurances.
In the wake of the chaotic breakup of the Soviet Union, a few newly independent states suddenly found themselves in possession of an abundance of Soviet nuclear weapons and delivery vehicles. Ukraine inherited a 1,900-warhead arsenal including intercontinental ballistic missiles and long-range bombers. In fact, for several years after it became independent, Ukraine was the de facto third largest nuclear weapons state in the world.
More than 90% of Ukrainians (a majority in every region of the country including now-Russian-occupied Crimea) voted to confirm Ukraine's independence from Moscow. Despite this new national confidence, enough citizens felt threatened by their Russian former overlord that there was a real debate about whether Ukraine should keep its nuclear arsenal.
In the end, a concerted diplomatic push by the United States in the name of nonproliferation secured an important victory when Ukraine joined the U.S., U.K., and Russia in signing the "Budapest Memorandum" on December 5, 1994. In this agreement, Ukraine surrendered its entire nuclear arsenal in return for explicit security assurances by Russia and its co-signers.  Notably, they all agreed to "refrain from the threat or use of force against the territorial integrity or political independence of Ukraine."
As Ukrainians are painfully aware, Russia's recent invasion of Ukraine is not the first time its reneged on this promise: Russia has effectively been at war with Ukraine for eight years.
In February, according to at least one source, President Putin's approval rating was 71%—the highest since May 2018.
The invasion of Ukraine certainly looks different from within Russia, where one cannot publicly refer to Putin's "special military operation" as a war without risking a penalty of up to 15 years in prison. Playing on Russians' deep historical trauma of World War II, Putin has cynically cast the invasion as an effort to "de-nazify" Ukraine, in which hundreds of thousands of Russians lost their lives battling Nazi Germany. Since the invasion began, Putin has relentlessly tightened his chokehold on expression and thought in Russia, blocking broadcasts by the BBC, Voice of America, and Radio Free Europe, chasing out foreign journalists, shuttering domestic independent news, and cutting off access to Facebook, Twitter, and Instagram. According to the independent human rights project OVD-Info, as of mid- March, nearly 15,000 Russians have been detained for participating in anti-war protests.
In the run up to the war, Putin's propaganda worked: according to a national poll conducted in February by an independent group, Putin's personal approval rating was 71%, the highest in almost four years. In the same survey, only 23% of respondents opposed the military operation in Ukraine. One month into the war, the Russian public's awareness of the bloodshed remains muffled.
Most analysts conclude that Putin believed he could capture or bend Ukraine to his will in a matter of days. As the fighting moves into its fifth week, free channels of communication like the Telegram messaging service may poke holes in the official line, as stories and images are shared of the thousands of funerals taking place for young Russian soldiers killed in Putin's war. Russia's economic isolation grows by the day, as does the number of citizens detained or fined for protesting the war. As much as Putin may yearn for the totalitarian days of the Soviet empire, Russian society has come a long way since then.
80,000 Ukrainian women are due to deliver a child within the next three months
Amid the larger human tragedy of Putin's war on Ukraine, on March 14 we were reminded of the particular toll that war takes on women when news broke that an expectant mother injured in a Russian attack on her maternity hospital died, along with her baby. She was one of some 80,000 Ukrainian women due to give birth in the next three months, according to the United Nations, now facing the horrors of war while struggling to support new lives entering the world. In Kyiv, a team of nannies have stayed behind to care for 19 babies who were recently born to surrogate mothers and are now trapped by the war, their parents unable to reach them and their citizenship uncertain. Other women have refused to abandon the elderly, disabled, even pets stranded in shelters.
Around the world, war puts women and girls at heightened risk of gender-based violence, exploitation, and trafficking, and the lack of access to essential health care services, water, food, and hygiene puts them at a greater risk for sickness and death. As we grapple with the increased vulnerabilities of women and children in crisis, we also recognize the contributions women make during war, and in conflict prevention and resolution efforts.
March is Women's History Month. The theme for 2022 is Providing Healing, Promoting Hope. Originally conceived to celebrate the outsized role of women as health care providers and caregivers during the ongoing COVID-19 pandemic, the theme serves equally well in recognizing women in wartime. In Ukraine, women are leading humanitarian aid efforts, documenting the crisis, baking bread for their soldiers, and mass producing Molotov cocktails. Many Ukrainian women, including Ukrainian Parliament Member Kira Rudik, have taken up arms against Russia. Fifteen percent of Ukrainian soldiers are women, and even more women are fighting in resistance groups. A growing number of Ukrainian women from abroad are returning to support Ukraine.
It is not just Ukrainian women fighting this unjust war. An interesting feature of the growing anti-war movement in Russia is the role that women are playing, risking their freedom in street protests and their careers—including one woman who interrupted a live television broadcast to raise awareness of the propaganda.