The Postwar Reconstruction of Ukraine
The war in Ukraine will come to an end. Right now, we do not know whether it will be through the military victory of Ukraine against Russian forces or through a political settlement between the parties. We do know a lengthy and comprehensive reconstruction effort will be needed to raise Ukraine from the rubble and provide a peaceful living environment for its displaced people. Before postwar reconstruction planning can start in earnest, however, international donors and Kyiv should have a clear understanding of the challenges that may be expected. The political context in which aid is made available and utilized is a dominant factor with far-reaching implications.
The Politics of Aid
Postwar reconstruction is greatly influenced by the attitude of donors and the resources they provide. The allocation of resources for recovery purposes has implications for the balance of power at national, regional, and local levels, but it is frequently determined by the interests of donor agencies, the stance of the media, or rivalry between donors.
Furthermore, as everything done during postwar reconstruction has a political tinge, addressing challenges posed by the complexities of power structures is essential. Reconstruction programs need to consider such power structures and relationships and take each step carefully. This is particularly important in postwar societies as reconstruction projects should be conducted not under conditions of enforcement but rather legitimacy. To gain legitimacy for these efforts, a social contract between citizens and the government, transparent planning and implementation, management of expectations and communication, and proactive engagement by the international community are all vital.
Prioritizing Reconstruction Objectives
Postwar reconstruction should not be planned remotely from the locale of the conflict environment. Stakeholders need to see that their concerns, priorities, and objectives are being taken into consideration and incorporated into the reconstruction planning as much as possible.
An intentional approach that gives voice to those most affected and proceeds with respect for local and regional interests can have lasting effects and increase the likelihood of buy-in.
Unfortunately, in too many postwar environments, reconstruction objectives are established and prioritized largely from an external and utilitarian perspective. External actors usually prefer the process to be compartmentalized or siloed to reflect their individual funding policies, while internal actors usually prefer a process that recognizes linkages between different projects and priorities.
The pace of rebuilding is another aspect that often distinguishes internal from external actors and requires negotiation. Internal actors may be more prepared to sacrifice short-term gains in favor of improved long-term recovery and development prospects. In contrast, the agenda of external actors tends to dictate the opposite, leading them to prefer quick, uncomplicated, and cheap solutions over long-term involvement embedded in local sociopolitical and cultural frameworks.
Mobilizing Resources
The critical questions in resource mobilization concern what kind of resources should be given priority and who should coordinate the process. Current practices often focus on those financial resources that are provided from external to internal actors, and invariably the process is led and coordinated by external actors, forcing internal actors to assume a support role in "helping" the work of the international community.
The provision of financial resources for reconstruction comes with a package of conditions that may include economic, social, and political requirements. The provision of funds therefore entails a transfer of power. In the process of this power transfer, the agendas, aspirations, and values of the international community are made clear and sometimes even imposed on local actors.
The prioritization of financial resources creates a multilayered, hierarchical system of decision-making in which the quantity of funds to be provided, and to whom, becomes the key element in relationships between different agencies.
In contrast to this picture, the reconstruction strategy adopted by the international community for Ukraine should entail more than simply working with—or imposing wishes on—local actors. Rather, stakeholders—that is, donors, representatives of civil society, and elected officials—should ascertain through roundtables and dialogue the most empowering means of transferring know-how and financial resources to local actors who can effectively use them.
Timing also presents a challenge to the deployment of financial resources in reconstruction efforts. Policymakers in conflict-affected environments frequently assume that external resources will be provided consistently throughout the reconstruction of war-torn areas. It is often the case that when media attention is focused on active peace negotiations, for example, the international community is much more willing to make generous pledges for reconstruction. To a large extent, this generosity may be for the cameras, and the pledges made may be conveniently forgotten or reduced once the country in question starts to enjoy a certain level of security and stability.
Therefore, it is critical that Ukraine, after the war, have appropriate national and local systems and processes in place to absorb and utilize the reconstruction assistance as effectively as possible while it is available. This will require advance planning and mobilization of civil society and higher education institutions, as well as critical national and local reconstruction actors.
All this must be in place before reconstruction efforts can begin.
The opinions expressed in this article are those solely of the author and do not reflect the views of the Kennan Institute.
See our newest content first.
Subscribe to receive the latest analysis from Focus Ukraine.
About the Author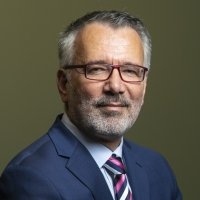 Alpaslan Özerdem
Professor of Peace and Conflict Studies and Dean, Jimmy and Rosalynn Carter School for Peace and Conflict Resolution, George Mason University
Read More
---
Kennan Institute
The Kennan Institute is the premier U.S. center for advanced research on Russia and Eurasia and the oldest and largest regional program at the Woodrow Wilson International Center for Scholars. The Kennan Institute is committed to improving American understanding of Russia, Ukraine, Central Asia, the Caucasus, and the surrounding region though research and exchange. Read more