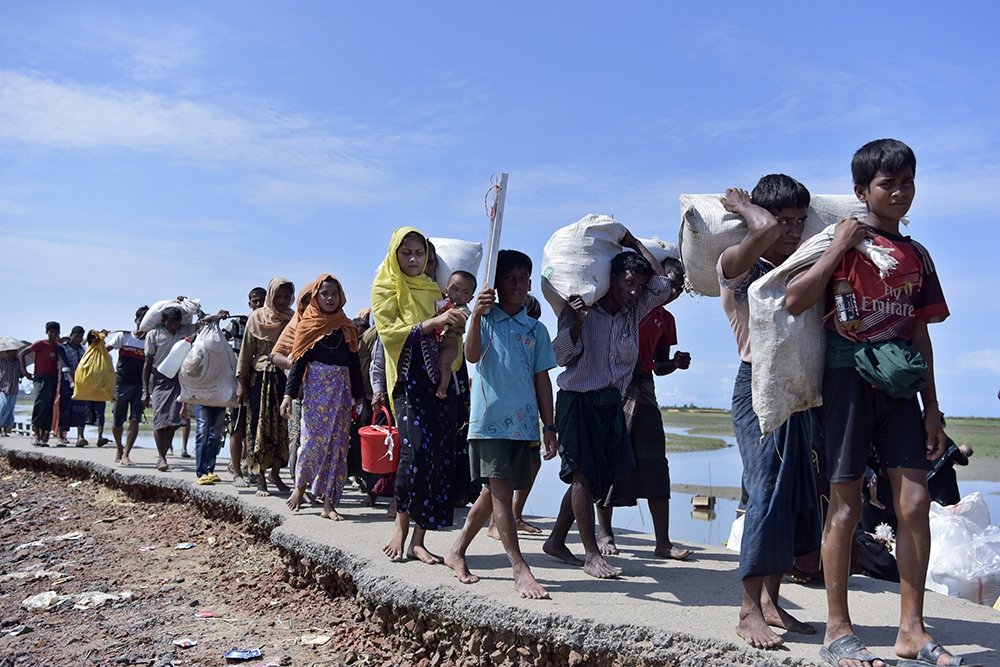 The plight of the Rohingya community is one of the saddest, and most underreported, stories of modern times.
This Muslim community has long suffered through persecution, marginalization, and mass migration. Its numbers are highest in Burma—about a million, according to most estimates—but they also live on the fringes of society in India and in many countries across the Muslim world.
The most recent large-scale trauma experienced by the Rohingya took place in August 2017, when Burmese security forces launched a harsh and extended crackdown on the community. This crackdown took place after a group of Rohingya insurgents—known as the Arakan Rohingya Salvation Army (ARSA)—had responded to the systematic repression that the community suffers in Burma's Rakhine state by launching a series of attacks on Burmese security facilities. Suffice to say, the state crackdown—which featured scorched-earth tactics that levelled homes and burned down villages—was wholly disproportionate with ARSA's actions. Thousand are estimated to have died.
Over a period of just two weeks, 250,000 fled to Bangladesh.
Consequently, the Rohingya—at least the luckier ones—did what the community has done so often over the last few decades: They migrated, and in huge numbers. Over a period of just two weeks,  250,000 fled to Bangladesh. The number soon rose by several more hundred thousand. These staggering numbers posed an immediate major challenge for Bangladesh, a poor and densely populated country that was already hosting at least 500,000 Rohingya refugees before those that arrived in 2017.
To its credit, Dhaka has done a remarkable job in providing shelter and other services for so many marginalized and needy people—though most have been assigned to  squalid, cramped camps.
For the Rohingya in Bangladesh, the last 18 months have been difficult and uncertain. Dhaka has sought to work out relocation plans to send them back to Burma, but it has largely held back. It has also entertained plans of dispatching Rohingya refugees to an isolated Bangladeshi island—one prone to flooding and other threats—but again authorities have not yet followed through.
The Rohingya refugees of Bangladesh find themselves in a familiar place: An extended and highly stressful limbo, in which they simply don't know what might be coming next.
In a nation where anti-Muslim sentiment can be harsh...a community as vulnerable as the Rohingya will not be safe anytime soon.
Back in Burma, the Rohingya are also apprehensive and uncertain. While they have not suffered through the orgies of violence that transpired in 2017, their status continues to be precarious. In a nation where anti-Muslim sentiment can be harsh—some Buddhist monks have stoked religious hatred against Muslims—a community as vulnerable as the Rohingya will not be safe anytime soon.
On April 2, the Asia Program will host an event on what might be next for the Rohingya—in terms of the community's plight both inside and outside Burma.
Now that ample time has passed since the crackdowns and migrations of 2017, the Rohingya—as always—have faded from the headlines. And yet their plight remains troubling. Our April 2 event aims to bring more attention to an issue that hasn't become any less significant, even if it doesn't generate the same headlines as in 2017.
Image: Sk Hasan Ali/Shutterstock.com
Follow Michael Kugelman, deputy director of the Asia Program and senior associate for South Asia, on Twitter @MichaelKugelman.
The views expressed are the author's alone, and do not represent the views of the U.S. Government or the Wilson Center. Copyright 2019, Asia Program. All rights reserved.
Related
About the Author
---
Asia Program
The Asia Program promotes policy debate and intellectual discussions on U.S. interests in the Asia-Pacific as well as political, economic, security, and social issues relating to the world's most populous and economically dynamic region.  Read more