Stoned Jesus and Not Feeling Powerless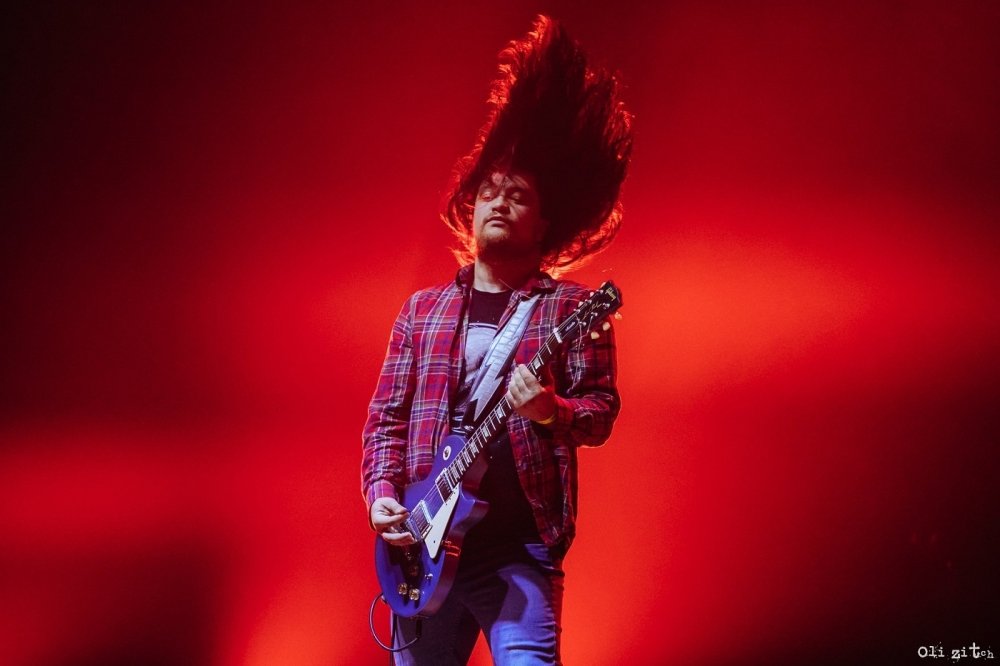 Song by song, the Kyiv "stoner metal" band Stoned Jesus has released a new album, From the Outer Space, over the internet. They started with "Con" and "Porcelain" late last year and the releases continue this winter with "Thoughts and Prayers" from the band's new "Father Light" song cycle. "Every morning there's a ritual / There's a routine," the song begins, continuing: "When you're reading all the news / In the world from the screen / For a second, a sense of powerlessness / Fills you up / People suffer, people die / And this will never stop."
Sung in English, the songs are attracting attention from the group's international fans. For the three band members and their Ukrainian audiences, a song written before the current war has a renewed, if different, meaning. When the trio signed up to help defend Ukraine, they and many of their fellow Ukrainians declared that they no longer felt powerless.
Composer-lyricist Ihor Sydorenko founded the group in 2009 on the base of his previous group Krobak ("worm" in Ukrainian). Influenced by Black Sabbath, Led Zeppelin, and various Italian and Scandinavian sludge/post-metal bands, Stoned Jesus established itself on the Kyiv scene with a sound combining "fuzzed-out" rock, driving bass lines, and maximum groove. The band attracted a following, releasing a half-dozen albums and regularly touring Europe and North America prior to 2020. Their 2015 YouTube release "I'm the Mountain" has garnered over 15 million views.
Their current project took shape in the months leading up to the COVID pandemic and has taken on new meaning since the Russian invasion of Ukraine. Guitarist Sydorenko, bassist Serhiy Slyusar, and drummer Viktor Kondratov initially viewed the 2019 song cycle as a commentary on climate change, corporate power, and social division. They recorded the music at Kharkiv's Spivaki Records forest retreat in 2021.
The decision to join Ukraine's defense delayed the recording's release, with final rehearsals taking place in mid-2022. Finding the broken realities of their country at war "surreal," the band members struck a new pose of defiance. They embraced their decision to resume their music as a moment to defeat malevolence.
Neither a pandemic nor a war record, the lyrics gained deeper meaning after combat started. Their video release of "Get What You Deserve" resonates powerfully with fans experiencing the horrors of war. The opening stanza, "Oceans of waste, rivers of dust / Barren landscapes, pillars of salt," speaks to the project's original focus on climate change. The final stanza has assumed new meaning with war: "Maybe there you will find some peace / Among the ruins of old / To destroy equals to create / Get what you…"
Stoned Jesus has been part of an expanding Ukrainian hard rock scene that has defined a uniquely Ukrainian voice over the past quarter-century. Integrated into the European scene, yet distinct from it, Ukrainian bands and the post-independence generation increasingly looked to themselves for inspiration as they once looked to the West. Their performances spurred spontaneous jams with other musicians. Sydorenko has noted that Ukraine never had a tradition of playing "trippy stuff," so the band initially borrowed its sound from abroad, but over time, Stone Jesus has transformed its sound and attitude into something distinctly Ukrainian.
After listening to "Thoughts and Prayers," one fan posted on YouTube: "OH MY GOODNESS!!!! Some new tones and segues unlike previous Stoned Jesus releases yet within the radius of their unique brilliance. Insane guitars."
Three of the six stanzas for this song sound like this:
In gardens of stone
We die alone
Waiting for someone
To guide us back home
But nobody's there
And nobody cares
Our only answer is still
Thoughts and prayers
Sydorenko laments that thoughts and prayers are a poor substitute for being there, but he and other Ukrainians are discovering that they themselves care and are there, for one another.
The opinions expressed in this article are those solely of the author and do not reflect the views of the Kennan Institute.
See our newest content first.
Subscribe to receive the latest analysis from the Focus Ukraine blog.
About the Author
Blair A. Ruble
Distinguished Fellow;
Former Wilson Center Vice President for Programs (2014-2017); Director of the Comparative Urban Studies Program/Urban Sustainability Laboratory (1992-2017); Director of the Kennan Institute for Advanced Russian Studies (1989-2012) and Director of the Program on Global Sustainability and Resilience (2012-2014)
Read More
---
Kennan Institute
The Kennan Institute is the premier U.S. center for advanced research on Russia and Eurasia and the oldest and largest regional program at the Woodrow Wilson International Center for Scholars. The Kennan Institute is committed to improving American understanding of Russia, Ukraine, Central Asia, the Caucasus, and the surrounding region though research and exchange. Read more