The Lingering, and Complicating, Threat of ISIS in Afghanistan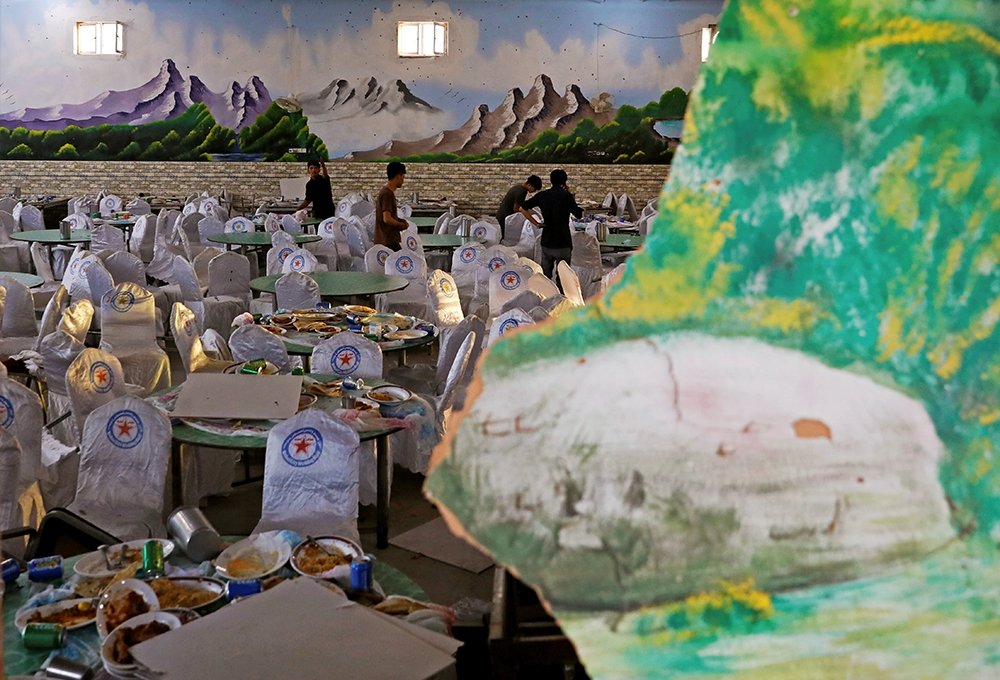 The terror group Islamic State, or ISIS, recently asserted responsibility for a horrific attack on a wedding hall in Kabul. The tragedy in Afghanistan's capital city took the lives of more than 60 people, and wounded nearly 200 hundred more.
With so much understandable focus on the Taliban, which is now in advanced talks with the United States on a troop withdrawal agreement, it's easy to forget that ISIS is a serious security threat in Afghanistan as well. The wedding attack serves as a jarring and tragic reality check. On one level, it is a reminder that forces other than the Taliban can inflict withering levels of violence. But on a broader level, it highlights the challenges for Washington, Kabul, and their partners as they seek to pursue a broader reconciliation process in Afghanistan.
The Afghanistan chapter of ISIS—known as ISIS-Khorasan or ISIS-K—has been formally present in the country since early 2015, when the ISIS central leadership announced its arrival. It has staged dozens of attacks in Afghanistan, including complex and well-orchestrated mass-casualty assaults like the recent wedding hall attack. What is perhaps most troubling about ISIS-K is its resilience. U.S. and Afghan airstrikes have hit it hard for years, yet it retains the capacity to move around freely and to carry out attacks. Even Washington's use of its largest non-nuclear bomb on an ISIS hideout in eastern Afghanistan in 2017 failed to weaken the group.
To be sure, in terms of overall clout, ISIS can't hold a candle to the Taliban. Its only bastions are in the eastern parts of Afghanistan, particular in Nangarhar province. While it has staged many horrific attacks, it doesn't hold or threaten to seize large expanses of territory—in contrast to the Taliban, which controls or has a deep footprint in dozens of districts across Afghanistan. ISIS also is constrained by Afghanistan's militant environment, which is dominated by groups—including the Taliban—linked to al-Qaeda and aligned with the Deobandi school of Islam. ISIS, by contrast, is a bitter al-Qaeda rival and a member of the Salafist school of Islam. This means that ISIS struggles to find friends within Afghanistan's large militant milieu; the Taliban, for example, is bitterly opposed to ISIS and is openly fighting it on the battlefield.
And yet, as demonstrated by the wedding hall attack, ISIS remains a force to be reckoned with.
And yet, as demonstrated by the wedding hall attack, ISIS remains a force to be reckoned with. This has two troubling implications for Washington as it intensifies its efforts to secure a deal with the Taliban.
First, ISIS is not a party to any peace or reconciliation talks. Ideologically speaking, ISIS is much more hardline than the Taliban and it would never agree to participate in a political negotiation in Afghanistan. If the Taliban were to agree to a troop withdrawal deal with Washington, and if it agreed to a comprehensive peace settlement with Kabul, ISIS would just keep on fighting and terrorizing.
Second, a Taliban peace accord could strengthen ISIS. Many hardline Taliban members, disaffected and unhappy about a peace deal that they oppose, could throw their allegiances to ISIS. Already, ISIS has attracted several splinter factions of broader regional militant groups—from the Pakistani Taliban to the Islamic Movement of Uzbekistan—to its cause. A fresh supply of ex-Taliban recruits could help ISIS in a big way, as they would presumably be Afghans and therefore familiar with the country's terrain on many levels.
All of this points to the continued importance of counterterrorism in U.S. policy calculations about Afghanistan. It's quite likely that considerations about terrorism risks in the country helped convince President Trump to keep troops in Afghanistan, despite his inclinations—telegraphed multiple times during his time in office—to initiate a withdrawal of forces.
The wedding hall attack underscores the need to keep some American forces in Afghanistan to serve this purpose.
Accordingly, we can be sure that when—and it likely is a matter of when not if—there is a troop withdrawal deal with the Taliban, Trump's top advisers will urge him to insist on keeping some U.S. soldiers in Afghanistan to assist Afghan security forces in efforts to target ISIS.  The wedding hall attack underscores the need to keep some American forces in Afghanistan to serve this purpose.
Trump, despite his fervent desire to pull most if not all troops out of Afghanistan in time for next year's U.S. presidential election—or perhaps even in time for the Republican National Convention next summer—is likely to be receptive to such advice. Let's not forget: This is a president who enjoys boasting about—and deriving the political benefits of—his defeat of ISIS in Iraq and Syria. He would not be pleased—and especially not with the 2020 election drawing nearer—about the prospect of an ISIS resurgence set in motion by a deal with the Taliban and galvanized by the withdrawal of all U.S. forces from Afghanistan.
The bottom line? A rapidly progressing peace process with the Taliban may exacerbate rather than ease the ISIS threat in Afghanistan—an oft-overlooked but nonetheless serious danger.
Image: Reuters
Follow Michael Kugelman, deputy director of the Asia Program and senior associate for South Asia, on Twitter @MichaelKugelman.
The views expressed are the author's alone, and do not represent the views of the U.S. Government or the Wilson Center. Copyright 2019, Asia Program. All rights reserved.
About the Author
---
Asia Program
The Asia Program promotes policy debate and intellectual discussions on U.S. interests in the Asia-Pacific as well as political, economic, security, and social issues relating to the world's most populous and economically dynamic region.  Read more