The Normalization of Kim Jong Un – what Kim gains from visit to Russia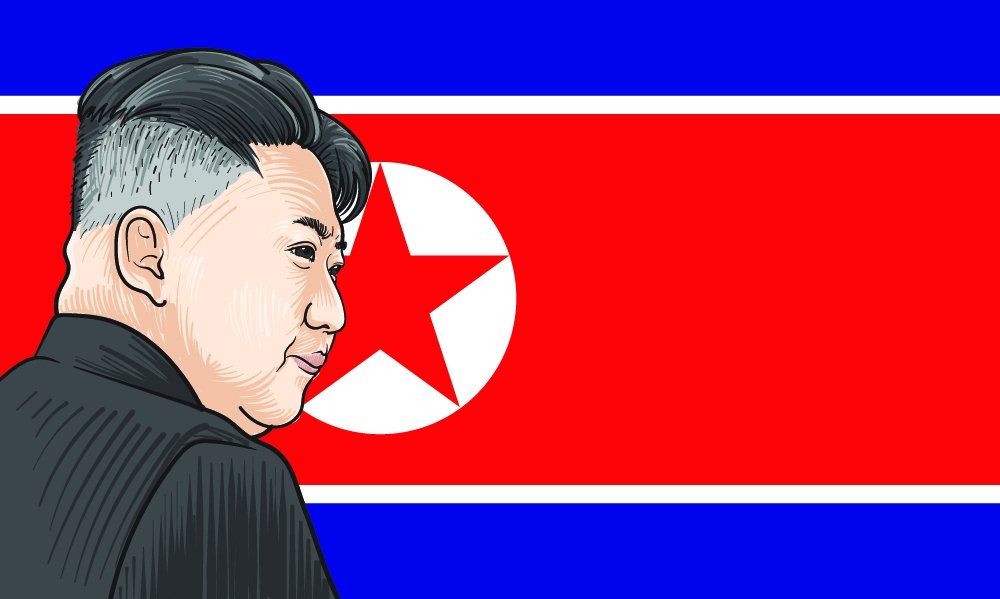 Just over a year ago, Kim Jong Un crossed the border into China on his armored train on his way to meet Xi Jinping in Beijing. It was the first time he had left North Korea since becoming leader, and his first meeting with another head of state.
In the thirteen months since, he has travelled to Singapore, Vietnam, and Russia, as well as returning for multiple visits to China. He has met Donald Trump twice, Xi Jinping another three times, held three summits with South Korea's president, Moon Jae-in, met the prime ministers of Vietnam and Singapore, and now Russia's president, Vladimir Putin.
Kim is pursuing diplomacy with the same vigor previously reserved for his nuclear program, and with some success.
While there are broader strategic reasons why Kim is meeting Putin – as he seeks help weakening sanctions, developing his economy, and demonstrating to China and the United States that theirs is not the only game in town – this summit benefits him in other ways too.
At a time when many North Koreans are once again facing food shortages, these expeditions make for powerful domestic propaganda, and evidence of how hard the leader is working to improve life for his countrymen.
State media relays footage of Kim travelling far and wide, being greeted with respect and red carpets wherever he goes. He is shown sitting down as an equal with the most powerful men in the world as he presses his nation's interests, while crowds line the streets outside hoping to catch a glimpse of his motorcade, and foreign journalists hang on his every word. In other words, Kim Jong Un is pictured as the esteemed global statesman his citizens have always been told he was.
With every summit he attends, every honor guard he inspects, and every leader's hand he shakes, Kim's credibility grows.
And these images resonate beyond North Korea's borders too. With every summit he attends, every honor guard he inspects, and every leader's hand he shakes, Kim's credibility grows. He moves one step closer to being seen as a serious, dignified head of state, and one step further from the internet meme of "Kim Jong Un pointing at things" and his depiction as a cartoon villain-style caricature.
Where he used to be portrayed as a reclusive madman with bad hair and nukes, Kim now appears to be waging a concerted campaign to be seen as a normal leader, stressing his commitment to the future of his country's economy, even making time to speak to the foreign press.
After fielding an American journalist's questions during an appearance with President Trump in Hanoi, Kim Jong Un stopped to speak to a Russian state television reporter in Vladivostok as though it was no big deal, offering platitudes in the husky voice of a man with a well-documented passion for cigarettes. The clip of Kim's interview was posted and re-posted on social media – so rare is it to hear his normal speaking voice.
All this matters because the more normal the North Korean leader appears – the less he looks like the unpredictable head of a rogue state – the harder it is to make the case that he might need to be disarmed by force. 
To be clear, Kim Jong Un is still a brutal dictator, whose regime is responsible for public executions, a network of barbaric prison camps, and human rights abuses that are said to without parallel in the modern world – but being ruthless or murderous is not the same as being irrational, and if Kim is rational, then why can't he be deterred by conventional means?
The normalization of Kim Jong Un strengthens his hand, both at home and abroad.
So no matter what actual substance the meeting with Putin yields, Kim will return to North Korea with this much at least – another incremental gain in his ongoing diplomatic offensive, a little less "Rocket Man," a little more statesman.
Katie Stallard-Blanchette is a fellow at the Wilson Center, affiliated with the Asia Program and History and Public Policy Program, previously based in China and Russia as a foreign correspondent for British broadcaster, Sky News.  You can follow her on Twitter @katiestallard.
The views expressed are the author's alone, and do not represent the views of the U.S. Government or the Wilson Center. Copyright 2019, Asia Program. All rights reserved.
About the Author
---
Asia Program
The Asia Program promotes policy debate and intellectual discussions on U.S. interests in the Asia-Pacific as well as political, economic, security, and social issues relating to the world's most populous and economically dynamic region.  Read more
Hyundai Motor-Korea Foundation Center for Korean History and Public Policy
The Center for Korean History and Public Policy was established in 2015 with the generous support of the Hyundai Motor Company and the Korea Foundation to provide a coherent, long-term platform for improving historical understanding of Korea and informing the public policy debate on the Korean peninsula in the United States and beyond. Read more