Trump and South Asia, One Year On: A Case of Policy Continuity With the Past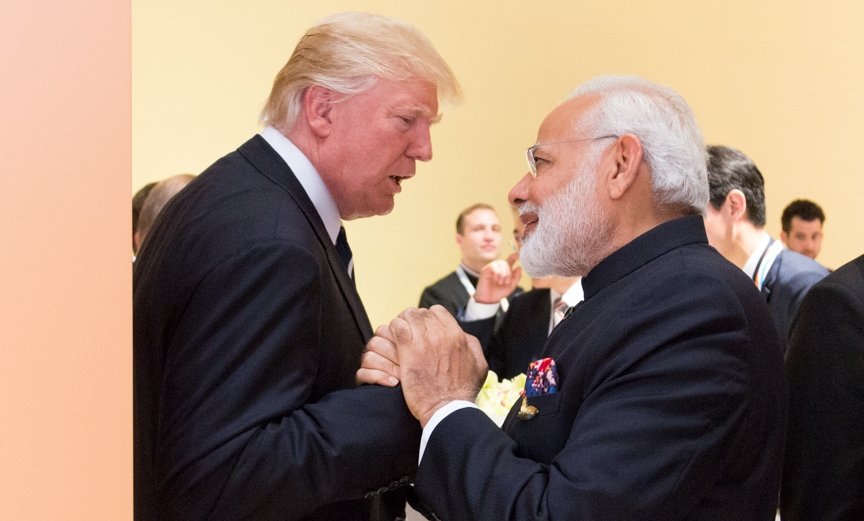 Despite several notable differences, President 's policy in the region—so far—has largely been strikingly similar to that of President Barack Obama's.
When assessing President 's efforts abroad over his first year in office, there are copious examples of major foreign policy breaks with his predecessor, Barack Obama. has taken a hard line on Iran, backed out of the Transpacific Partnership agreement, cracked down hard on immigration, recognized Jerusalem as the capital of Israel, and rejected the idea of climate change.
And that's just the tip of the iceberg.
However, by contrast, when it comes to South Asia, there's been a notable level of continuity in policy. Despite several notable differences, 's policy in the region—so far—has largely been strikingly similar to Obama's. This can be seen through 's approach to the three countries in South Asia that his administration has focused on the most—the same three South Asian countries, in fact, that attracted the most attention from the Obama and George W. Bush administration. They are India, Afghanistan, and Pakistan.
India offers the most clear-cut case of policy continuity. has picked up where Obama left off and called for deepening an already rapidly growing partnership. and Indian Prime Minister Narendra Modi had a warm meeting in Washington last year that resulted in a joint statement laying out a series of new areas of cooperation in security and beyond. Major policy documents released by the administration, including its South Asia, national security, and defense strategies, as well as some of its key foreign policy addresses, all call for deeper U.S.-India cooperation. And it's easy to understand why. The U.S.-India relationship pivots around two shared strategic concerns, both of which resonate deeply with the administration: terrorism and China's rise.
Afghanistan is another area of continuity. To be sure, last summer announced a new strategy for the country that diverges from Obama's in several respects: It increases the U.S. troop presence by several thousand, it pledges to use conditions on the ground—not artificial timelines—as the basis for future policy decisions, and it calls for India to take on a greater role. Aside from these differences, however, 's Afghanistan strategy is remarkable similar to Obama's. Its core goal is to step up the fight against the Taliban, put it on the defensive, and in so doing compel the insurgents to step off the battlefield and launch negotiations with Kabul to end the war. This is exactly what the Obama administration tried—and failed—to do during the height of the U.S. troop surge in 2010 and 2011. 's emphasis on eliminating terrorist strongholds in Afghanistan and preventing the Taliban from retaking power are also objectives previously pursued by the Obama White House.
's Pakistan policy, at first glance, may appear to diverge sharply from Obama's. Over the course of the last year, the administration signaled that it might take coercive steps to try to compel Pakistan to crack down on terrorists, particularly the Afghan Taliban and Haqqani Network, that stage attacks on U.S. forces in Afghanistan. Many of the possible measures leaked to the media—including sanctioning individual military officials with ties to terror and revoking Pakistan's non-NATO ally status—would be unprecedented. And yet the only punitive action taken by the administration so far has been a suspension of security assistance to Pakistan. This is nothing new; Obama froze aid to Pakistan after Osama Bin Laden was discovered in the country in 2011. To this point, U.S. policy toward Pakistan has not entered uncharted territory. On the contrary, it remains ensconced in quite familiar territory. The Obama and George W. Bush administrations, like , repeatedly demanded—albeit with less hard-edged rhetoric—that Pakistan crack down on terrorist safe havens.
This year, in the context of Pakistan, 's South Asia policy may start contrasting more sharply with that of Obama. In the coming weeks, should the White House conclude that Pakistan is still not targeting terrorist sanctuaries on its soil, it's likely to take several punitive measures that go beyond aid freezes. The administration is now exploring ways to mitigate the effects of possible Pakistani retaliations—particularly the closure of supply lines used by U.S. forces to access Afghanistan. Pakistan has not retaliated to a mere aid freeze, but it would probably retaliate against something harsher. If the administration implements punitive measures beyond the aid freeze, it would set a new precedent for U.S. policy.
More broadly, however, 's South Asia policy this year is likely to continue hewing closely to Obama's. will authorize the increased U.S. troop presence in Afghanistan to go on the offensive against the Taliban—just as Obama did during the height of the surge. will continue to focus on deepening Washington's relations with India. And even as applies more pressure on Pakistan than did his predecessor, look for him to otherwise stick with the same strategy as Obama: Getting the U.S.-Pakistan relationship to work, warts at all, by focusing on narrowly defined areas of security cooperation—such as, for example, counterterrorism cooperation against ISIS.
Finally, expect , like his immediate predecessors, to accord little strategic focus to South Asia's smaller countries, and to watch as China continues to expand its influence across a region where the United States is significantly less present.
Given that the administration's recently released defense strategy declares that strategic competition, not terrorism, is now the "prime concern" for national security, the deep inroads made by Washington's top strategic competitor across South Asia should be cause for concern. How the United States responds to China's deepening footprint in South Asia—an even greater concern for New Delhi, Washington's most powerful friend in the region—remains to be seen.
The views expressed are the author's alone, and do not represent the views of the U.S. Government or the Wilson Center.  Copyright 2018, Asia Program.  All rights reserved.
About the Author
---
Asia Program
The Asia Program promotes policy debate and intellectual discussions on U.S. interests in the Asia-Pacific as well as political, economic, security, and social issues relating to the world's most populous and economically dynamic region.  Read more