Turning to the Street (Art) for Meaning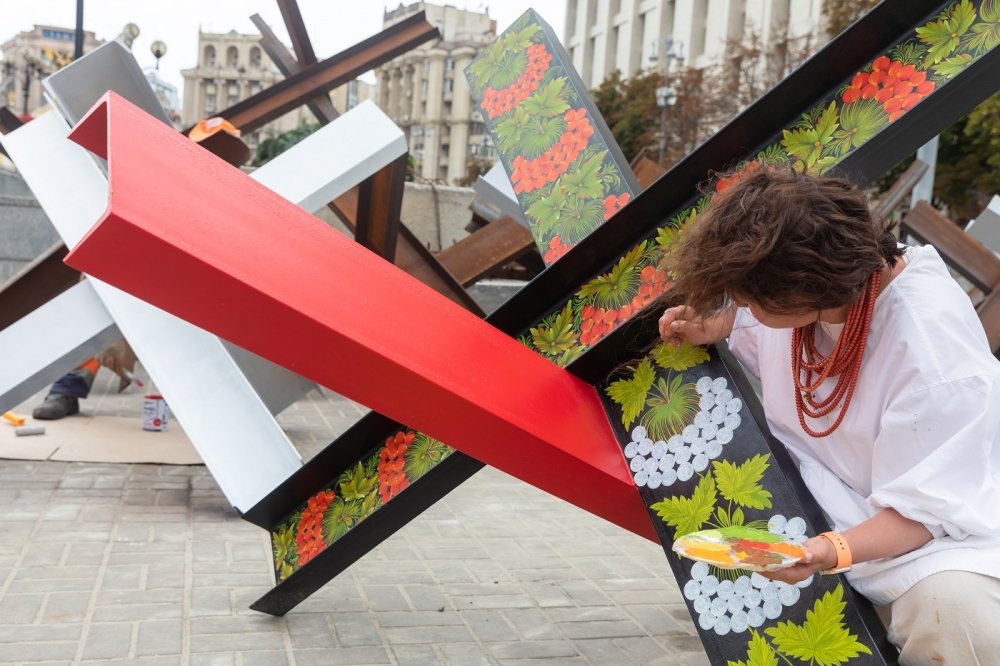 The importance of street art has emerged as a major theme of the opening months of the Russian invasion of Ukraine. Over and over, artists throughout Ukraine have turned their country's streets into a canvas expressing resistance, resilience, and rebirth. Haunted by what is happening around them, professional and amateur artists have lifted paintbrushes and spray cans to proclaim that they, their communities, and their country have a future.
The stories about this art are too numerous to catalogue with any comprehensiveness. They appear in Ukrainian and international media almost daily. On the eve of Ukrainian Independence Day in August, for example, Varvara Logvyn went out to Independence Square and started to paint the red berries featured in the Ukrainian war song "The Red Viburnum in the Meadow" onto some of the hedgehog tank traps that are scattered across Kyiv. After Russian forces were driven out of Irpin and other cities, groups of artists began painting sunflowers on the burned-out wreckage of cars, quietly proclaiming the return of the territory to Ukrainian control. Artists like Yulia Abramova have painted large murals depicting life-affirming symbols—trees of life and white storks—in the capital's residential neighborhoods.
Numerous unknown artists have painted humous scenes of Ukrainian tractors pulling Russian tanks against the backdrop of wheat fields, Ukrainian flags, and country scenes. Like the retort "Russian Ship, #$%&K Yourself" to a Russian ship asking Ukrainian mariners to abandon Snake Island early in the war, images of spunky Ukrainian farmers on their well-worn tractors removing Russian tanks have become something like a folk legend, recounted endless times in paintings, photographs, re-enactments, social media posts, and song.
Most of these initiatives arise spontaneously among artists and communities. In some instances, though, artists have taken up brushes at the behest of commanders. As I reported in a previous blog post, street artist Hamlet Zinkovsky's commanding officer sent him into the damaged streets of Kharkiv to paint when he reported for duty to a local military unit defending the city. His commander understood that public art can give meaning, lift spirits, and nurture a shared sense of the future.
The role of public art on the Ukrainian home front stands in contrast to the general tenor of conversation about the arts elsewhere. A recent spate of articles in major American media outlets have lamented the decline of this or that art form, of this or that artistic center, of this or that notion of urban community in the face of social media and declining economic fortunes. To cite just one example, the New York Timeslamented the diminishment of San Francisco as an art center in August. A quick survey of American media shows proclamations on the demise of genres—jazz, opera, European classical music—and of neighborhoods once thought to be artistic incubators, such as Washington's U Street and New York's SoHo. The single measure of artistic health becomes the ability of various arts to sustain robust commercial value.
Commodification in the arts has inflicted damage to the creative enterprise, while the rise of social media and a restructuring of economic incentives combine to undermine once valued forms of artistic endeavor. These danger signals appear everywhere when artistic quality is evaluated in monetary terms rather than in imaginative ones.
Artists throughout Ukraine have turned to their own creativity to help themselves and their compatriots understand what has happened to their neighborhoods, cities, and country since the Russian invasion. They have drawn on their own artistic skills to make powerful public statements of resistance, survival, resilience, and communal meaning. They have responded to the war with passion, inspiration, energy, and strength. They offer a reminder to themselves, their neighbors, and to us that artistic creation is about more than the price of a canvas, a device, a ticket, or a studio.
The opinions expressed in this article are those solely of the author and do not reflect the views of the Kennan Institute.
See our newest content first.
Subscribe to receive the latest analysis from Focus Ukraine.
About the Author
Blair A. Ruble
Distinguished Fellow;
Former Wilson Center Vice President for Programs (2014-2017); Director of the Comparative Urban Studies Program/Urban Sustainability Laboratory (1992-2017); Director of the Kennan Institute for Advanced Russian Studies (1989-2012) and Director of the Program on Global Sustainability and Resilience (2012-2014)
Read More
---
Kennan Institute
The Kennan Institute is the premier U.S. center for advanced research on Russia and Eurasia and the oldest and largest regional program at the Woodrow Wilson International Center for Scholars. The Kennan Institute is committed to improving American understanding of Russia, Ukraine, Central Asia, the Caucasus, and the surrounding region though research and exchange. Read more