Ukrainian and Polish Dancers Respond to the Pain of War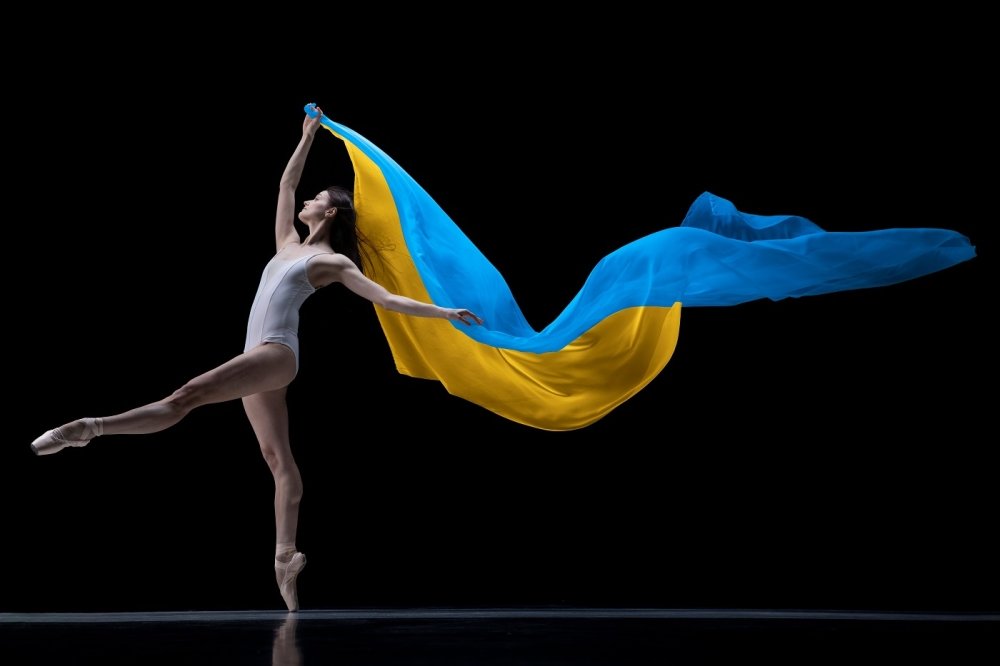 BY BLAIR A. RUBLE
Anna Myloslavska and Vitalia Vaskiv are dancers from Lviv; Darya Koval and Anastasia Ivanova are dancers from Dnipro. All four are now refugees in Poland after having been forced to leave their homes by the war in Ukraine. At some point in the not-too-distant past they probably thought they would spend this summer trying to advance dance careers derailed by COVID-19. Instead, they find themselves trying to put their lives back together in Poland.
Maciej Kuźmińki is a rising star in the world of Polish dance. Now in his late 30s, he launched his career in 2007 as Romeo in Austrian choreographer Liz King's production of Shakespeare's love story. He performed internationally for several years as a freelance dancer and as a soloist at the Polish Dance Theater. In 2017, he created the Polish Dance Network to produce works by independent artists and institutional dance groups. By 2020, the Network included 15 partners, which presented 13 dance works in 70 shows around Poland featuring nearly 100 artists.
When Kuźmińki thought about this summer, he probably was thinking about how to use dance to confront complacency. To date, his works have used the language of physical theater and dance theater to engage politically sensitive topics, to explore feminism, and to present his interest in metaphysics. These efforts have garnered international prizes; productions in the Netherlands, Germany, Hungary, and Lithuania; and a courtroom appearance in Bytom, Poland, where he fought back the city council's attempt at censorship.
The Russian invasion of Ukraine and the arrival of hundreds of thousands of refugees shook Kuźmińki to his core. For him, the war called into question all of his—and Poland's—assumptions about safety, home, and identity. Though he is not displaced, Kuźmińki—like Myloslavska, Vaskiv, Koval, and Ivanova—now found himself trying to put his life in art back together with refreshed meaning.
Kuźmińki turned to dance to help him sort through what an entire world set in motion by brute force might reveal about transformation within individuals. His questions combined the focus of his previous work, exploring the political and metaphysical, with the tumult unleashed in Poland by the arrival of so many Ukrainian refugees.
He understood that any work must draw on a partnership with Ukrainian refugees, as their experiences transcend whatever he and his Polish colleagues might feel. Moreover, he became aware of how different the same events appear from the vantage point of different European countries.
For Kuźmińki, performance dance provided an eloquent language for exploring such grand themes across linguistic, cultural, and political borders. Once they discovered one another, Kuźmińki, Myloslavska, Vaskiv, Koval, and Ivanova entered into a creative partnership to document the experience of forced migration. The resulting piece, Every Minute Motherland, has been created by seven Polish and Ukrainian dancers working as co-creators. Individually and collectively, they use the language of movement to express the experience of having been torn and unsettled, suspended between the memory of the past and an unbelievable present. Their goal is to use creativity to find a path to mutual understanding with one another and with the world at large.
Every Minute Motherland will be performed in late August at two of Poland's most celebrated contemporary arts centers: Klub Żak in Gdansk and Materia in Łódź. Klub Żak opened in 1957 as a student club and is now one of the oldest cultural centers in Poland, bringing together music, theater, film, and dance under one roof. Materia is one of Poland's leading residential centers for innovative creative artists. Their joint sponsorship enables the performance's creators to speak with authority to Polish and Ukrainian audiences.
The dance partnership formed by Kuźmińki, Myloslavska, Vaskiv, Koval and Ivanova signifies a fulcrum in the artistic journey prompted by Russia's invasion of Ukraine. In seeking meaning in their own agony, Ukrainians are now helping European and international artistic communities to reassess their values and artistic principles. The search for a Ukrainian creative voice is no longer just about Ukraine. As Kuźmińki observes, "the war set the whole world in motion… Everything that we used to take for granted has taken on completely different meanings."
The opinions expressed in this article are those solely of the author and do not reflect the views of the Kennan Institute.
About the Author
Blair A. Ruble
Distinguished Fellow;
Former Wilson Center Vice President for Programs (2014-2017); Director of the Comparative Urban Studies Program/Urban Sustainability Laboratory (1992-2017); Director of the Kennan Institute for Advanced Russian Studies (1989-2012) and Director of the Program on Global Sustainability and Resilience (2012-2014)
Read More
---
Kennan Institute
The Kennan Institute is the premier U.S. center for advanced research on Russia and Eurasia and the oldest and largest regional program at the Woodrow Wilson International Center for Scholars. The Kennan Institute is committed to improving American understanding of Russia, Ukraine, Central Asia, the Caucasus, and the surrounding region though research and exchange. Read more