U.S. Coal for Ukraine: Vital Necessity or Political Benefits Seeking?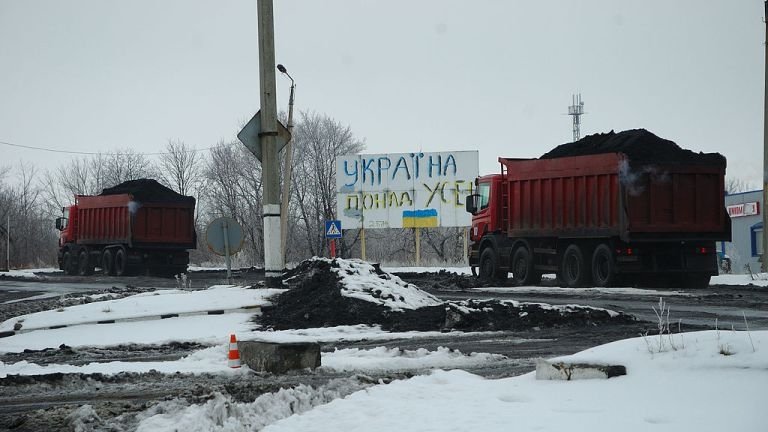 In June 2017, Ukrainian president Petro Poroshenko visited the United States and met U.S. president Donald Trump. After that meeting President Poroshenko announced that Ukraine would be importing anthracite from the United States. On September 13 the first shipment was delivered to Ukraine. After the start of the military conflict in Donbas in 2014, Ukraine has sorely lacked anthracite for its energy generation. But are the real reasons for buying expensive coal from the far-off United States economic or political ones?
Before armed conflict broke out in 2014, coal was the only energy source that Ukraine had in adequate supply from its own sources so that it did not have to rely on foreign supplies. More than 50 percent of all Ukrainian coal was extracted from the currently occupied and uncontrolled parts of Donbas. Anthracite coal, which is critical for the power stations that produce 12 percent of Ukraine's electricity, was extracted only from deposits in the uncontrolled parts of Donbas. So, in addition to creating many other problems, the conflict has meant an interruption of the coal supplies to Ukraine and a challenge to the country's energy security.
The first problems showed up in autumn 2014: power stations neighboring the conflict area had difficulties with anthracite deliveries, which led to the planned stoppage of electricity delivery for a few hours each day in many regions. Coal from the conflict zone was still used, but steps had to be taken to increase energy reliability. The government in Kyiv announced a "state of emergency in energy," which in practice meant maintaining strict control over all deliveries of coal to Ukraine from the uncontrolled territories. The government and utility companies started looking for ways to substitute for anthracite other energy sources available in Ukraine and abroad. The energy companies that were still getting anthracite from separatist-controlled Donbas also increased their imports of coal, mostly from Russia and South Africa. All these steps were effective: anthracite consumption decreased, and there were no more rolling blackouts.
President Poroshenko has to start afresh in building good relations with President Trump, and buying Pennsylvania coal is a strong gesture of support.
However, influential civic and political groups opposed the import of coal from Russia, demanding an end to cooperation with the country responsible for annexing Crimea and for backing the illegal armed separatist forces in Donbas. They also actively resisted the delivery of Donbas coal since such arrangements provided the separatists with the economic means to continue to wage war. To make non-Russian imports more effective and profitable and to decrease deliveries from Donbas, the state energy regulator developed a new approach for calculating the price of coal used for electricity pricing, known as the "Rotterdam +" formula. According to this formula, the electricity price is calculated as if the coal were imported through the port of Rotterdam, plus the cost of shipping it to Ukraine—a formula intended to create prices that will make electricity generation from imported coal profitable in Ukraine.
The situation with respect to the anthracite supplies changed drastically in February 2017 when paramilitary activist groups blocked the routes connecting the conflict zone with the rest of Ukraine, allegedly to prevent smuggling. That action also blocked coal deliveries from the separatist-controlled areas of Donbas. In response, the separatists' ringleader announced the expropriation of Ukrainian energy assets in the region and prohibited coal deliveries to Ukrainian power stations. The Ukrainian government and the Security Council then prohibited trade with the uncontrolled territories until such time as control of those enterprises was returned. From that moment on, the Ukrainian energy sector entered a new situation: anthracite can be supplied only by import. In addition, in practice, an informal decision was made not to import anthracite from Russia to prevent the resale of Donbas-origin coal as Russian.
In the wake of all these events, President Poroshenko announced Ukraine's interest in buying anthracite from Pennsylvania during an official visit to the United States in 21 June 2017. On July 31, the Ukrainian state-owned power-generating company Centrenergo PJSC and the privately held U.S. company Xcoal Energy and Resources signed a deal for 700,000 tons of Pennsylvania anthracite. The price was $113 per ton for the first shipment and variable for subsequent shipments. Ukrainian officials noted that it was the first shipment of anthracite Ukraine had ever received from the United States.
The price of American coal is much higher than the price of Russian or Donbas anthracite, higher than the price calculated according to the "Rotterdam +" formula, and much higher than the one Centrenergo had used previously to calculate the final price of electricity generated in Ukraine. Increasing the share of expensive U.S. coal in Ukraine will most likely result in higher electricity prices and increase state expenditure on household subsidies.
In my opinion, there are two probable reasons why a state-owned company bought expensive U.S. coal. The first is the possible lack of cheaper anthracite on the market for an immediate deal. It could actually have been the case that buying a large amount of coal within a short period of time was complicated, and the more expensive U.S. supply presented a solution. However, this conjecture cannot be easily proved.
However, economic reasons, not political ones, should assume greater weight in our government's strategy for Ukraine's recovery and development.
The second possible reason devolves from President Poroshenko's political interests. Under current political conditions, the Ukrainian administration is interested in developing better ties to the Trump administration. In particular, Petro Poroshenko wants better relations with Donald Trump after Kyiv stood accused of supporting Hillary Clinton's campaign. President Poroshenko has to start afresh in building good relations with President Trump, and buying Pennsylvania coal is a strong gesture of support. Domestically, Poroshenko can use the agreement to show his political rivals that he in turn is supported by Washington, and improvement in U.S.-Ukraine relations can be presented as his personal achievement.
Poroshenko's administration has communicated the U.S. anthracite trade agreement to Ukrainians as a means of strengthening national energy security. Simultaneously, it will also support U.S. miners. Thus, Kyiv provides backing for Donald Trump's statement that he was elected to represent the citizens of Pittsburgh. The deal with Ukraine creates jobs in Pennsylvania and works in Trump's favor, a good precondition for establishing better relations between the two presidents.
The U.S.-Ukraine coal deal is based on the interplay of economic need and political aspiration. In 2018, Poroshenko and some officials have said, U.S. anthracite imports into Ukraine may reach 2 million tons. Even though Kyiv plans to decrease anthracite usage in the next several years, total volumes and the share of expensive U.S. coal will increase, which suggests Poroshenko's political interests in the U.S. coal deal outweigh any economic reasons for concluding the agreement.
Yes, good U.S.-Ukraine diplomatic relations are hugely important for the stability in Ukraine. However, economic reasons, not political ones, should assume greater weight in our government's strategy for Ukraine's recovery and development.
About the Author
Andrian Prokip
Senior Associate, Ukraine;
Director, Energy Program, Ukrainian Institute for the Future
Read More
---
Kennan Institute
The Kennan Institute is the premier U.S. center for advanced research on Russia and Eurasia and the oldest and largest regional program at the Woodrow Wilson International Center for Scholars. The Kennan Institute is committed to improving American understanding of Russia, Ukraine, Central Asia, the Caucasus, and the surrounding region though research and exchange. Read more