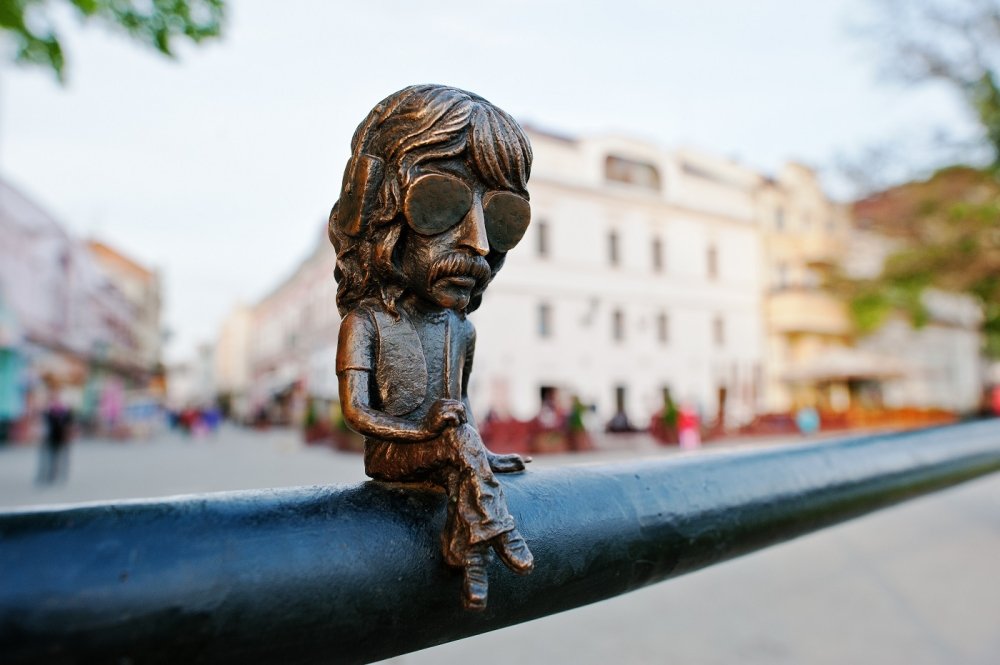 BY BLAIR A. RUBLE
Punk rock singer Yaryna Denysyuk has been editing the Ukrainian alternative music website Neformat for some time. The site showcases Ukrainian punk, metal, and experimental electronic music that might otherwise have gone unnoticed. Her reviews of the latest news and recordings from the alternative music scene have become a bulletin board for musicians across Ukraine to share news, concert listings, and music.
Living in the far western city of Uzhgorod, Denysyuk felt both fortunate and unlucky to be far removed from the war that began when Russia invaded her country. Running through the gamut of emotions from hate and sorrow to hope and resolve, Denysyuk realized she had a special role to play in her country's struggle. She began searching Facebook, Instagram, and the web more generally for new music about the war by Ukrainian performers.
Musicians—even those whom she does not know—began alerting her to their war experiences and their new songs. The result is a chronicle of how the underground music community has responded to the war at home and, when in exile, abroad. This work has been possible in part because Uzhgorod has remained thus far untouched by war.
The city's history is unlike that of other Ukrainian towns. Presently located on Ukraine's far western border, Uzhgorod fell under Hungarian rule for much of its thirteen-century history as the town of Ungvár. Located across the Carpathian Mountains from the rest of Ukraine, the city became part of newly independent Czechoslovakia in 1919 before the Germans folded the region back into Hungary in 1938. The Wehrmacht exterminated the city's large Jewish community, with the Red Army expelling the Hungarian majority after the war.
Annexed by the Soviet Union in 1945, Uzhgorod became an important transit point to and from the USSR. Around 120,000 largely Ukrainian residents lived in the city at the beginning of the twenty-first century, with significant Russian, Hungarian, Slovak, and Romani minorities.
Such marginality from Ukraine's mainstream has become an asset during Russia's invasion from the east. The city's critical location on the country's western border elevates its significance as a transfer point between Ukraine and Europe. Supplies flow in from the west, while refugees depart for Europe. Its local cultural scene has become integrated with more accessible European centers such as Budapest and Berlin, and a vibrant Roma cultural presence brings Uzhgorod into a wider international circuit. These networks extend the city's reach, connecting Ukrainian musical culture with Europe's at a moment when they might have been cut off from one another. Simultaneously, the city remains out of range of Russian bombardment.
Denysyuk is able to spend her days cataloging new developments in Ukraine's alternative cultural scene without constant sirens and explosions. She has used this opportunity to create and manage a network extending throughout the country, bringing new songs emerging from basements and bomb shelters to underground music fans across Ukraine and beyond.
Ukraine's indie scene represents a vibrant response to the Russian invasion. Music inspired by the war—often angry, sometimes pensive—brings young Ukrainians together despite the hardships of the conflict. This new wave of war music chronicles the ways in which Ukrainians are becoming ever more united in their resolve to defend their country and preserve their distinct culture. Events have made far-off Uzhgorod a critical hub for this struggle in part because a new generation of artists such as Yaryna Denysyuk feel compelled to prevent irreplaceable cultural loss no matter the odds.
The opinions expressed in this article are those solely of the authors and do not reflect the views of the Kennan Institute.
About the Author
Blair A. Ruble
Distinguished Fellow;
Former Wilson Center Vice President for Programs (2014-2017); Director of the Comparative Urban Studies Program/Urban Sustainability Laboratory (1992-2017); Director of the Kennan Institute for Advanced Russian Studies (1989-2012) and Director of the Program on Global Sustainability and Resilience (2012-2014)
Read More
---
Kennan Institute
The Kennan Institute is the premier U.S. center for advanced research on Russia and Eurasia and the oldest and largest regional program at the Woodrow Wilson International Center for Scholars. The Kennan Institute is committed to improving American understanding of Russia, Ukraine, Central Asia, the Caucasus, and the surrounding region though research and exchange. Read more