Why Should the Biden Administration Reset Negotiations with North Korea?
North Korea's silence about Biden's election
North Korea has made little comment about the U.S. presidential elections and has intentionally tried to appear disinterested in the process. However, this practiced disinterest masks a deep underlying concern: The North Koreans have witnessed the security environment shift dramatically with changes of administration in Washington. And this election in particular, given what has happened in the last four years, is likely drawing particular interest among Pyongyang's decision makers.
Even after the collapse of the U.S.-North Korea summit in Hanoi in February 2019, President Donald Trump has extolled the talks as a foreign policy success though he is frequently accused by critics for using the talks for domestic political purposes. The North Korean authorities were critical of the process for different reasons, however. They asserted that they demolished a nuclear test facility, froze nuclear and ballistic missile testing, freed captive U.S. citizens, and returned Korean War remains − and yet the U.S. side offered nothing in response, they claimed.
At the same time, Pyongyang's official media extolled the U.S.-North Korea summitry as a success of Kim Jong Un's foreign policy and used the images for domestic propaganda. In spite of their criticism of the negotiation process, they likely hoped for President Trump's re-election over President-elect Joe Biden, who has branded Kim Jong Un a "dictator," a "tyrant," a "butcher" and a "thug."
Why have the United States and South Korea failed to denuclearize North Korea?
The presidents of the United States and South Korea have continually and at every opportunity affirmed a commitment to the denuclearization of North Korea. President-elect Biden even said in his special contribution to Yonhap News on Oct. 29: "I'll engage in principled diplomacy and keep pressing toward a denuclearized North Korea and a unified Korean Peninsula, while working to reunite Korean Americans separated from loved ones in North Korea for decades."
Yet, in spite of such commitments, multiple U.S. and South Korean governments have failed to denuclearize North Korea. The reason why is simple: North Korea sees the possession of nuclear weapons as directly connected to its survival as a state. Were it to give up its nuclear weapons, it would find itself at a large and absolute disadvantage to South Korea in the inter-Korean arms race.
At the June 2018 Singapore Summit, President Trump told Chairman Kim that if he gave up his nuclear weapons, the Korean War armistice between the two countries would be replaced by a peace agreement, and security guarantees would be provided. But at the February 2019 summit in Hanoi, Kim appears to have thought of actually giving up nuclear weapons as an issue only to be considered at the final stages of denuclearization.
Both the Trump Administration and the government in Seoul have appeared to be of the opinion that denuclearization is difficult, but possible. However, if we coolly analyze how Pyongyang sees the nuclear issue, we quickly arrive at the conclusion that successfully making North Korea give up nuclear weapons will be as difficult as making India, Pakistan or Israel do the same.
Why can't Pyongyang give up its nuclear weapons?
Arguably, North Korea first felt the need to develop nuclear weapons back in the 1950s, but it only seriously began actual nuclear development with the collapse of the Soviet Union following the end of the Cold War. With the USSR gone, North Korea had lost its most important military ally and, very soon after, it witnessed the "betrayal" of China normalizing relations with South Korea over Pyongyang's vehement objections.
Consequently, Pyongyang quickly reached the conclusion that it could trust nothing except the nuclear weapons it was developing to provide security. This is why it became deeply committed to nuclear development in the early 1990s and has remained so ever since.
At the same time, Sino-North Korean relations entered a deep freeze that did not fully recover until Kim Jong Il's trip to China in 2000. Subsequently, there have been a considerable number of China-North Korea summits, but North Korea has been unable to obtain modern weaponry from China, and thus has felt forced to rely on nuclear weapons for its security.
Persuading North Korea to give up its nuclear weapons will be difficult. North Korea cannot afford to import sophisticated modern weaponry that would help it match South Korea. What's more, China and Russia, conscious of relations with South Korea and the UN sanctions regime, have refused to provide or sell modern weaponry to Pyongyang.
Nuclear weapons development is expensive, of course. But it has still been far less expensive than the costs borne by South Korea in modernizing the conventional weaponry its armed forces use. Hence, North Korea, facing a potentially existential threat from the South, and lacking the funds or friends to countenance a more conventional alternative, appears to feel forced to continue its reliance on nuclear weapons development.
Let's have a closer look at the cost-benefit calculus facing Pyongyang. Up to early 2013, North Korea is estimated to have spent, at most, a total of $1.5 billion on nuclear weapons. This is a small fraction of what South Korea spent just in 2014 on conventional weapons imports: $7.8 billion. In other words, South Korea spent five times more on conventional weaponry in one year than what the North had spent over decades on nuclear weapons.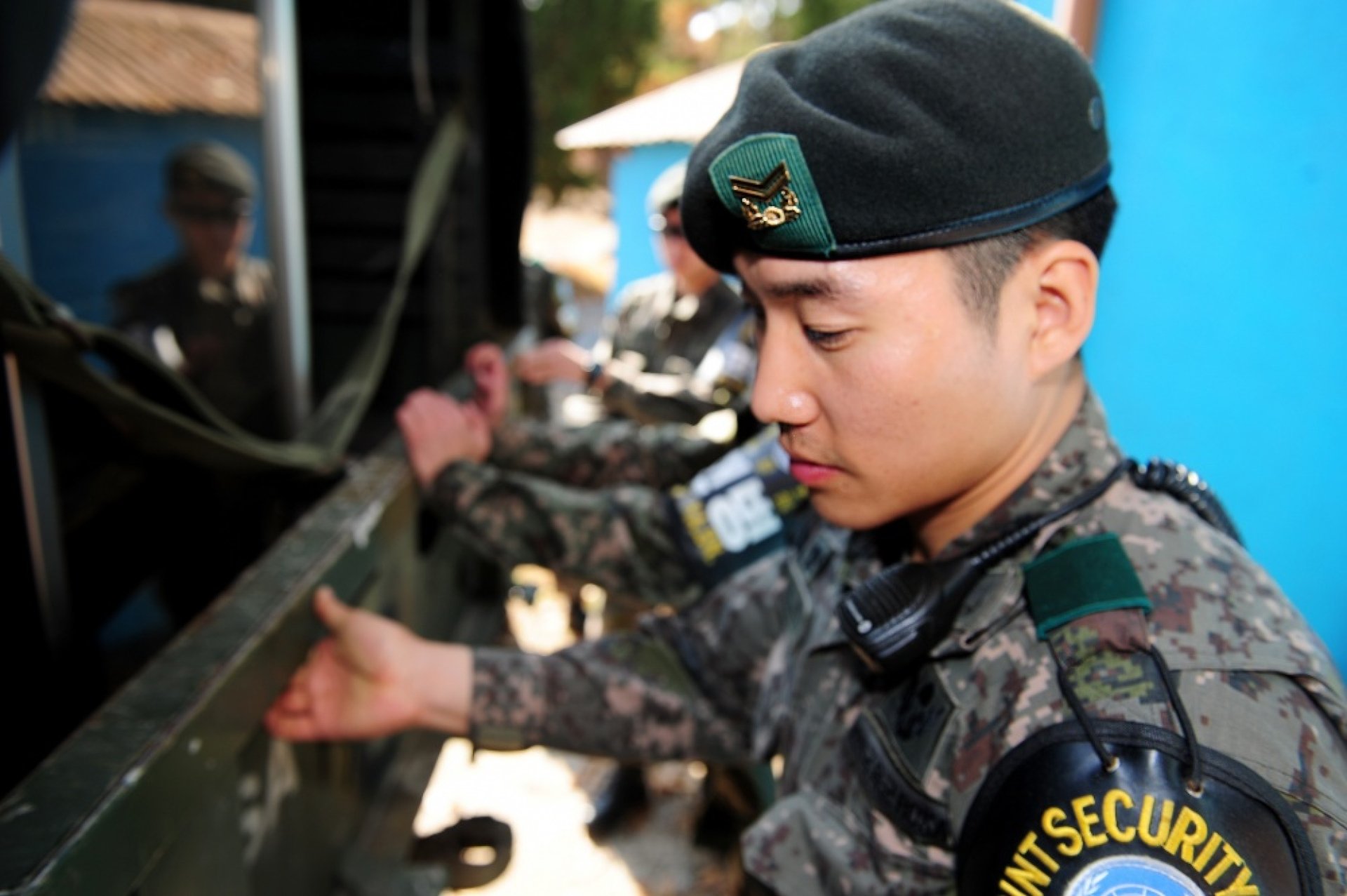 The U.S. State Department's 2019 "World Military Expenditures and Arms Transfers" report estimates that North Korean annual military expenditures averaged $3.59 billion per year from 2007-2017. This would place it 47th in the world in terms of military outlays. South Korea, by comparison, spends nearly 10 times as much ($43.1 billion in 2018), making it 10th in the world.
Thus, North Korea spends far less on national defense, but with nuclear weapons believes it can prevail against South Korea, and thus can ignore the South Korean military.
Kim Jong Un agreed during summits with South Korean President Moon Jae-in in April 2018, and with President Trump in June the same year, to "work to realize the denuclearization of the Korean Peninsula." But, in working-level talks prior to the Hanoi Summit, representatives of the North Korean side maintained the view that denuclearization was an issue that could only be discussed between Chairman Kim and President Trump.
As a result, there was no progress on an agreement about how denuclearization would be achieved prior to the summit. This was one of the causes of the summit's eventual collapse. The Stockholm working-level talks between the U.S. and North Korea in October 2019 also did not deal with the issue of denuclearization in any substantial sense.
The reason why working-level talks have failed to address the denuclearization issue to any meaningful extent is that this issue is a core component of Pyongyang's survival strategy generally and in the inter-Korean arms race in particular.
North Korean representatives are not empowered to negotiate on such sensitive matters. Within North Korean leadership, Kim Jong Un alone can make such decisions. Thus, if the Biden Administration holds to its stated position that such issues should be dealt with at the working-level, with future summits being contingent on substantial progress being made there, it will be difficult for any denuclearization negotiations to occur with the North.
At the Hanoi Summit, Kim Jong Un offered to discuss dismantling of the nuclear facility at Yongbyon in exchange for talks about "reciprocal measures" from the U.S. side. From his perspective, completely giving up nuclear weapons was an issue for later on. Conversely, the Trump Administration took the view that discussions should include not only the dismantling of the Yongbyon facility, but also North Korea's nuclear weapons, missiles, and chemical weapons. Negotiations broke down as a result. Following the failure of the Hanoi Summit, the North Korean side refused even to talk about the decommissioning of Yongbyon. This made the resumption of talks even more difficult.
On March 15, 2019, two weeks after the Hanoi summit, North Korean Deputy Foreign MinisterChoe Son Hui held a press conference in Pyongyang. There, she made some particularly revealing remarks. She said that thousands of North Korean people, in particular from the North Korean military and munitions sector, had sent letters pleading with Kim Jong Un not to give up nuclear weapons.
The North Korean military and munitions industry knows that giving up nuclear weapons would put their country at a decisive disadvantage, given South Korea's vastly superior conventional weaponry.
Ultimately, Kim Jong Un accepted their pleas. In late December 2019, he told a Plenary Meeting of the Workers' Party's Central Committee that denuclearization negotiations with the United States had ended, and that the country would "overcome" international sanctions by engaging in a "full-frontal breakout"' strategy of self-reliance.
The Biden Administration's North Korea options
The Biden Administration must first realize that making North Korea give up its nuclear weapons will be as difficult as making India or Pakistan do the same. Realistically, the administration can consider the following two options.
First, taking the view that complete denuclearization will likely be impossible in practice, it may also consider permitting South Korea and Japan to go nuclear as well, to deter the threat of North Korea, or else move to improve relations with the Pyongyang in order to prevent the further proliferation of North Korea's  nuclear capabilities to the Middle East.
Alternatively, the Biden Administration could treat the North Korean nuclear issue as one of its top priorities, and completely reassess the existing approaches to negotiations that have been attempted with Pyongyang. It will need to use such a reassessment to find a new way forward.
In the event that North Korea persists in its refusal to negotiation with the United States on the nuclear issue, and if it continues to develop its nuclear capacity, this would lead to more vocal calls in South Korea for the redeployment of tactical nuclear weapons to the peninsula, or for the South to be allowed to develop its own independent nuclear deterrent.
If Seoul were to develop nuclear weapons, North Korea would feel more directly threatened by nuclear weapons on the other side of the DMZ than by a more distant U.S. nuclear capability. It would no longer be able to threaten the United States directly because its military capabilities would be consumed by countering the new threat that Seoul would. What's more, if South Korea develops nuclear weapons, Japan will also likely move down the same path, and this will help Washington to further counter the rise of an increasingly militarily assertive China.
Such an option would be difficult for the Biden Administration to accept, but it needs to actively use such a potential scenario to bring North Korea back to the negotiating table and to pressure Beijing into actively supporting the denuclearization process.
If the Biden Administration is not to give up on the near-impossible task of denuclearizing North Korea, it must completely rethink negotiations with Pyongyang. It needs a new strategy for negotiations with North Korea, like the Clinton Administration's Perry Report, but offering a new framework for the different circumstances the world is in today. President Trump and Secretary of State Mike Pompeo showed a strong determination to negotiate with Kim Jong Un, meeting him on multiple occasions. But they failed to persuade Kim to give up his nuclear weapons. This is because they were unable to offer Kim a trustworthy alternative that would alleviate the North's security concerns and also promised economic prosperity.
The North Korean munitions sector has risen further since the collapse of talks at Hanoi. Ri Pyong Chol, who headed North Korea's nuclear weapons and missile development programs was recently promoted to member of the Presidium of the Politburo of the Workers' Party, and is now third in the official hierarchy. It is difficult to expect that working-level negotiations occurring under his supervision will yield substantial progress.
If the Biden Administration wishes to push forward with nuclear negotiations, it may be wise to entrust Vice President-elect Kamala Harris to act as the administration's No. 2 in high-level talks with either Kim's sister, Kim Yo Jong, or the First Vice Chairman of the State Affairs Commission, Choe Ryong Hae. Such talks may be able to forge major and substantial compromise between the two sides on what is a really difficult problem to solve.
---
Seong-Chang CHEONG is a fellow at the Wilson Center's Asia Program and senior research fellow at the Sejong Institute in the Republic of Korea (South Korea).
The views expressed are the author's alone, and do not represent the views of the U.S. Government or the Wilson Center. Copyright 2020, Asia Program. All rights reserved.
About the Author
---
Asia Program
The Asia Program promotes policy debate and intellectual discussions on U.S. interests in the Asia-Pacific as well as political, economic, security, and social issues relating to the world's most populous and economically dynamic region.  Read more
Hyundai Motor-Korea Foundation Center for Korean History and Public Policy
The Center for Korean History and Public Policy was established in 2015 with the generous support of the Hyundai Motor Company and the Korea Foundation to provide a coherent, long-term platform for improving historical understanding of Korea and informing the public policy debate on the Korean peninsula in the United States and beyond. Read more